Hollywood has given scars a bad wrap…Usually, it's the bad guys that get scars, but the truth is that a scar has a story behind it. Sophie Mayenne from London, England, is working to change these perceptions through her photography project 'Behind The Scars.' The series features people and the stories behind their scars.
Behind The Scars is a photography campaign that celebrates scars of all shapes and sizes, and the incredible stories behind them. The series is photographed by Sophie Mayanne and began in April 2017. Since then, Mayanne has captured over 300 scar portraits and stories – encouraging many men, women and children all over the world to embrace the skin they are in. The campaign is aiming to capture 1,000 different scar stories in total. The captured portraits are both beautiful and empowering, running alongside moving stories that capture each sitters unique, raw and emotionally fraught experiences. From surgical scars, to accidents – each photo is an act of self love, acceptance, defiance and positivity. Please note some content is of a sensitive nature.
Maya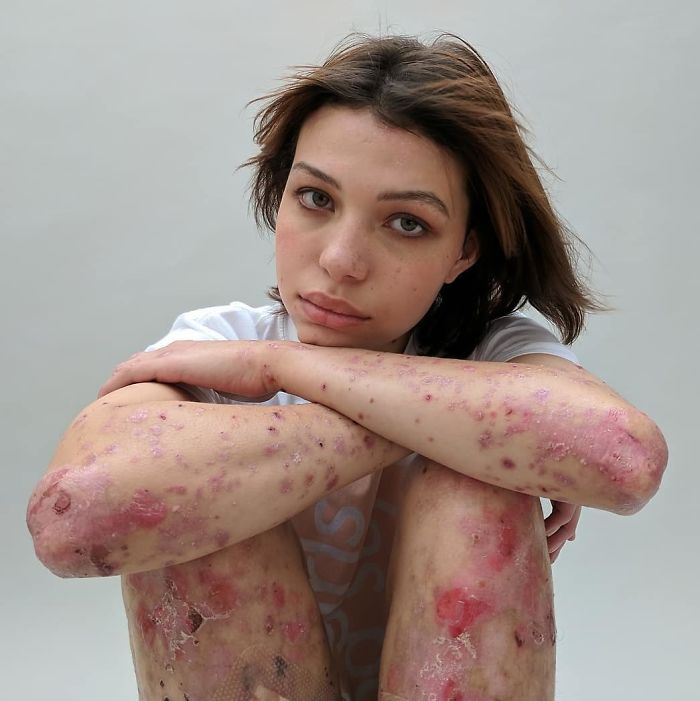 "I was diagnosed with Epidermolysis bullosa (EB) when I was 18 months old. EB is a rare genetic condition which causes the skin to blister and tear at the slightest touch. Due to the sensitivity of my skin, over the years I have gained many scars. The condition also causes internal problems, including a narrowing of the oesophagus which results in difficulties swallowing food.
I have always been self conscious and ashamed of it, until very recently when I decided to embrace it and not let it hold me back from living life to the fullest."
Mercy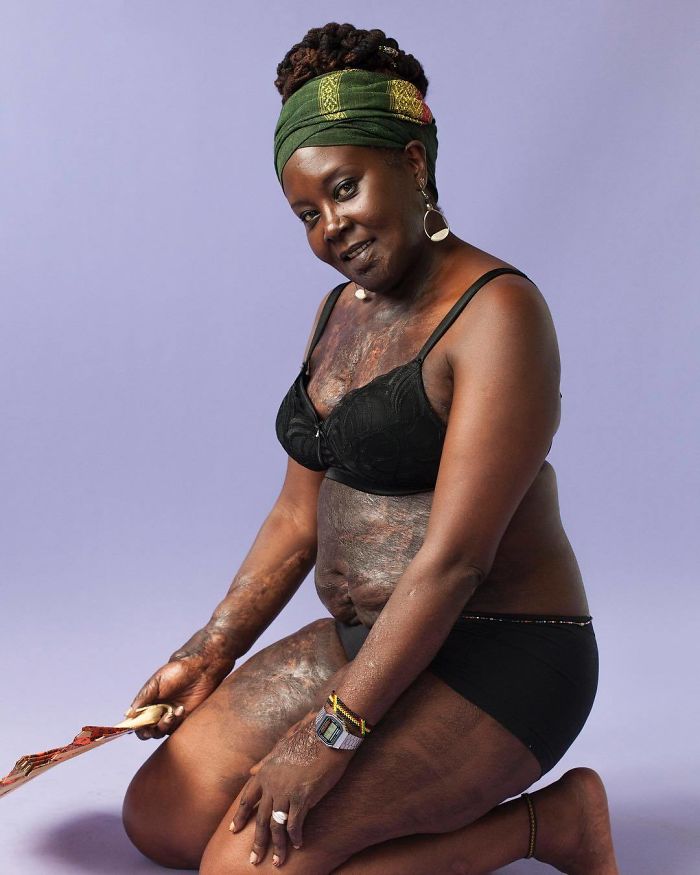 "My scars are from a fire related to domestic abuse. I got burnt at the age of 29, and it's been a difficult journey coming to terms with it. The comfort I take from my scars is they make me who I am today. I call them my most precious, and expensive piece of jewellery I own.
I have survived and if having my picture taken, and exposing my scars can help anyone else then that's good for me!."
David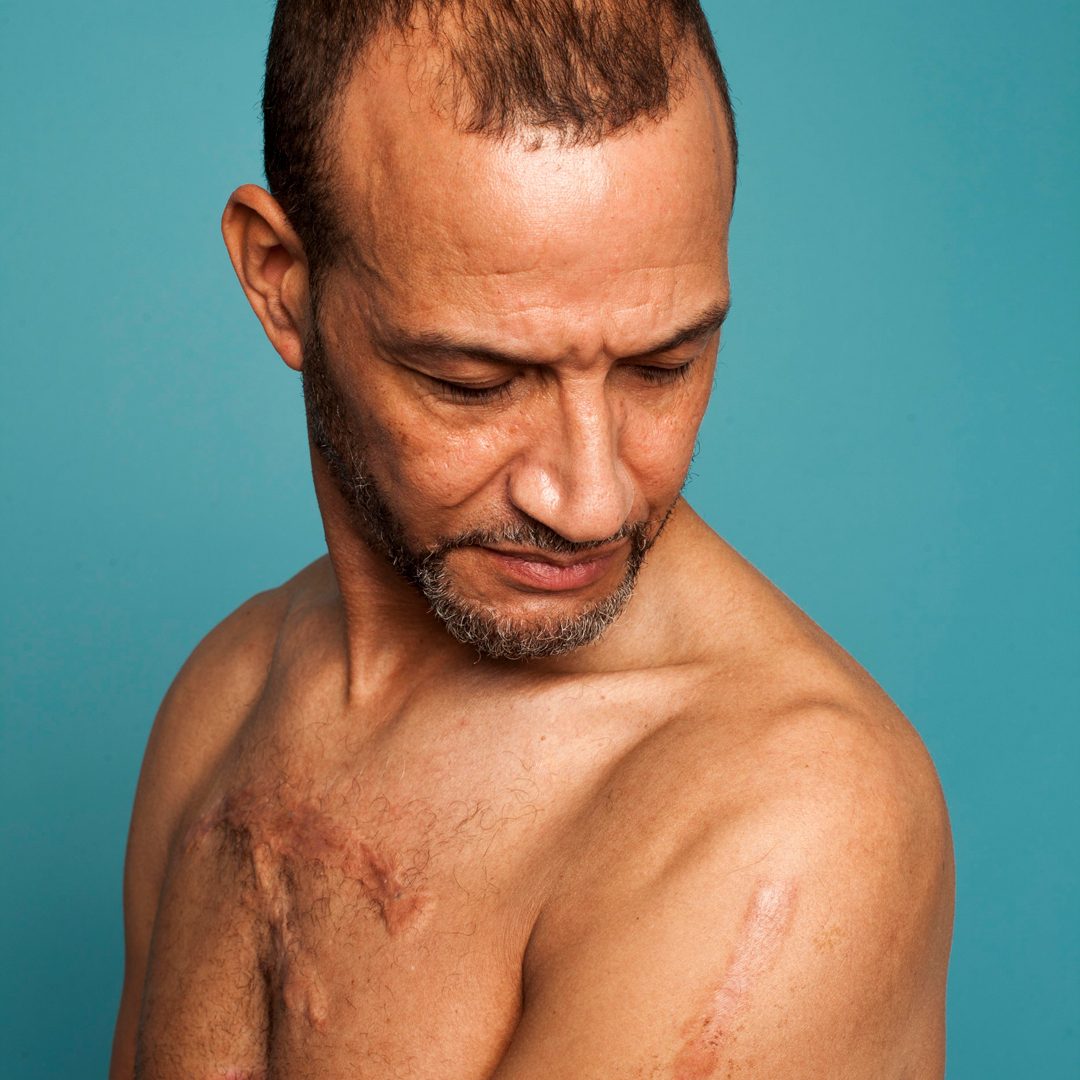 "I am 51 years of age. I grew up in Battersea, South London and I had bad acne on my face which turned gradually into Keloids (a form of deformed scarring).
These got to a stage where by it was extremely painful and unsightly so I had hospital treatment of steroid injections into the scar. This process took up to 3 years to finally flatten the scar to one I was extremely happy with.
In my early thirties I developed minor acne on my chest. This also developed over the years into severe keloid scaring and was again extremely uncomfortable and painful.
Again I had to have hospital treatment of steroid injections. This is a very painful procedure. I had this for about a year with no success so I had to go for medical funding to have laser treatment for a year and this has been successful to the point I have no more pain although there is still scarring but a flatter scar.
I now feel a lot more comfortable exposing my chest on the beach or swimming etc."
Hannah
"I was told I had breast cancer in April 2016. After various tests and biopsies (from which I have a few tiny scars), I had surgery a week before my 27th birthday. I don't remember much about those first few days, expect I watched a lot of The Sopranos and I was in a lot of pain. The first time I saw my wound I was inconsolable. I had a lot of issues over the next few months – my nurses said I'd broken the record for longest time taken to heal after a lumpectomy.
My body rejected the dissolvable stitches, and I had a couple of infections. One day I was out with friends, and my wound opened up on one side, by the time I got to A+E blood was pouring out and my shirt was drenched. So the scar is much thicker than the original incision.
It's difficult to talk about still, and I'm definitely not totally liking my scar yet, but I'm getting there. It's not easy having a scar on a part of your body that's "Sexy" – I don't have that relationship with my breasts anymore.
This journey with cancer has taught me a lot, and I appreciate my body for doing it's best and keeping me alive. I know that soon I'll appreciate this scar too, as a reminder of how I had the strength to get through.
The scar under my armpit is from the same surgery, where they removed a few lymph nodes to check if the cancer had spread – it hadn't. I've had a lot of issues with movement in my arm and tightness in my armpit from it – who knew being able to put your arm above your head would be such a lovely, joyous achievement."
Bikramjit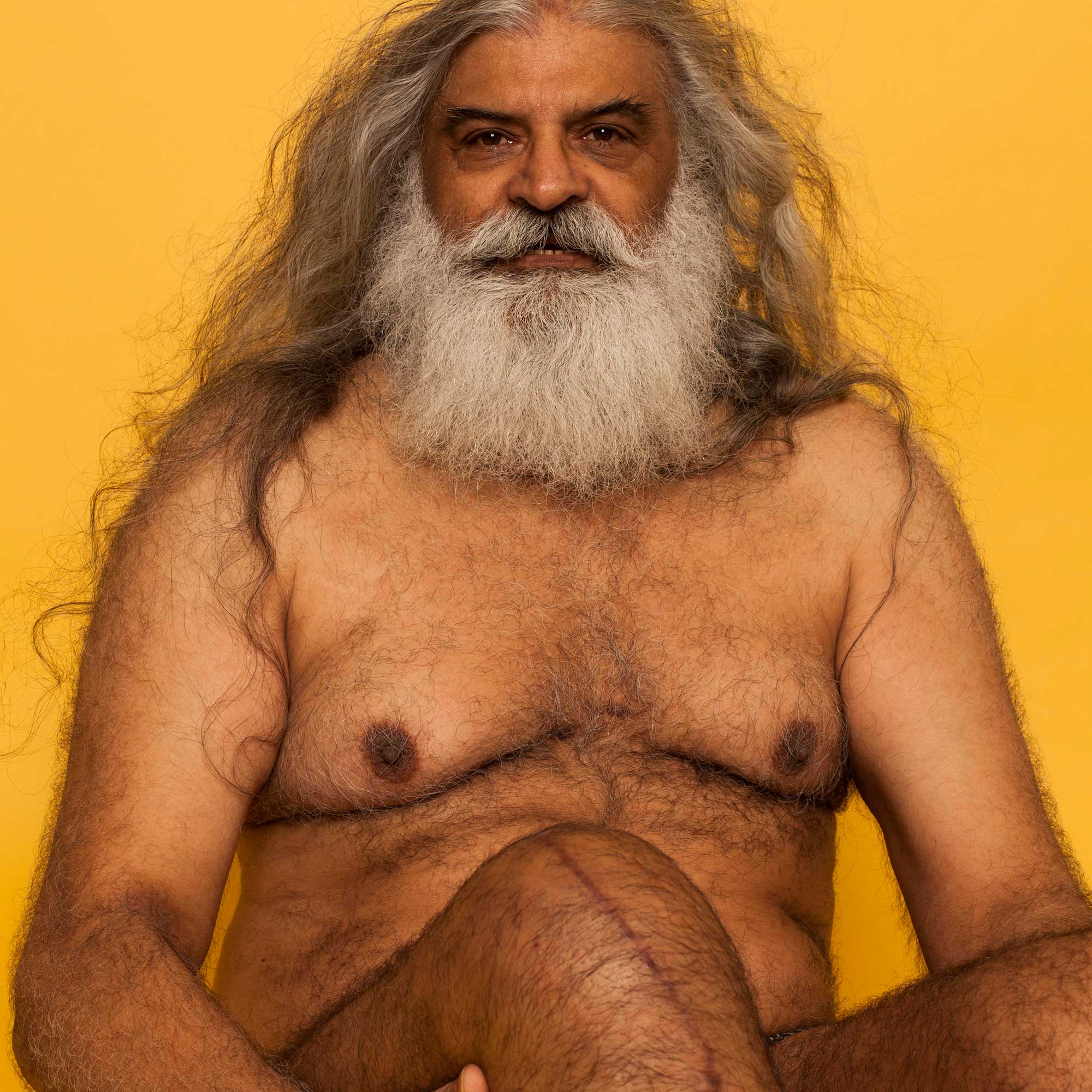 "My story is that we are Sikhs with a Martial background like Spartans, Romans. We were mercenary mounted bowmen which Alexander the Great took to India. Those who lived and stayed in India all got bad knees as they don't walk much because they lived mostly on the Saddle. Hence the double knee replacements."
Jared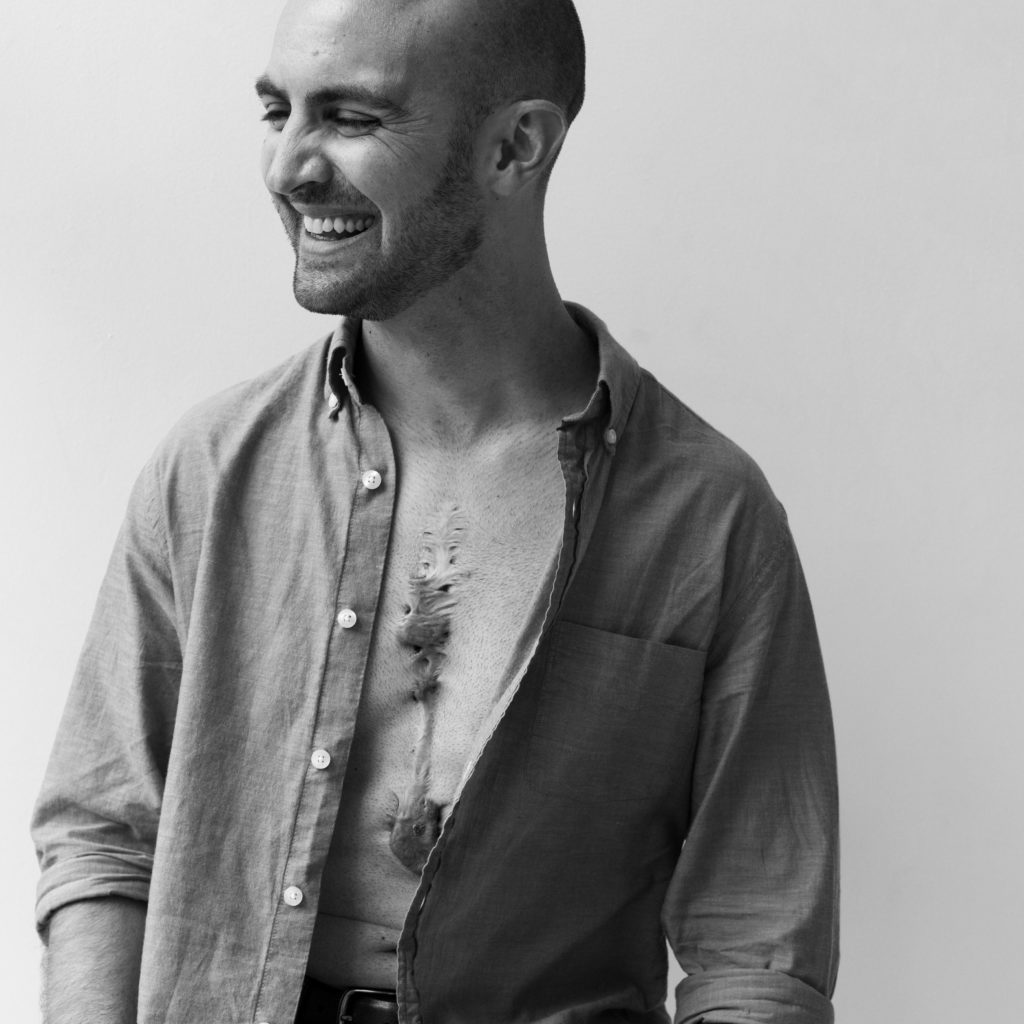 "My scar originates from an open-heart surgery I had at 17 to correct a congenital heart condition that was leading me to heart failure. The surgery itself is supposed to be temporary with a shelf life of 15 years, but I'm holding strong at 18 years post-op, waiting for the next one. Being part of the "zipper club" has its benefits (I rather enjoy being alive.) However, my scar healed like the surgeon lost control of the bonesaw, and I am left with a very distinct marking that is an unsubtle reminder of my experiences, good and bad. The reactions I typically receive when people see my scar have led it to become my biggest insecurity. It's a constant battle between hate and acceptance. Hate because I'm often looked at as disfigured and broken, as well as some physical discomfort it causes; acceptance because it's a significant part of my life story and gives a glimpse into the mental and physical struggle I have to live a normal life that most people will never have insight to.
That brings me to the Behind the Scars project. I believe in confronting fear. Since displaying my unique scar for many to see in fear of judgment is presently my biggest one, I thought it might be helpful to participate in a professional production that was meaningful with people dealing with similar stories."
Grace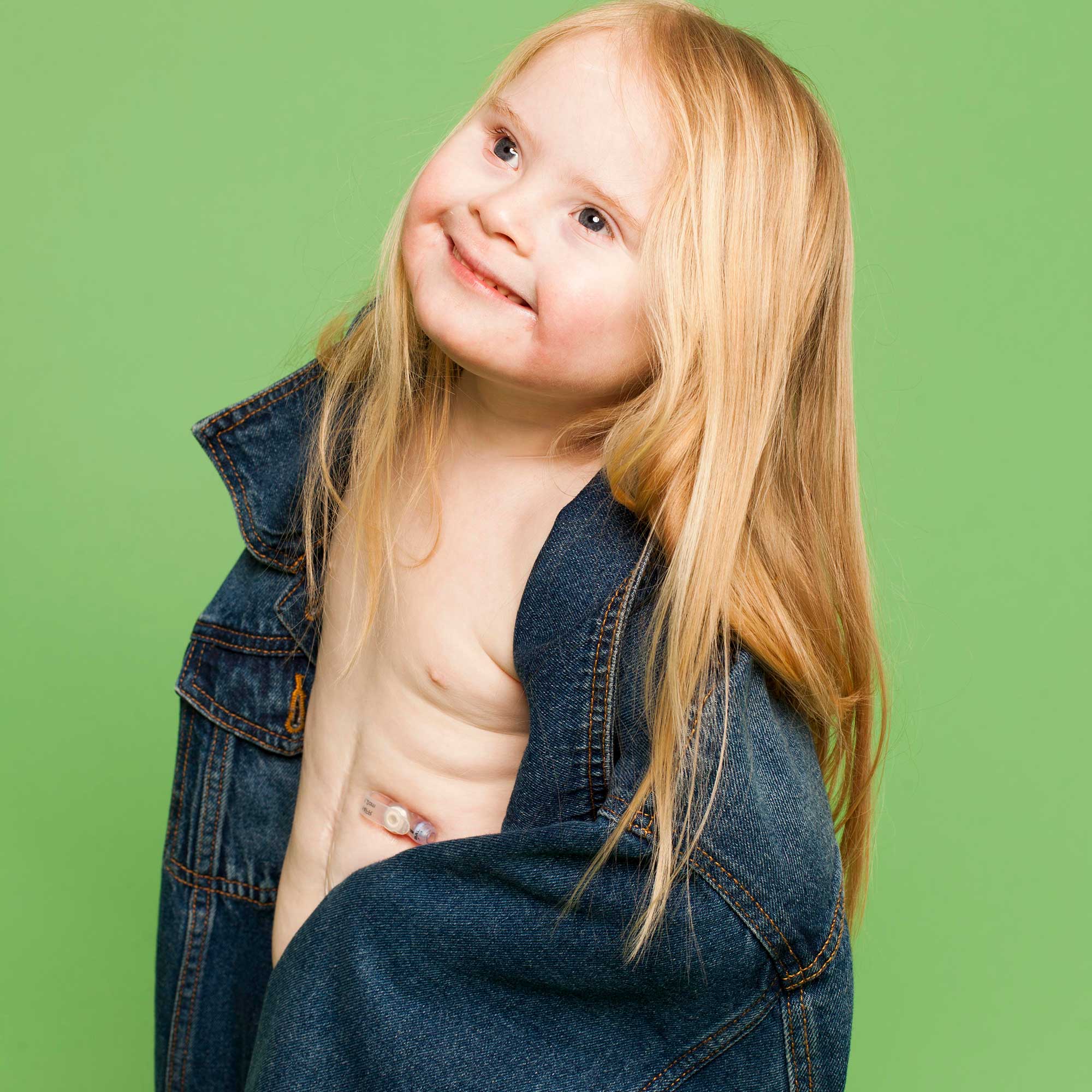 "I was born with an oesophageal atresia: this meant there was a huge gap where my oesophagus should have been. Due to this, I couldn't swallow or eat, and the saliva I produced was going into my trachea. Doctors placed a tube down my throat which was attached to a suction machine to drain my saliva and a tube was put into my stomach so I could get nutrition. I stayed in hospital for 3 months whilst I grew big enough for the surgeons to be able to operate on me and create my new oesophagus.
When the day came for my surgery, my mummy and daddy were very frightened but they knew it needed to be done to allow me to leave the hospital.
After 9 hours in theatre, the amazing doctors created a replacement oesophagus using a piece of my colon. Only 2 weeks later, I was ready to go home and I have never looked back. By the time I was 6 months old, I was defying the odds and eating all my food orally.
I still have a gastrostomy tube, which is a feeding tube into my stomach, but that is only used to give me medication. I have two scars to show for this surgery, one down my chest/stomach and one under my arm.
My other scar is on the base of my spine from surgery I had at 9 months old. I had a tethered spinal cord and had surgery to untether it. The surgery went well, but due to post op complications I had to have my wound restitched numerous times. This meant that my scar wasn't as neat as the doctors would have liked.
My mummy and daddy say I am the bravest, strongest little girl in the world. I don't really remember how I got my scars but when I notice them, my mummy tells me the stories of them. My scars have always been part of who I am and I am very proud of them."
These are just a few of the many moving stories. To read more, head to https://behindthescars.co.uk/