Art is not only a medium to please the eyes, but it also a medium through which thought-provoking ideas can be transferred to a person, a community, a population or to the world at large. Art is a medium which can be used to express anguish, happiness, sadness and various other forms of emotions without hurting any individual or community. Art is a medium which has actively played the role of a messenger in bringing most important changes in the society, be it ending racism, casteism and other social evils. Art has played a vital role in bringing people together, and it has also played an important role in empowering the downtrodden to speak up against the atrocities they were facing in a non-violent way.
Apart from being a key constituent of a social change in society's all over the world, Art has also played an important role in bridging the gap between people and sharing happiness and prosperity between them. Art is a medium which the people have used to share happiness and laughter with people not only belonging to their section, community or their country but also with the people spread all across the globe.
Gerhard Haderer, a cartoonist from Austria, has been creating cartoons to spread social awareness among his followers and also among the people from all over the world. Through his work from the past few decades, Gerhard has tried to spread various messages with the central theme among them being – the modern society is far from being perfect.
These are a few of his works which will make it easy for you to understand what is he trying to say through his art:
Let's Put a Smile On That Face
Everybody has their fake smile. I am so in tune with mine that I can physically feel it when I'm giving it, and then I become immediately self conscious. It's the smile I'll give to the hostess at a restaurant. It's like, I want to be polite but I also want to get this social interaction over with as quickly as possible. It's a courtesy we do for each other, yet we can all sniff out a fake smile so it's not really doing anyone any favors.
This drawing takes the idea of a fake smile to a whole new level. By having a dedicated station for fake smiles, it's saying that society demands that you be happy. That's pretty dark. What's even darker is the lack of sanitation station. You think I'm just going to shove that in my mouth without dropping it in some Listerine?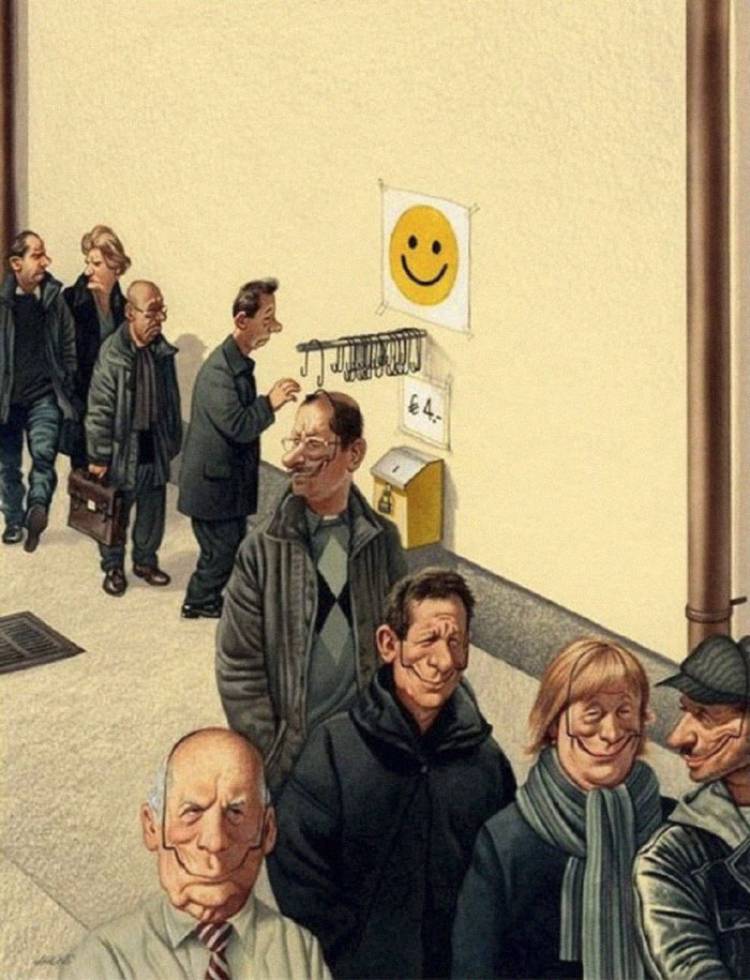 Ghana With The Wind
The amount of food available in certain countries, yet stripped away from others, is insane. If I order the Mega Burrito Special from my local taco shop I can be fed for five days with five dollars. Even then I usually just throw the rest of the burrito out… because I can! This image shows the disparity between certain areas, and how unfair economics can be when it comes to giving people livable conditions.
Here we have Euro tomatoes for the same price as Ghana tomatoes, but is that really fair? Ghana can't possibly produce tomatoes on the same level to be competitive to other countries. You can't just say, "Ghana doesn't get tomatoes then," because how are they going to make BLTs? No one wants just a BL. That's BS.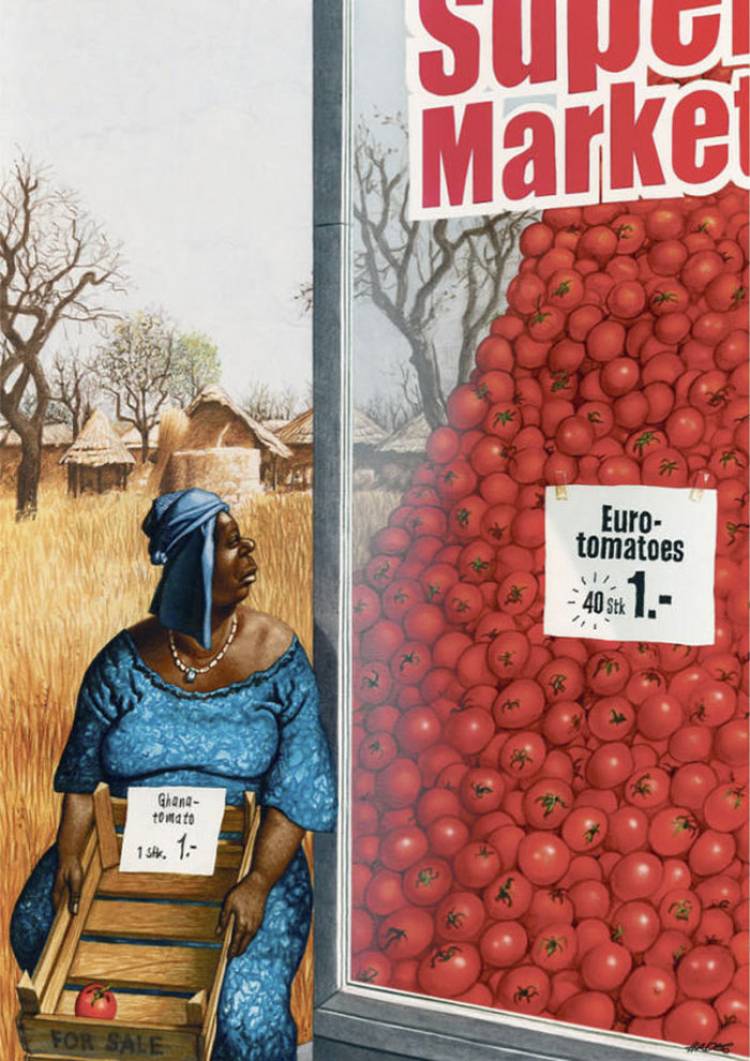 Money Hungry
This one is simple, yet true. That's what makes it so effective. Anyone can understand it, even the type of person who this image is about. We're talking about greed, folks. Specifically with money. Some people have so much money that I can't fathom why they would want more. It's not like the Earth has infinite resources. You can't be so rich that you can buy unlimited pants. At some point, we'll run out of pants. I hope that makes sense to you, because it makes sense to me. People who continually chase money look exactly like this. They have nowhere else to put it after a while. They're just jamming it down their throat further and further until they become a bloated monster. Just a shadow of the kind soul they once were. If there's one rule to remember it's that money changes you.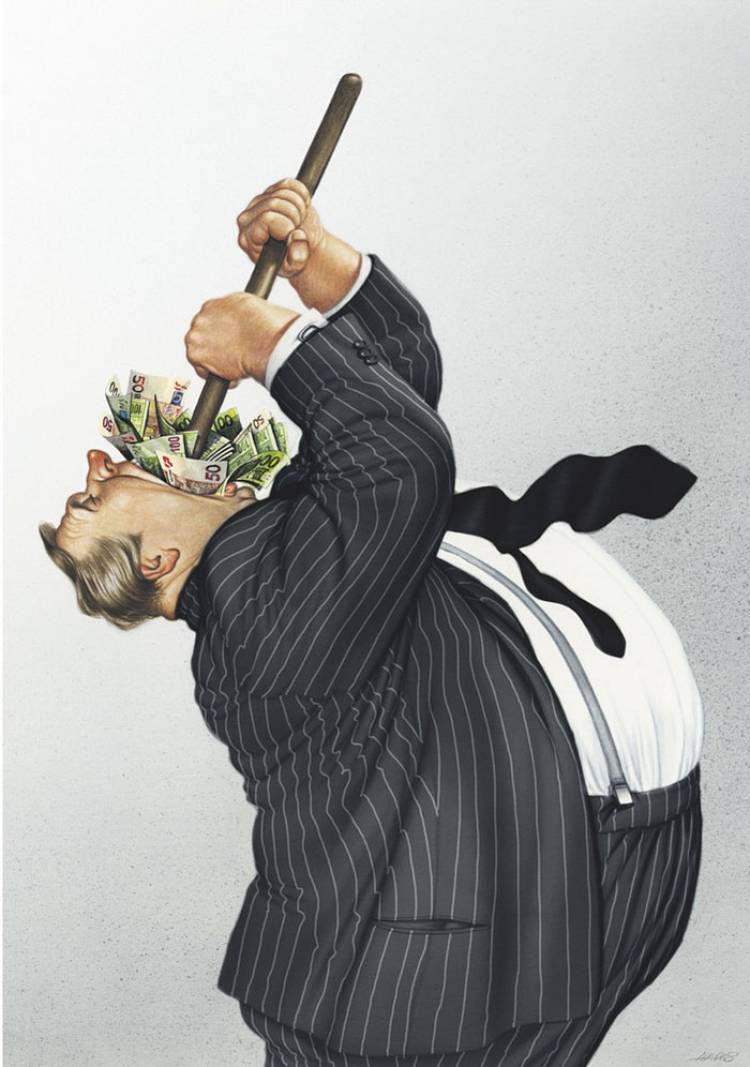 The Not So White House
One thing that we are very used to doing is giving importance and gravitas to old, historical things. That can cause us to not see things for what they truly are. Take the elderly for example. I'm not saying that you shouldn't love the elderly. I'm saying that just because someone's old doesn't mean they aren't a jerk. Don't waste your time giving respect to an old person just because they're old. They have to earn it just like you do. Now, enough picking on the elderly. Let's pick on the white house. The White House has been in disarray for a while. Like the past couple hundred years. But seriously, it seems like this recent iteration of the US government has been screwing up badly. The magnificent image of the white house isn't so magnificent when it's filled with crap. That's what this image reminds us. All that glitters is not gold.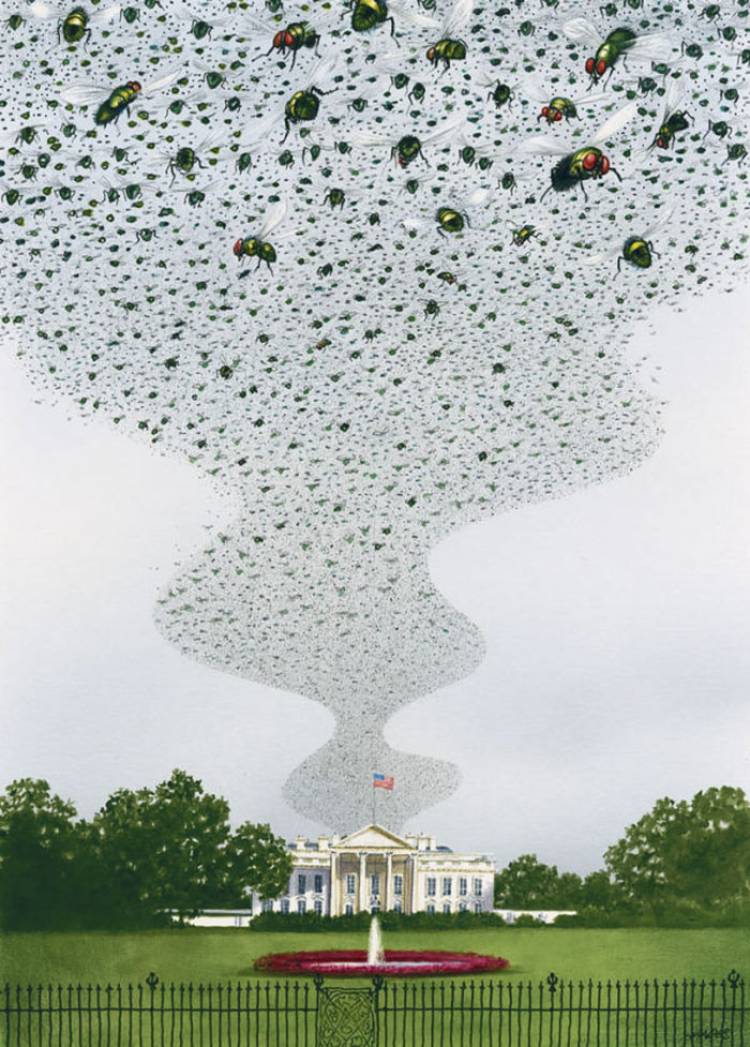 Happy Holidays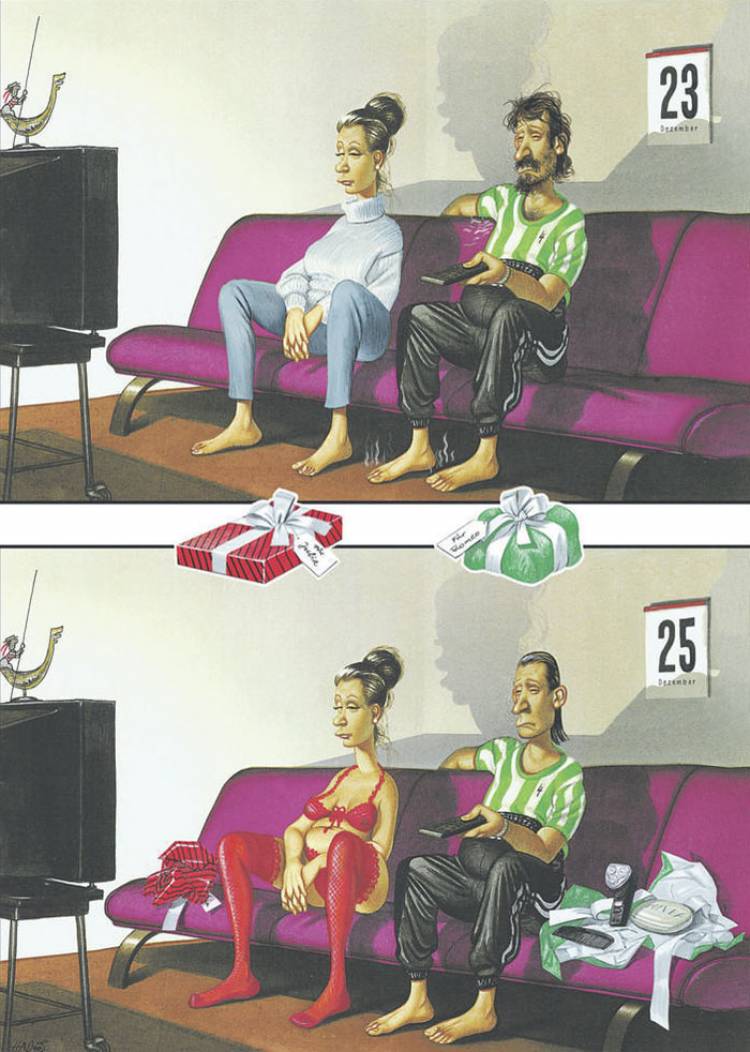 Christmas is always a melancholy time for me. I think I've always struggled with the fact that I really love the whole materialism aspect of the holiday, but I also see it as being very wrong. When I'm stressed out trying to find the right gift or worried that someone is spending too much on me, that's when I stop feeling the beautiful Christmas spirit. What's depicted in this image is exactly what I fear the most.
Christmas should be about the moments you get to spend with each other. It's become more about the presents, so that once the presents are over, there's nothing left of the holiday. Even though you have all these new, nice things, you're still left feeling the same emptiness. She's looking good in that lingerie though. I'm glad she's getting good use out of it.
The Bike Lame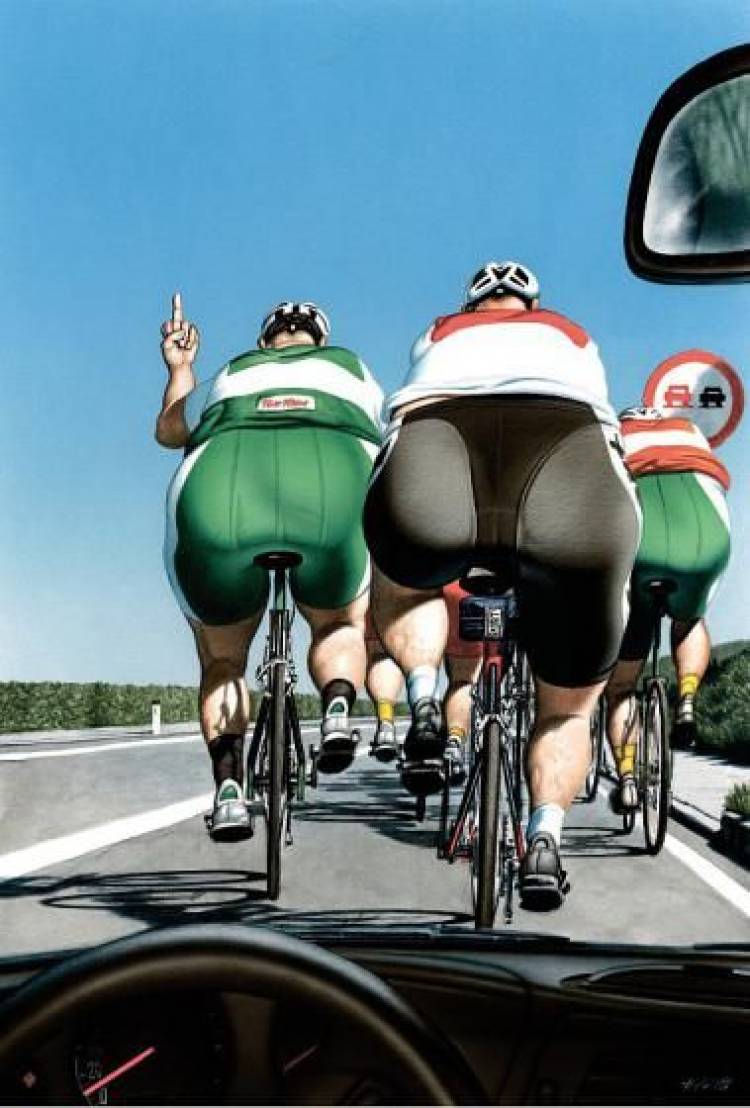 We've all been forced to drive behind bicyclists at one point or another and been completely annoyed. I biked the streets of Los Angeles for many years, so I understand how important bike safety is, especially when put in the hands of the driver, but even I hate them. It's like, I get it, cars should share the road with you, but don't act like a jerk about it.
One of the bicyclists depicted here is even giving the middle finger while three of them take up the whole lane. That's pretty common behavior unfortunately. Instead of acting grateful to have the lane, they act like everyone else is a problem. The outfits are problem number two. I'm not saying you need to be fashionable while riding, but at least be aware of what looks good on your body type.
The Real Story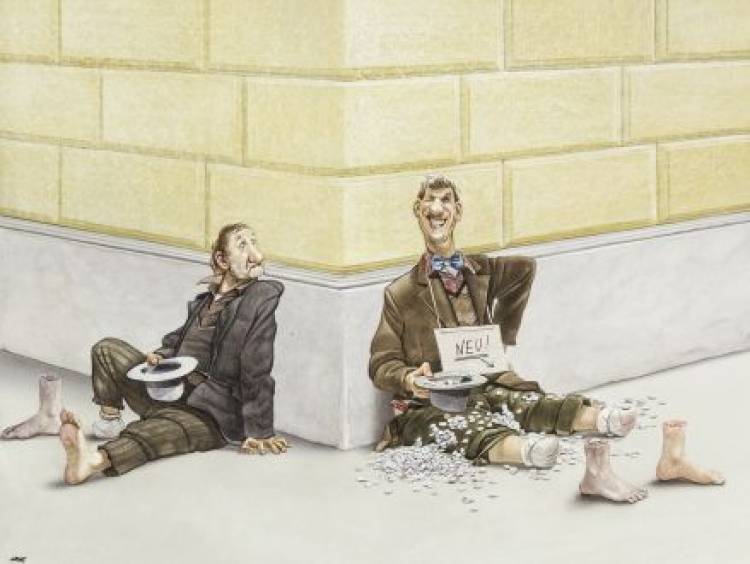 I love these cartoons because some of them have so much to unpack that you don't even know where to start. This one instantly reminds me of a begging tactic I've heard practiced in India where they'll burn a child's eyes with acid so that people feel worse for him and give more money. It's manufacturing an issue to get more charity. It's horrible, yet there's also a weird grey area that gets created from it. The person still deserves money after all, right?
In this case we see how we tend to judge victimhood, or have a hierarchy on who deserves our charity. In realizing that someone without any legs deserves more charity than someone with one leg, we forget that the person with only one leg needs help as well. We're so into comparing people and situations that it does more harm than good.
It's All The Same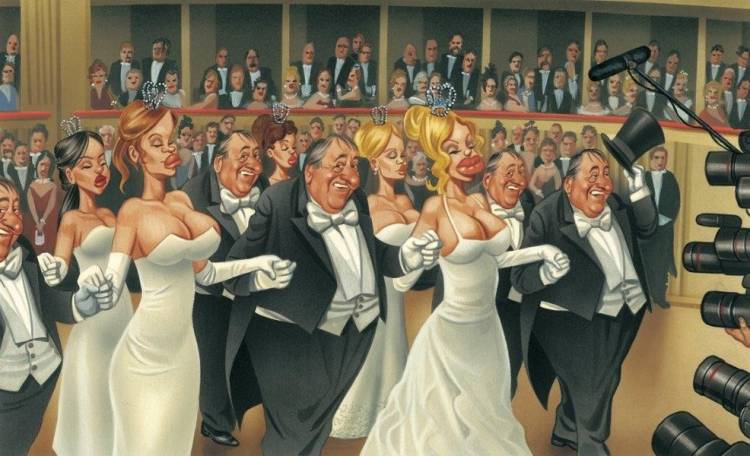 Being one of those high-society rich people seems like it must be so incredibly boring. You're always expected to act and dress a certain way, and all the wrong qualities are valued. Maybe it takes a certain type of person to be that wealthy, or maybe it's the wealth that makes them that way. I'll let you know if and when I ever get more than $800 in my savings account.
This cartoon really shows how boring and homogenous high society can really be. All the men look exactly the same: ugly and fat. All the women look like they got plastic surgery to look exactly the same: like human ducks. It's actually really sad seeing the lack of creativity and self from the super rich. I wouldn't do well at a party like that. I'd be the guy cracking jokes in the back.
The Future of Education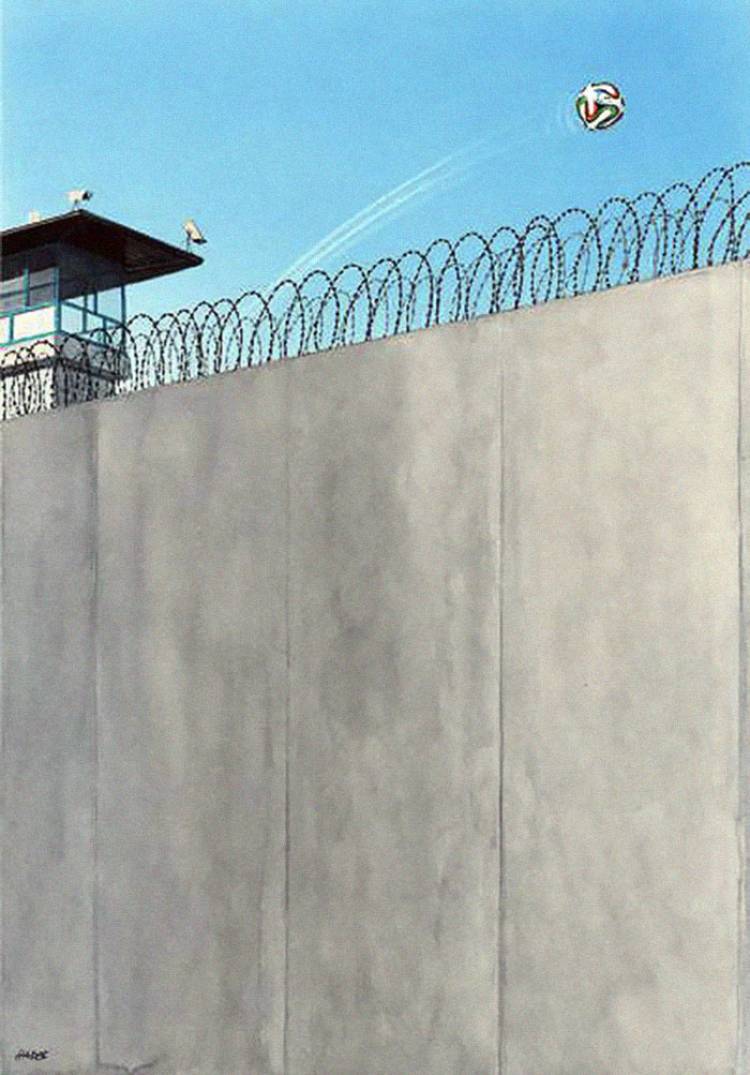 Recently certain schools have started mandating that every student wears a clear backpack so the school can see what's inside. Along with high fences and metal detector, it's as if schools are becoming more and more like prisons. I have friends who are teachers in the public school system and they will tell you first hand that it's like a prison. That's not just because of the food, either.
At first glance this just looks like a cartoon of a prison. Where's the fun in that? Then you notice the ball and think, "poor inmates. They lost their ball." The thing is, inmates don't play with colorful balls like that. That's a children's ball, which means that that's a school. The artist wants you to see the future of our schools. The only way to stop it is to start treating our kids like kids, not prisoners.
The Future Generation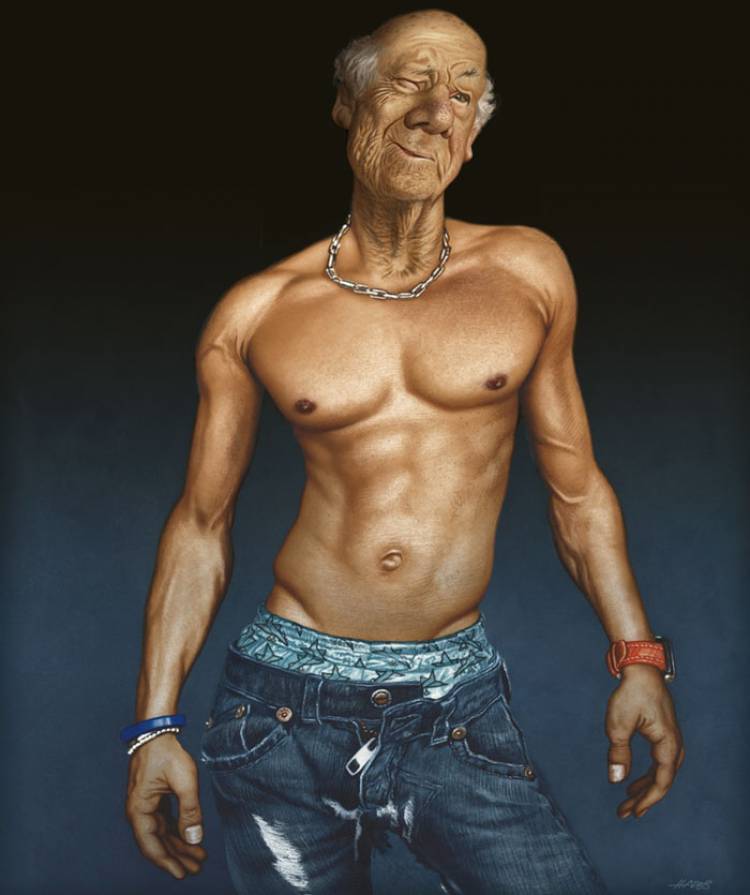 Seriously, doesn't it feel like 10 year olds look like 18 year olds now and 80 year olds look like 40 year olds? I don't know what happened, but I don't remember it being like that. I remember girls being scared of makeup and boys being scared of girls. That was while we were still in high school.
While this image might be funny, I've definitely seen this type of person before. No one is saying you can't be old and look good, but at a certain age you don't need to be doing THAT. The biggest problem is that we're telling old people that it's not OK to be old, and we're telling young people that it's not OK to be young. By "we" I mean the media, but the only reason the media does that is because we support it.
Gerhard Haderer has been publishing his works in a book named MOFF. The publishers of this book Scherz & Schund Fabrik and Gerhard have a long history of partnership where they have tried to point out the problems and the sins of the modern world with the help of cartoons.
How did you feel going through the illustrations? Do let us know by commenting in the comment section below!