National Geographic is a popular magazine among the photo lovers as it is one of the few rare magazines which never fails to amaze its readers by coming out with photos that depict the outstanding beauty and wonder of nature. Hence, it is only natural that it's annual photo contest attracts lens lovers from all over the globe. This prestigious annual event is so hotly contested that judges have to go through thousands of incredible images to arrive at the ultimate winners.
Jassen Todorov, a violinist and Professor of Music, San Francisco State University, bagged the first prize at this year's event. He had clicked an aerial shot of a vast boneyard at the Mojave Desert in Southern California. This boneyard is a well-known area for storing retired aircraft as the dry air there helps in keeping the corrosion away before these aircraft are dismantled and are scrapped.
Speaking to Bored Panda about the winning shot, Jassen says, "I have flown and explored the Mojave Desert area quite a few times. There are several airports in the Mojave and at least 3-4 of them have large boneyards, which I have explored and photographed. It was my first photo flight over Southern California Logistics Airport. I had done some research using google maps, so I had a general idea of the position of the cars in relation to the airport."
Apart from Jassen Todorov, Pim Volkers and Mia Collis also have won the prestigious prize. Pim Volkers' shot capturing wildebeests helped him bag the Wildlife Prize, Mia Collis' portrait of a Kenyan photographer helped him bag first place in the People category.
Do scroll down to check out the amazing pictures captured by some of the best photographers from all over the globe.
#1 Breathing, Bence Mate
A brown bear growls a warning of his presence to an interloper, his breath vanishing slowly in the windless forest.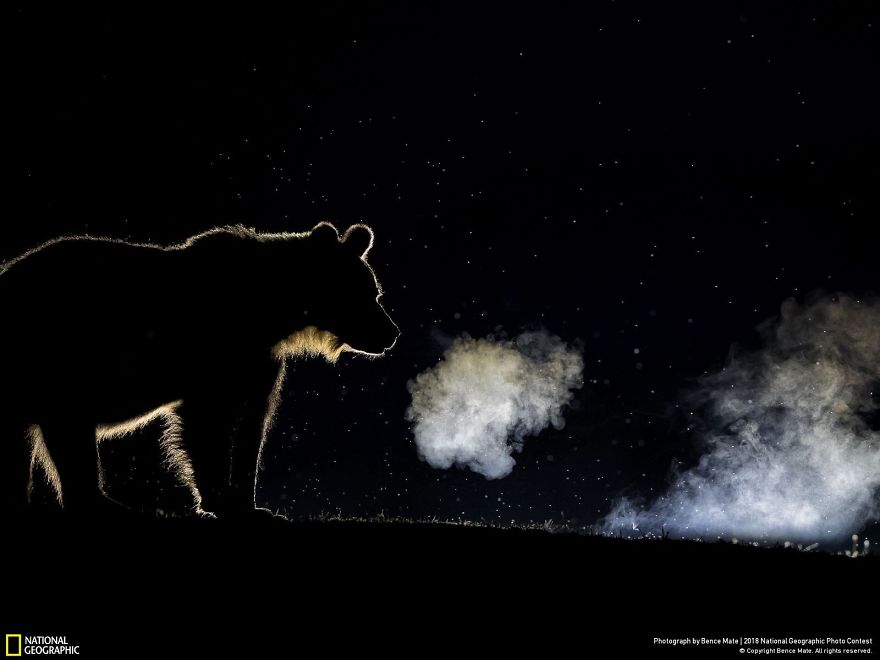 #2 Enduring Spirit, Derek Jerrell
The iconic American Bison is a symbol of strength, freedom and endurance. This shot captures the daily struggle bison face during the winter; extreme temperatures and deep snow. Their thick skin and heavy coat protect them from the frigid temperatures and their large heads allow them to push snow back and forth so they can forage for food. This shot wasn't easy to capture, it was -15f and I had to wade through waste deep snow to find a vantage point that wouldn't alter the bison's behavior.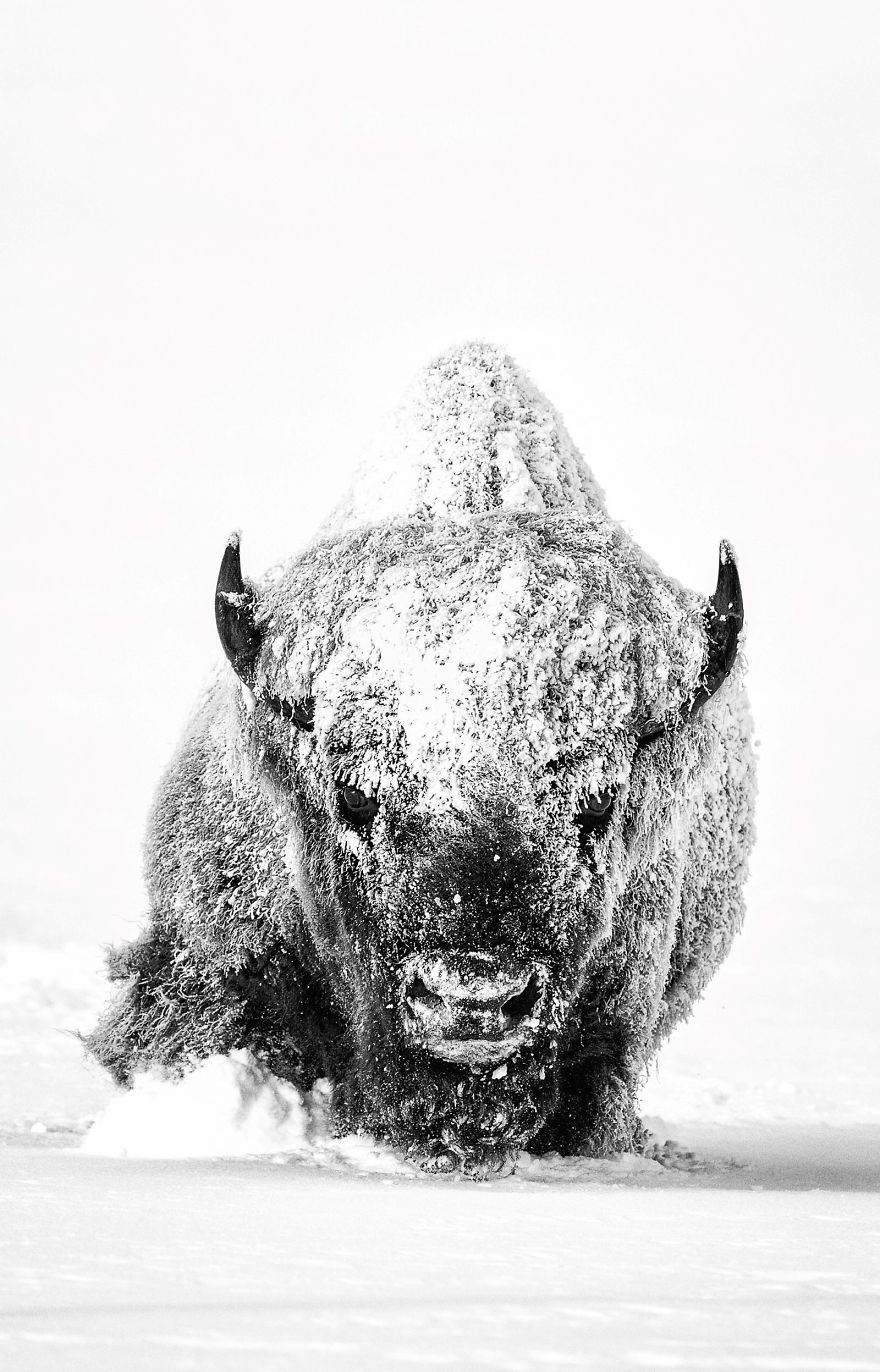 #3 Firefall In Yosemite Valley, Sarah Bethea
Each February, the sunset hits the right angle over yosemite valley to light up horsetail falls, resulting in a spectacular effect looking something like a lava-flow. we were fortunate enough to see this event two years ago during a clear break in an otherwise rainy day.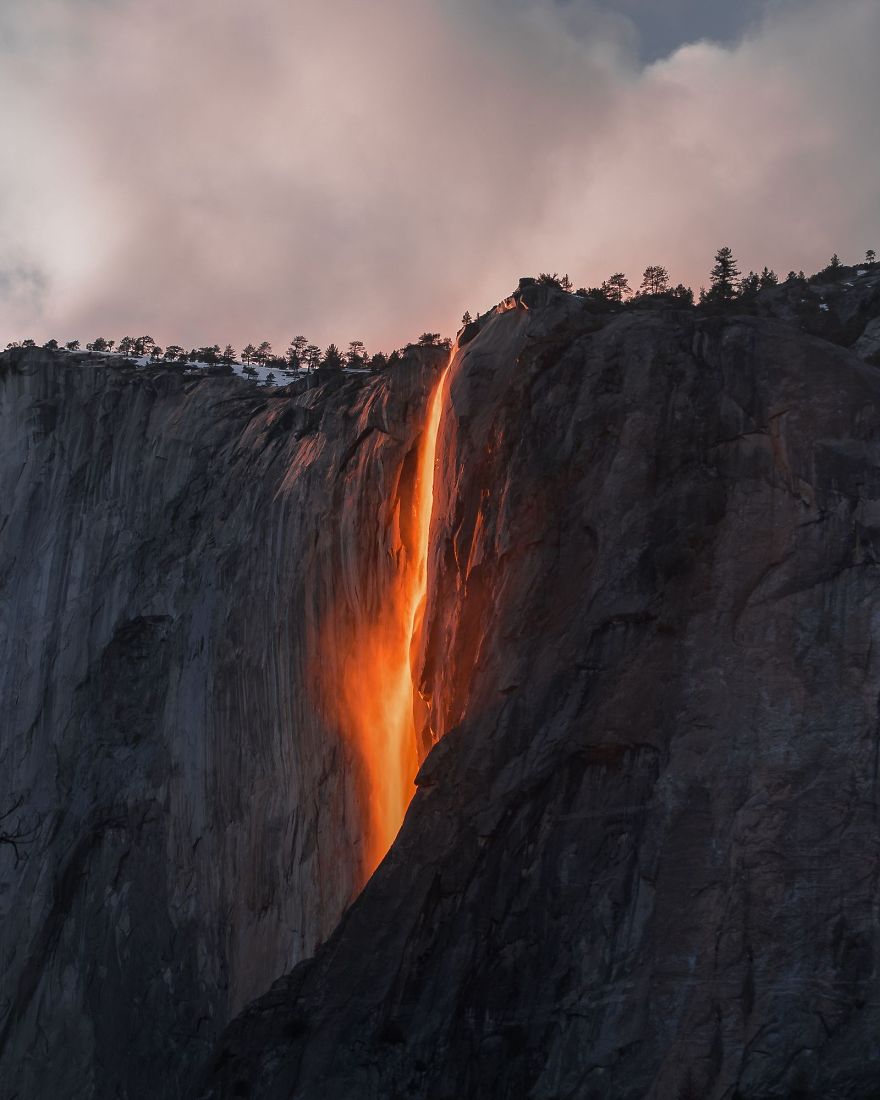 #4 People's Choice, Places: Cotton Candy, Fog Waves, David Odisho
Waves of fog sweep through Marin County on a summer day, blanketing of Mount Tamalpais.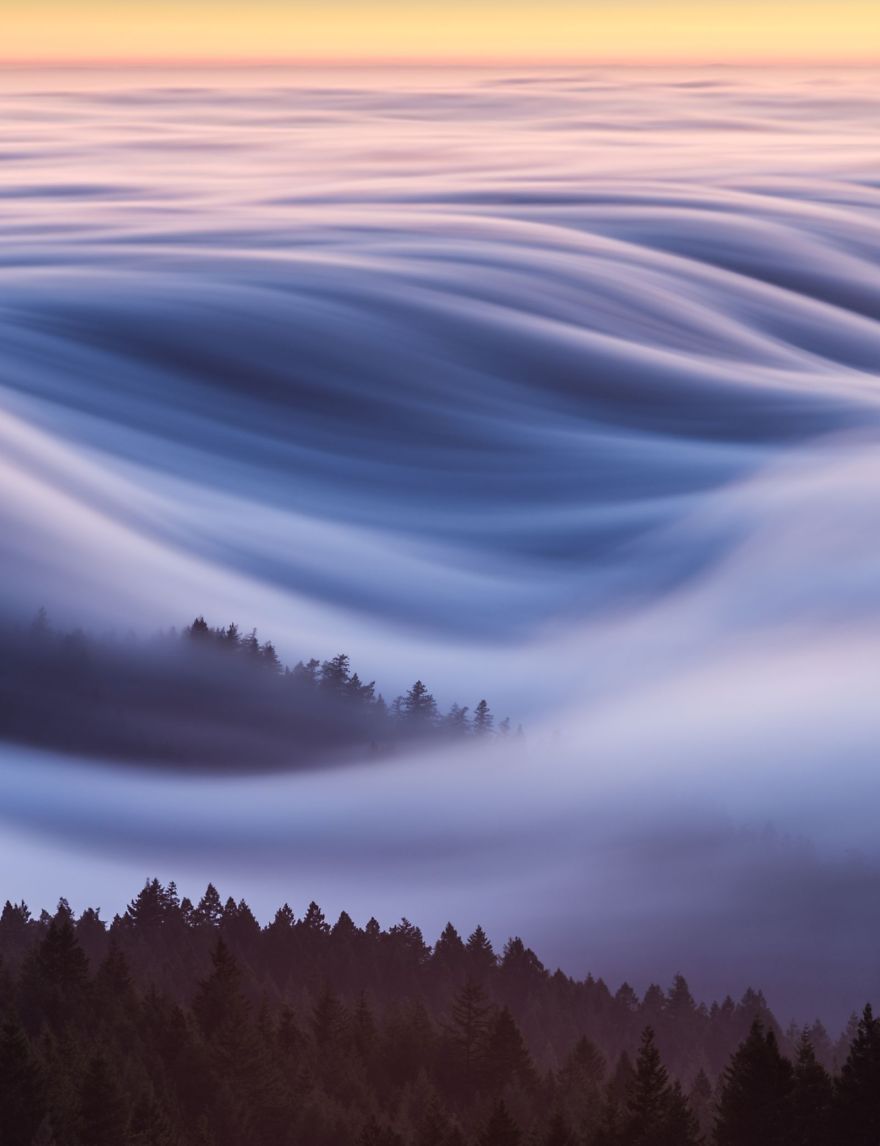 #5 Night Statics, Hernando Alonso Rivera Cervantes
Volcanic eruption of the volcano of fire of Colima, the most active in Mexico and one of the most active in America during a cold winter night
#6 People's Choice, Wildlife: Baby Teeth, Yaron Schmid
We spotted a pride of lions sleeping on top of the kopjes in the Serengeti. As we approached the rocks, we saw quite a few cubs. The best moment was when three young cubs started playing and biting their mother's tail—like kittens playing with yarn. I can't remember a time I laughed so hard!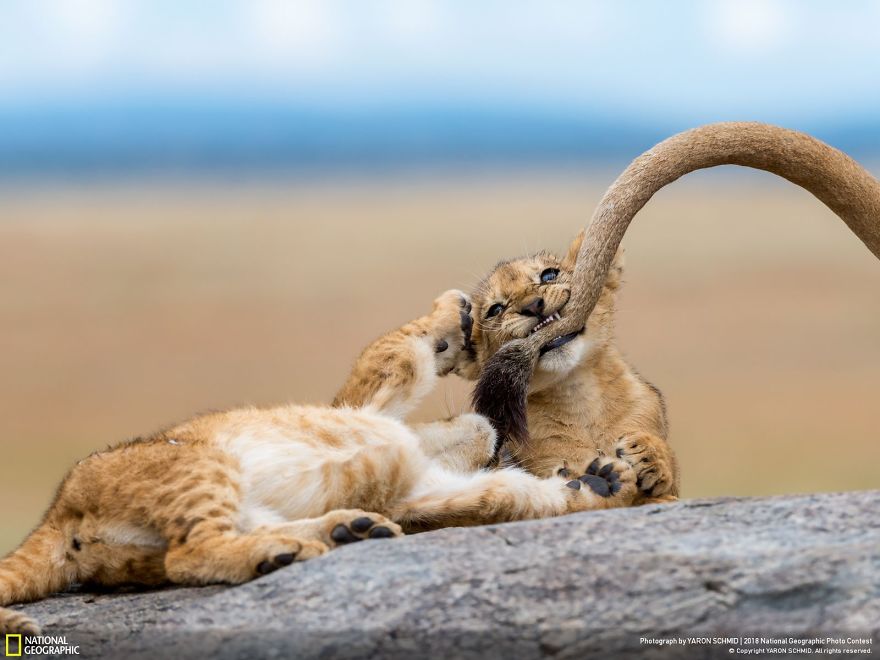 #7 Under Ice, Viktor Lyagushkin
Diving in White sea. Russia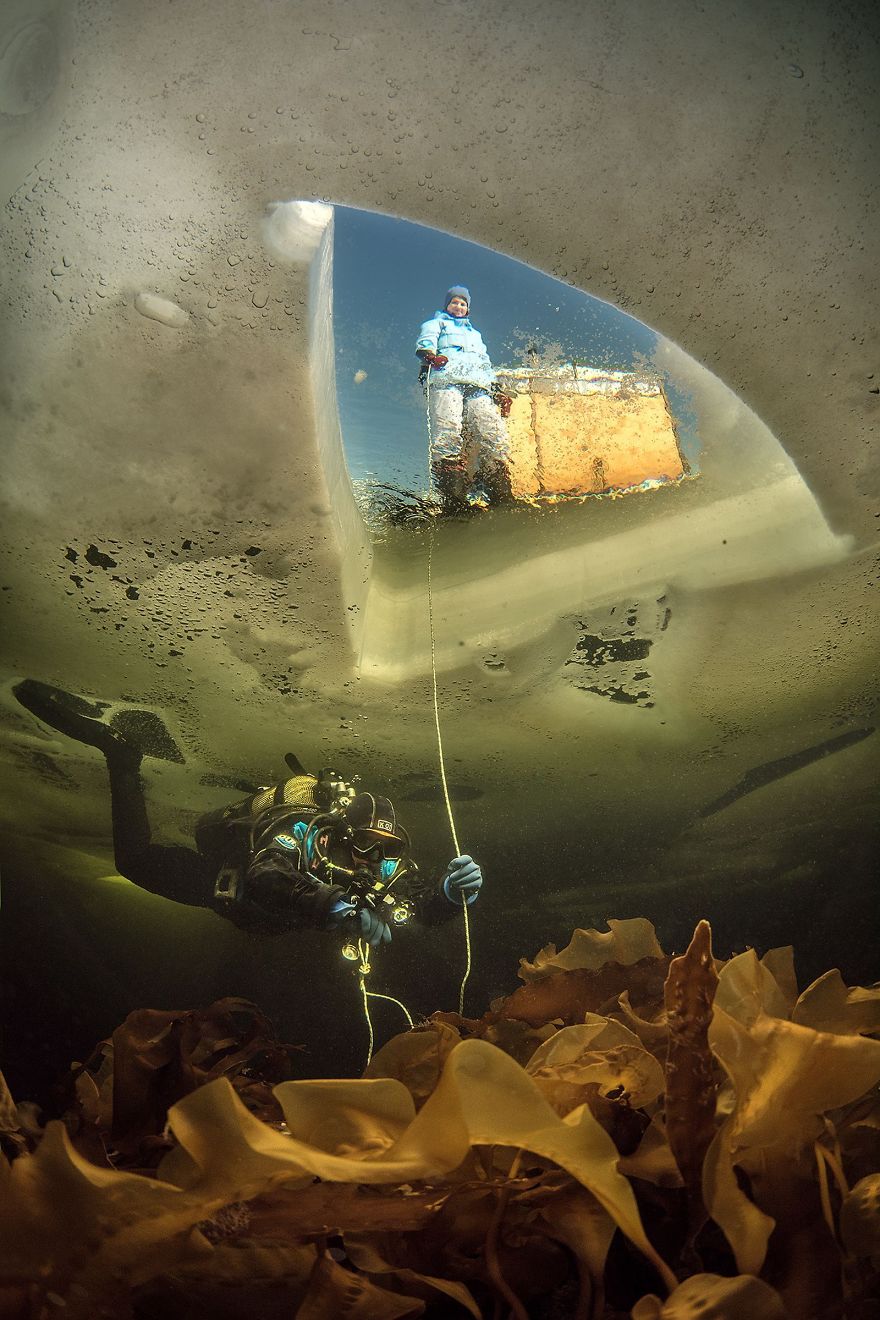 #8 Grand Prize Winner: Unreal, Jassen Todorov
Thousands of Volkswagen and Audi cars sit idle in the middle of California's Mojave Desert. Models manufactured from 2009 to 2015 were designed to cheat emissions tests mandated by the U.S. Environmental Protection Agency. Following the scandal, Volkswagen recalled millions of cars. By capturing scenes like this one, I hope we will all become more conscious of and more caring toward our beautiful planet.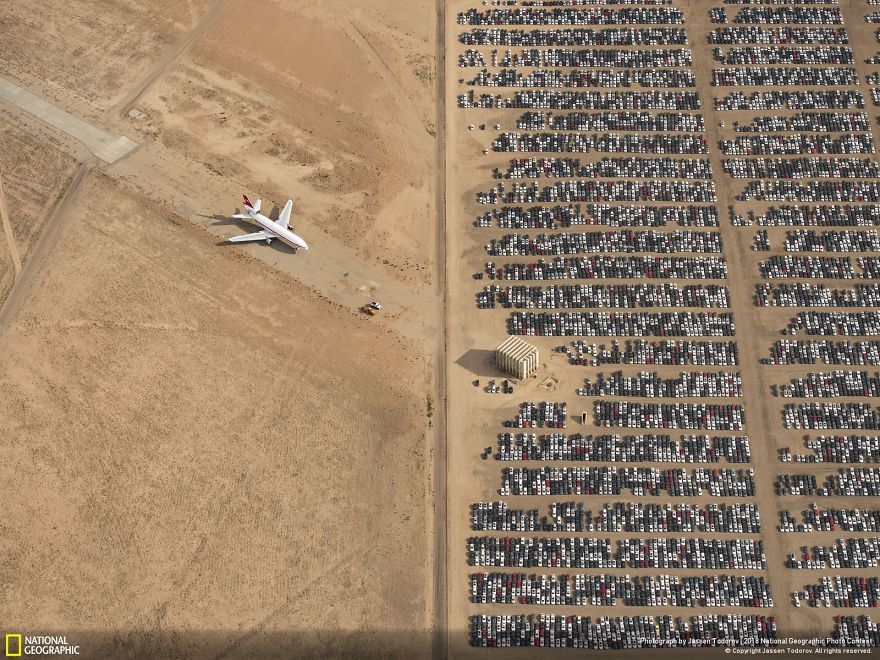 #9 Halfway Home, Cameron Black
An elephant wades through crocodile infested waters to reunite with the herd at the end of the day. The waterlines temporarily staining her body could not emphasize her progress any better as she steps onto shore and into the neighboring forest.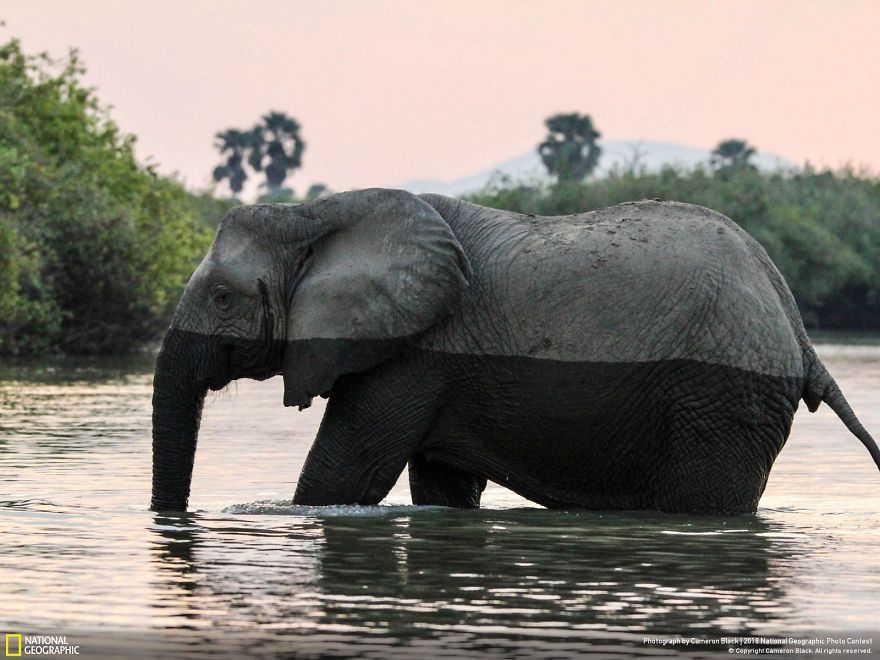 #10 Best Friends, Heather Nicole
In July 2017, I had the incredible opportunity to spend a week in lake clark national park. I immediately fell in love with the lush, pristine landscape of alaska. one of the many highlights of the trip was watching these adorable cubs run, play and wrestle with each other. I was lucky enough to snap this shot as they took a very brief break from playtime to enjoy a moment of peace. Don't worry, momma was very close by watching their every move.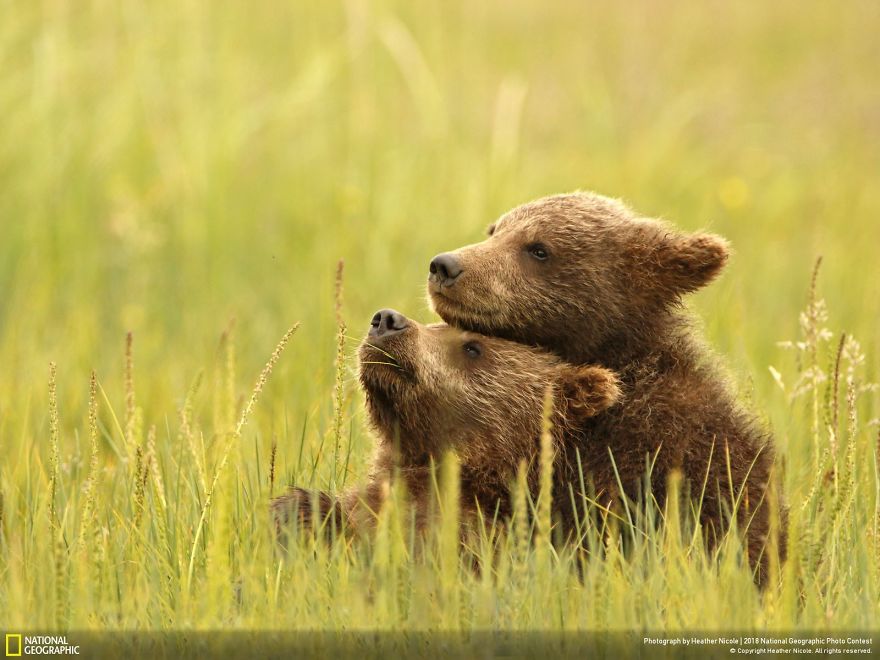 #11 First Place, Wildlife: Flying At The Crossing, Pim Volkers
It was early morning when I saw the wildebeests crossing Tanzania's Mara River. The layering of dust, shade, and sun over the chaos of wildebeests kicking up water gives this picture a sense of mystique and allure. It's almost like an old painting—I'm still compelled to search the detail of the image to absorb the unreal scene.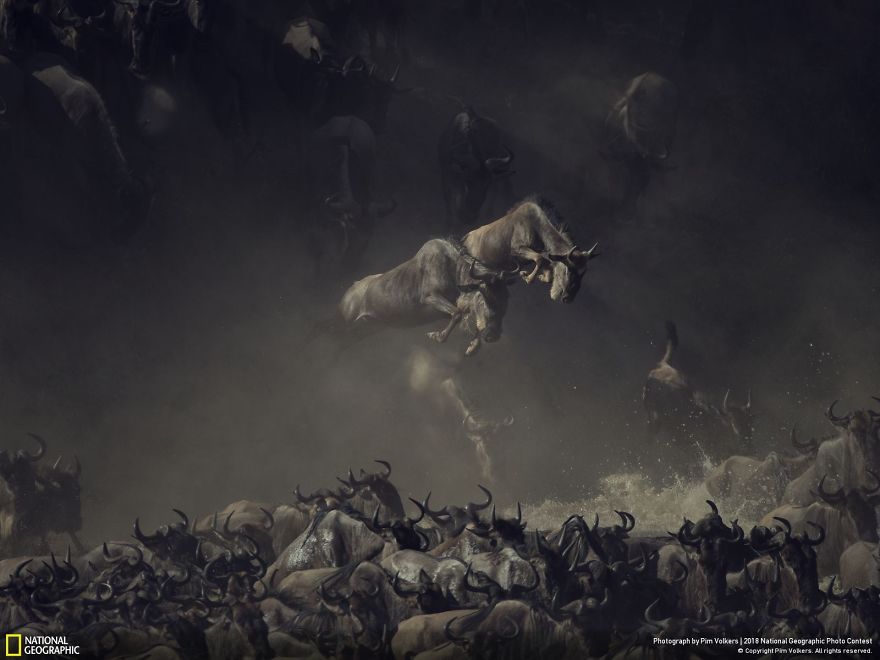 #12 Smoky Mountain, Michael Fung
A funny shape of lenticular cloud formed above the famous mountain in Torres del Paine National Park, Patagonia, Chile. The shot was taken in the evening with rapid change of weather.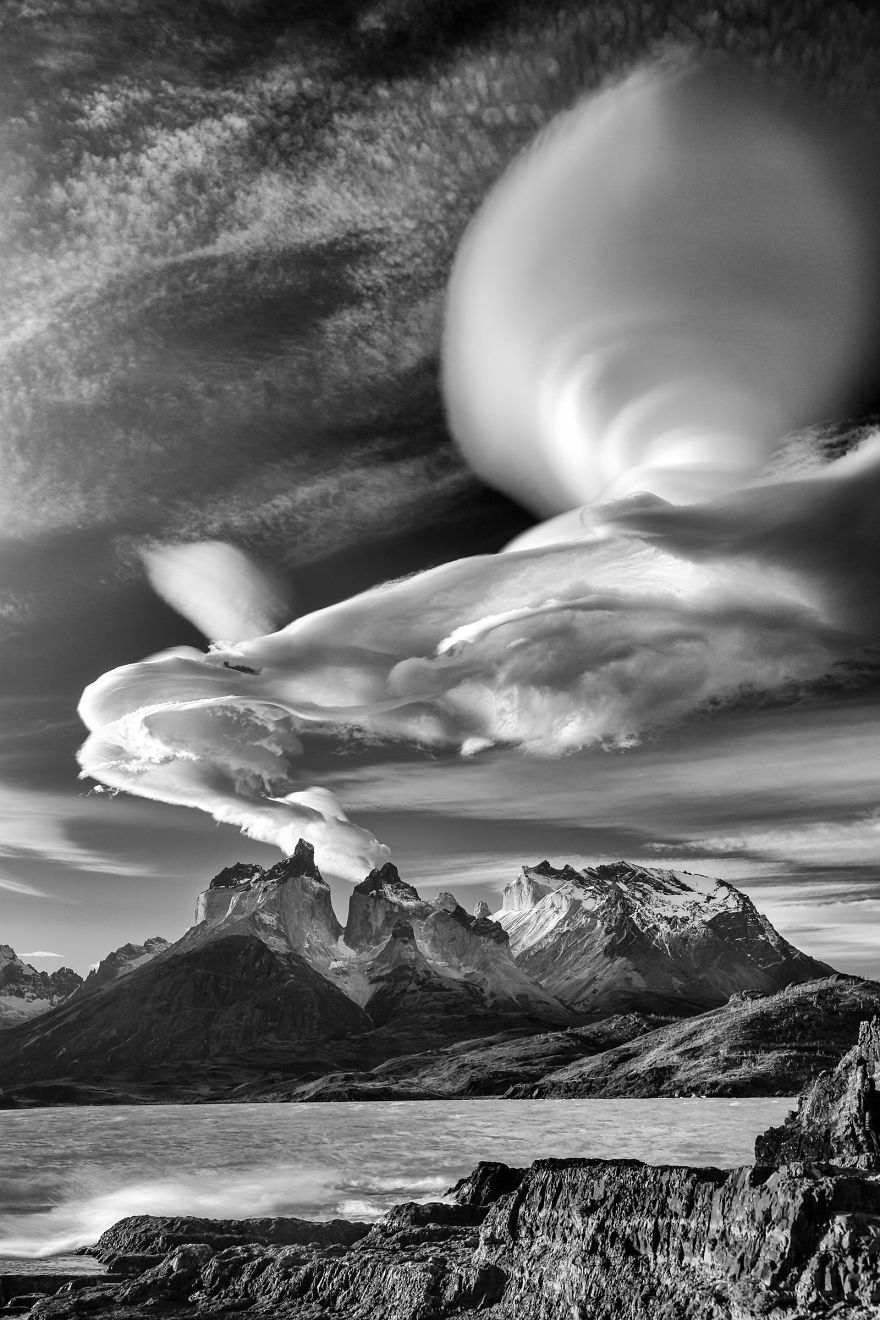 #13 Tree, Slawek Kozdras
Lonely tree in the desert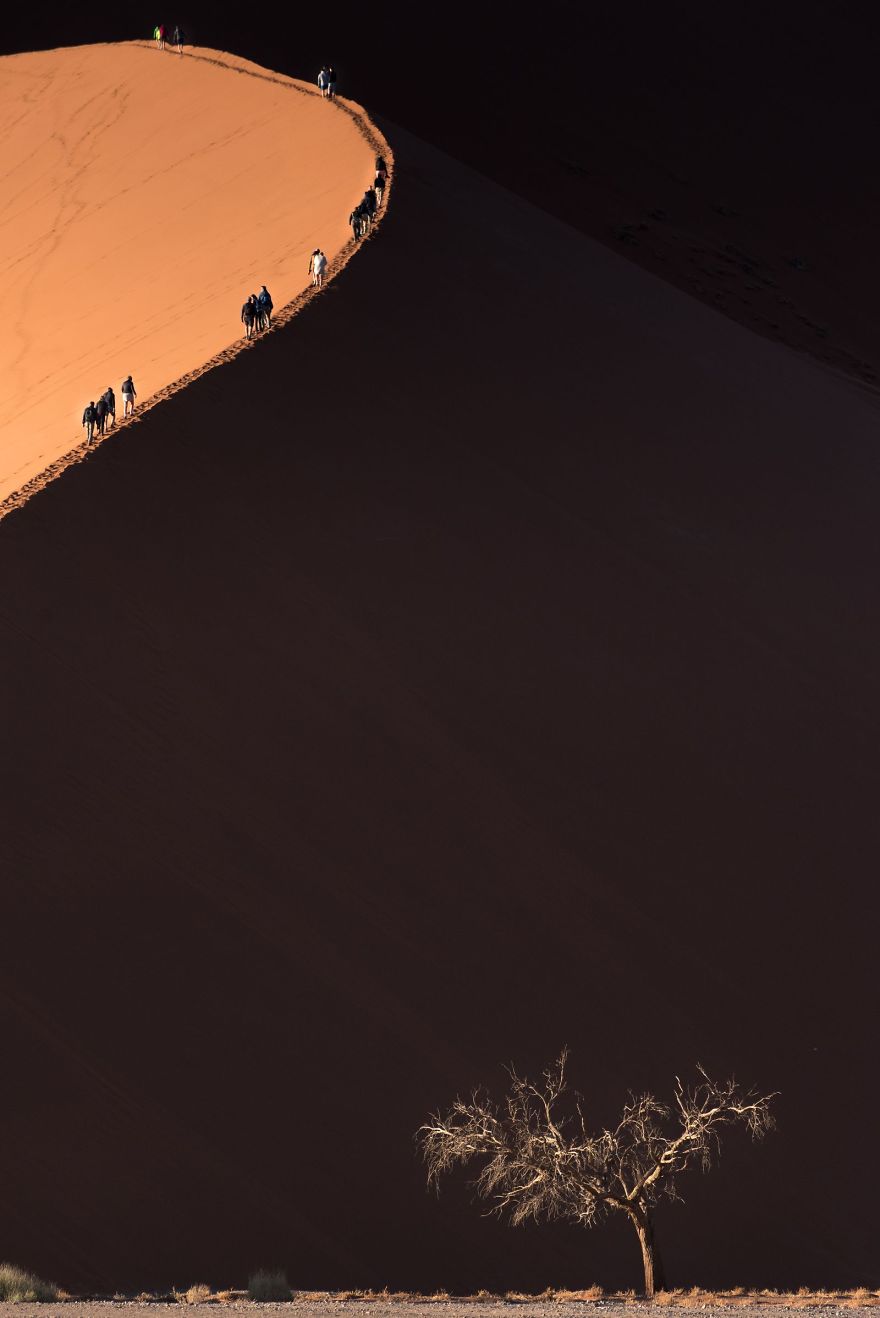 #14 Rautes, Mattia Passarini
The Rautes are the last nomadic indigenous groups of Nepal who live in inhabit lands on western mountains, sustaining their unique cultural identities for generations. They are one of the last nomadic people who never settle permanently in any particular place. This photo has been shot during the migration where a mother carry her few weeks child on the basket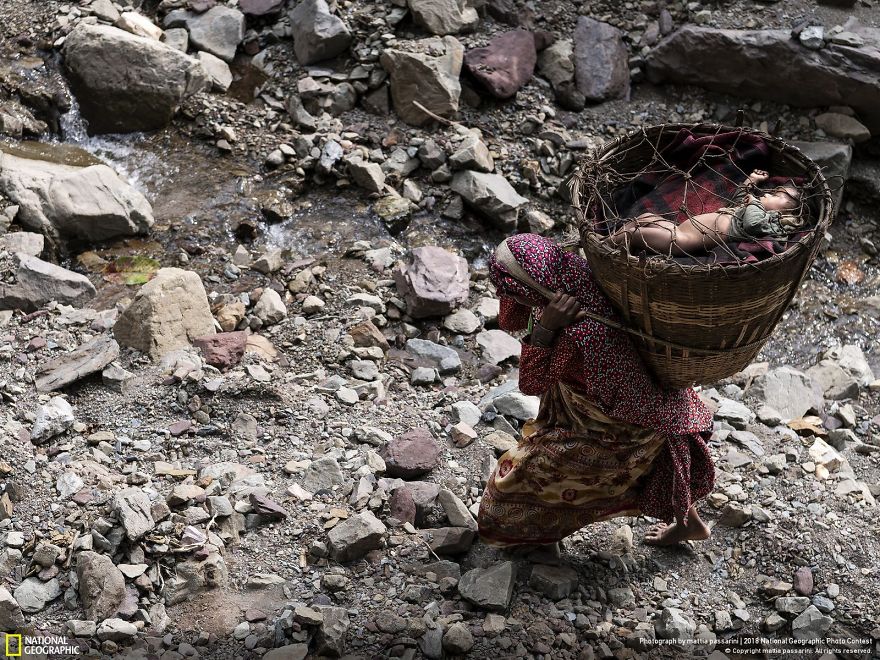 #15 Curiosity, Marcus Hennen
A creative portrait of a little curious burrowing owl. This owl was pretty cute and sat on a small branch in a front yard. I cropped the photo a bit to support this moment of curiosity. This was the first time I was able to photograph these owls and I was very amazed how trustful they are and that of course made it much easier to shoot this beautiful birds.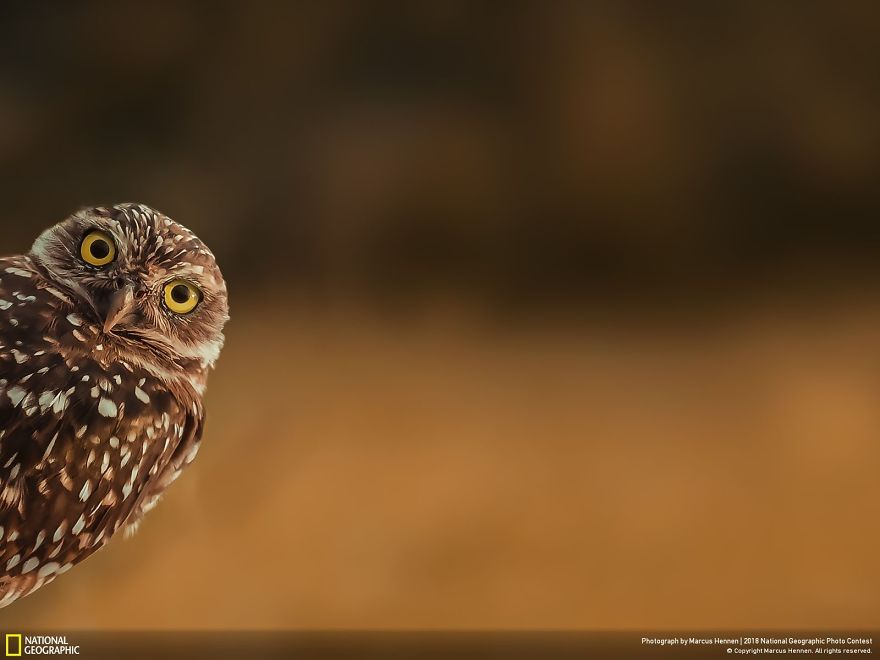 #16 Breast Cancer, Huey Kidd
Last year she was diagnosed with breast cancer. She has undergone bilateral mastectomies and completed courses of chemotherapy and radiation. She would like for women to know what mastectomies look like in case they may require surgery.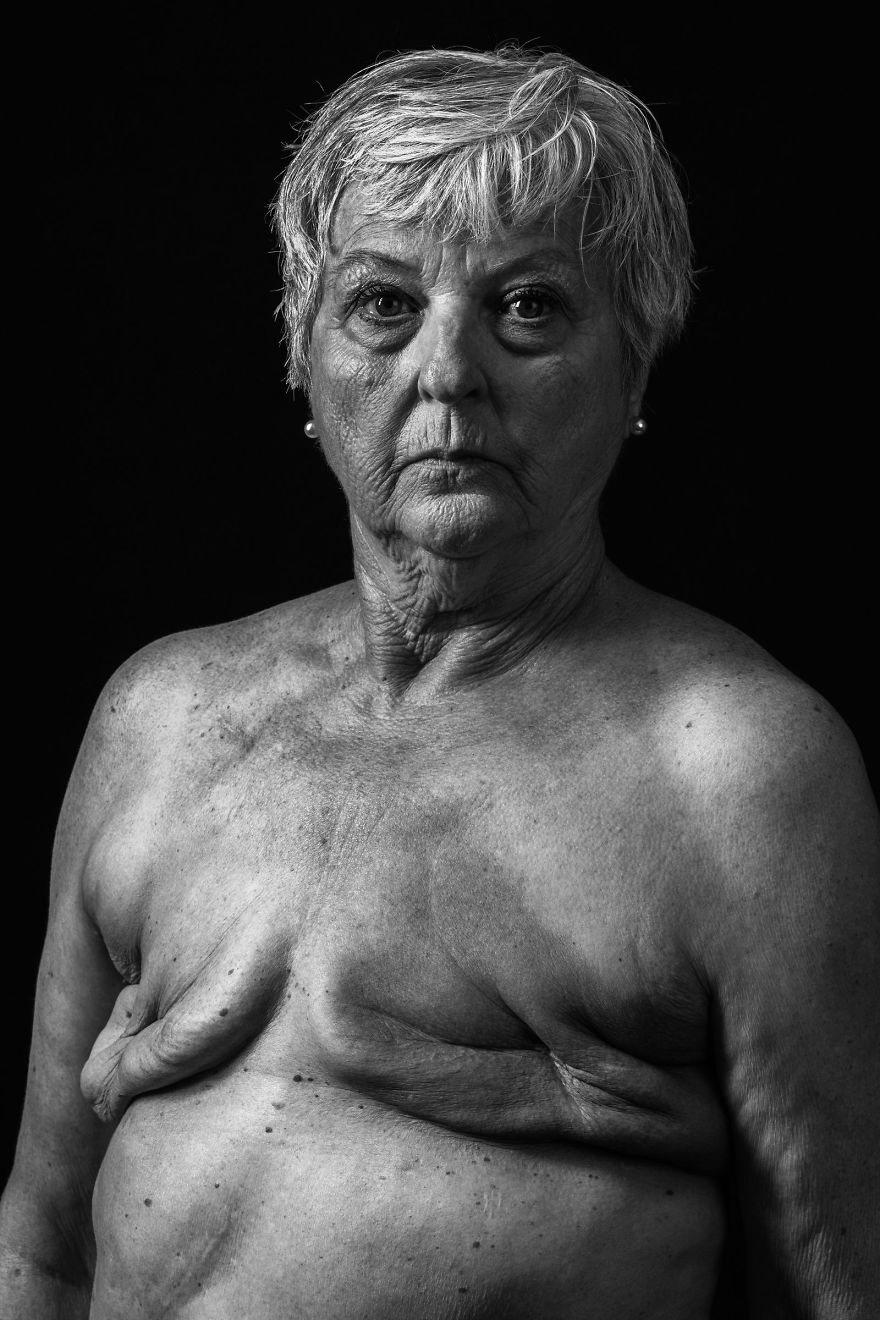 #17 People's Choice: An Astonishing Chase, Thomas Vijayan
After many days of following a cheetah on the second last day of my trip this cheetah target a gazelle cub and started running towards the gazelle exactly the way i wanted and I was able to capture it running in between the black grass with a dust forming behind its legs creating a magical frame. But the end was more astonishing. The cheetah started playing with the gazelle fawn like its own cub and then after sometime set it free to its mother. Even the animals value the life of other animals.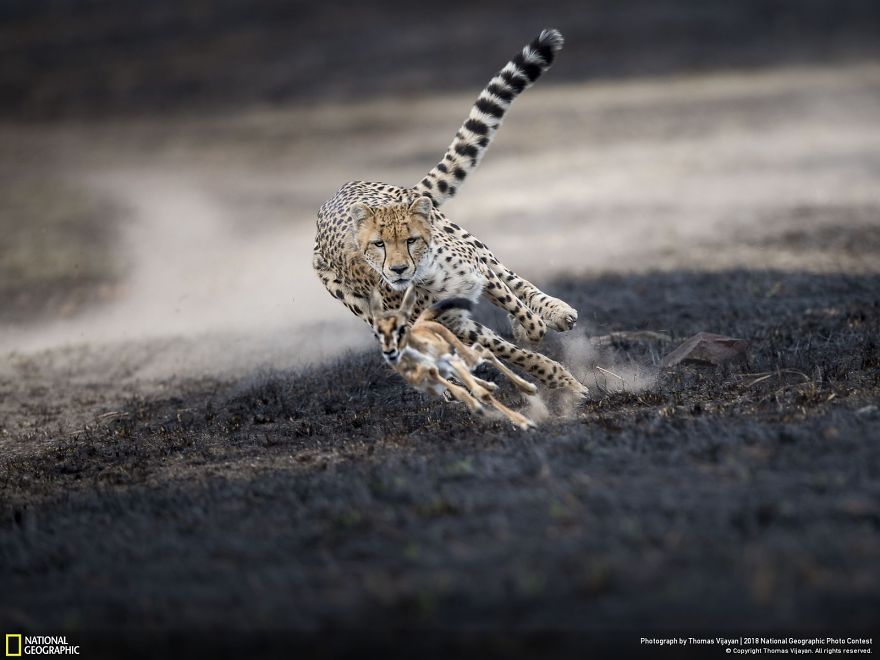 #18 Uhhs & Ahhs, Lilian Koh
A juvenile grouper is fighting for its life while the lizard fish trying to ingest it. Story after this shot was the juvenile grouper managed to break free from its jaw. Alive but can barely swim, however it took 2 breaths before it was eventually eaten by a prowling snapper nearby.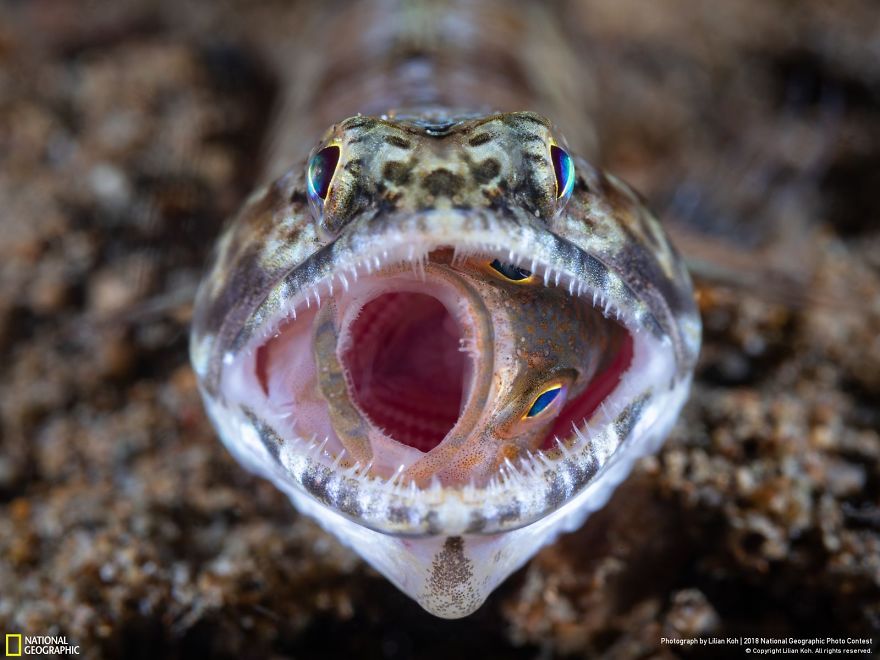 #19 People's Choice: Van Gogh Baobabs, Maggie Machinsky
In a time when approximately 1/3 of the world's population can no longer see the Milky Way with the naked eye, Madagascar is a rare, isolated paradise untouched by modernization or light pollution. This is a 47 minute exposure of the sky trailing over the iconic 800+ year old baobab trees of the famed "Allee des Baobabs" in Morondava, Madagascar with the setting moon illuminating the foreground.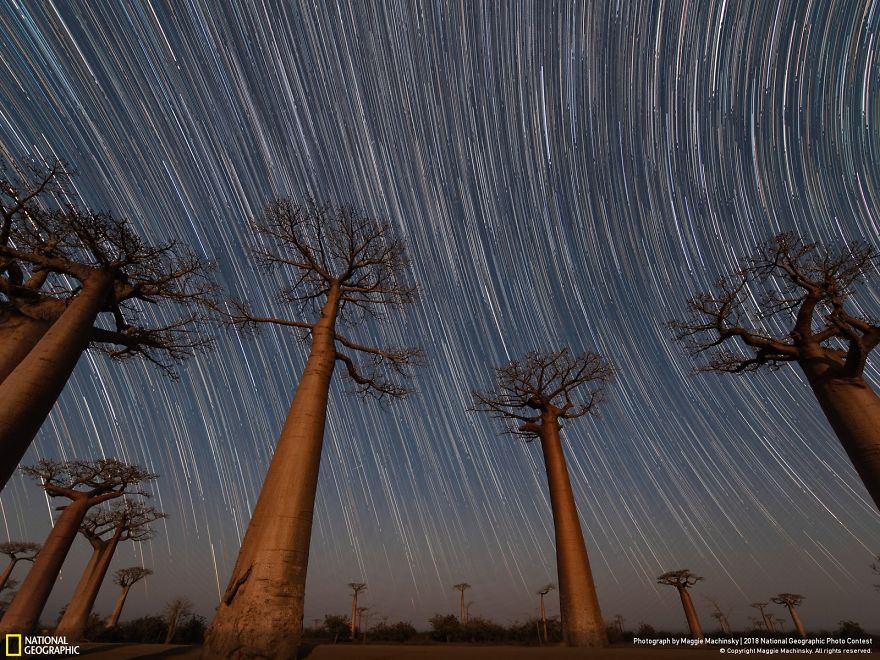 #20 People's Choice: Hungry Hungry Hippos, Martin Sanchez
I found a hippo party and decided to join! AND WE ALL DECIDED TO PLAY HUNGRY HUNGRY HIPPO! 🙂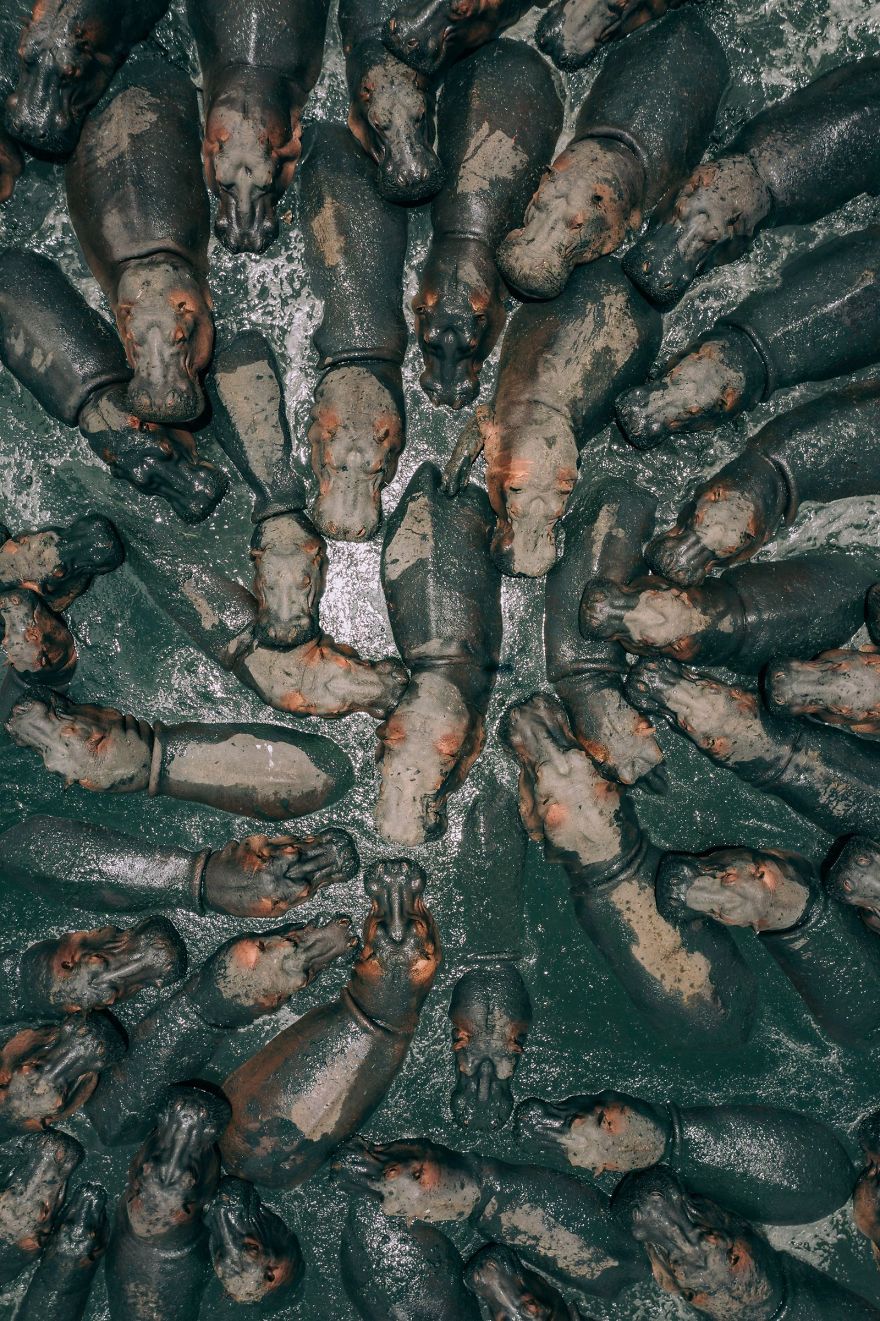 #21 A New Challenge, Alessandra Meniconzi
At the feet of the Altai mountain, that I met the Berkutchi, which in Kazakh language means "hunters with Golden Eagle". They are men that with extreme patience and dedication have domesticated to their advantage the different qualities of the Eagle. The raptor, with its untamable courage, its fast flying abilities, acute vision and hearing capabilities has become man's hunting companion that cannot be substitute. But this boy after train his eagle decide to try to domesticate two chick hawk.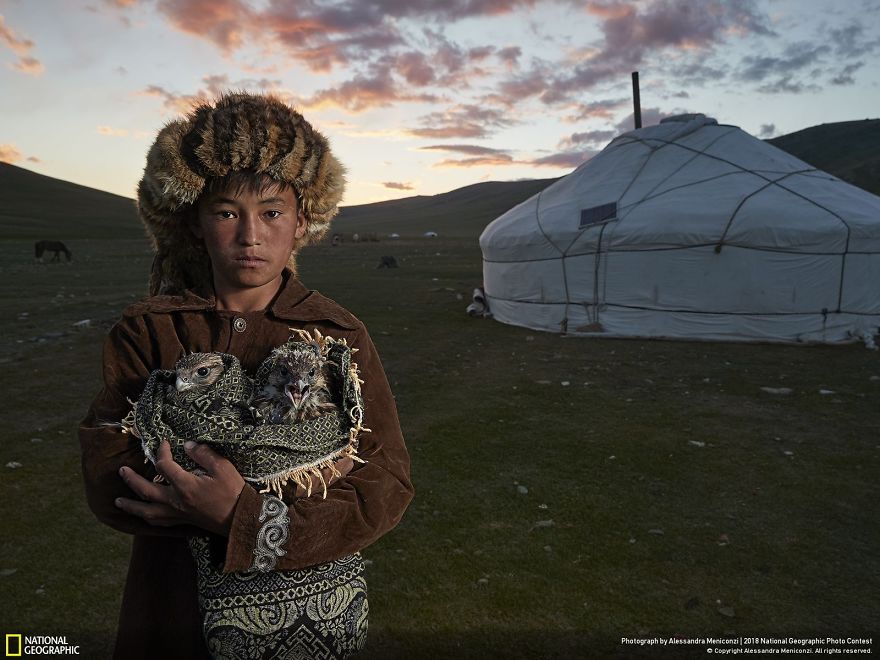 #22 Shipwreck And Photographer, Vivi Molet
This shipwreck is in bimini and its called the Gallant Lady.it was smashed up on shore in 1997. The relentless waves have slowly destroyed the ship. they believe in 15 years there will be nothing leaft at all.This Photography will become history. (Im a Profesional Landscape photographer and my husband loves to fly drones, so we team up to Documentary the world from above and from the ground) YOU CAN SEE ON THE BOTOM RIGHT SIDE MYSELF AND THE SHADOW.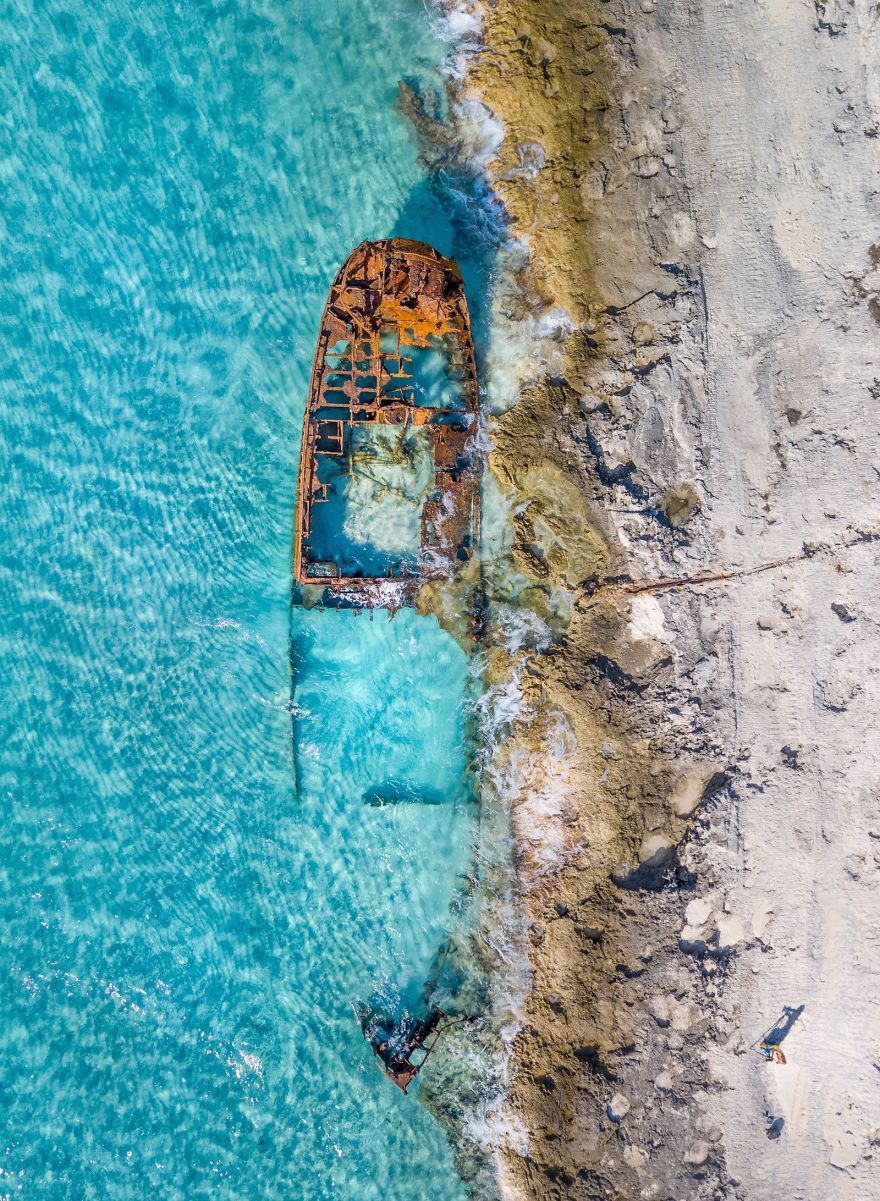 #23 Aigerim- The Eagle Huntress, Diana Ishii
Aigerim, a young female eagle huntress from the Altai Mountain in Mongolia. Hunting with a golden eagle is tradition that is normally passed down to boys but Aigerim has proved to her father that she could do just as well. At home, she is an obedient daughter but on the competition ground, she is as fierce as her pet Golden Eagle. Her golden eagle listens to her commands and in return, Aigerim has complete trust in her wild friend that it won't hurt her with its hooked beak and claws.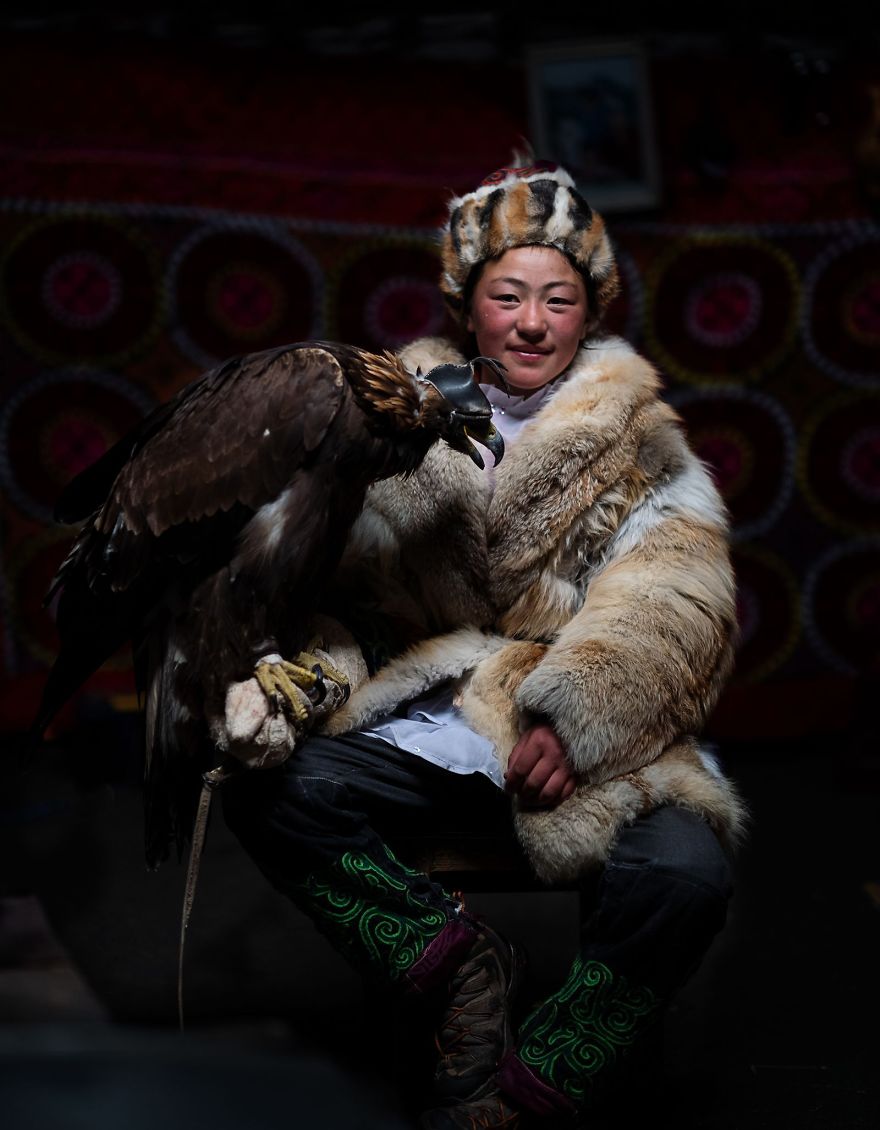 #24 Waves, Tilda Josefsson
A shetland pony who's doing a spinning rear. tried a new perspective by zooming in on his upper body, resulting in catching the movement in his manes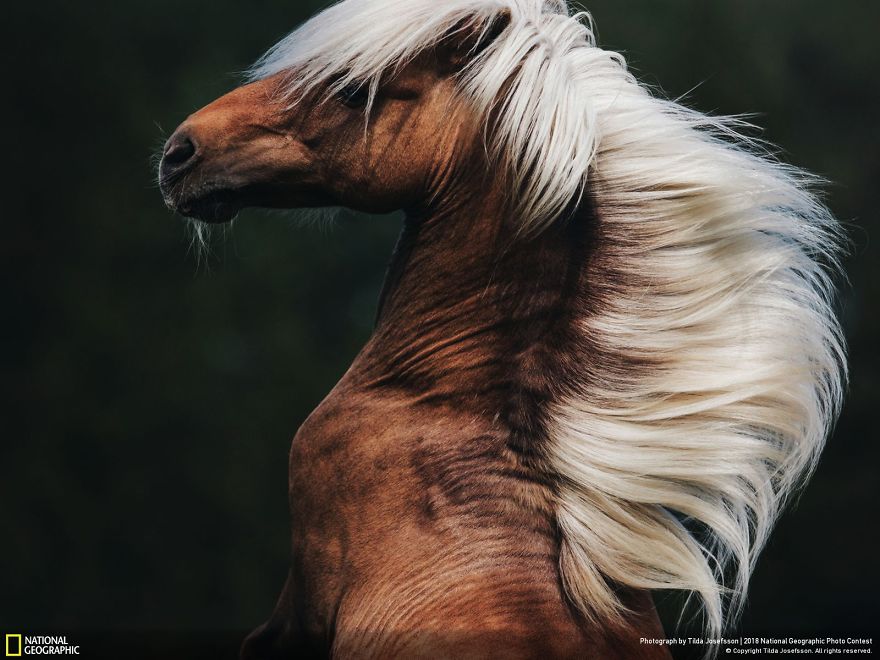 #25 At The End Of The Rainbow, Joshua Galicki
The weather was constantly changing in East Falkland. I was grateful for this as the rapidly evolving conditions provided some dramatic opportunities. A quick storm had passed through, leaving a rainbow in its wake. I crawled along the beach to position a portion of the rainbow in between two King Penguins interacting. In this capture one appeared to be ecstatic about the improving weather while the other appeared rather indifferent, or it could've just been some flapping and preening.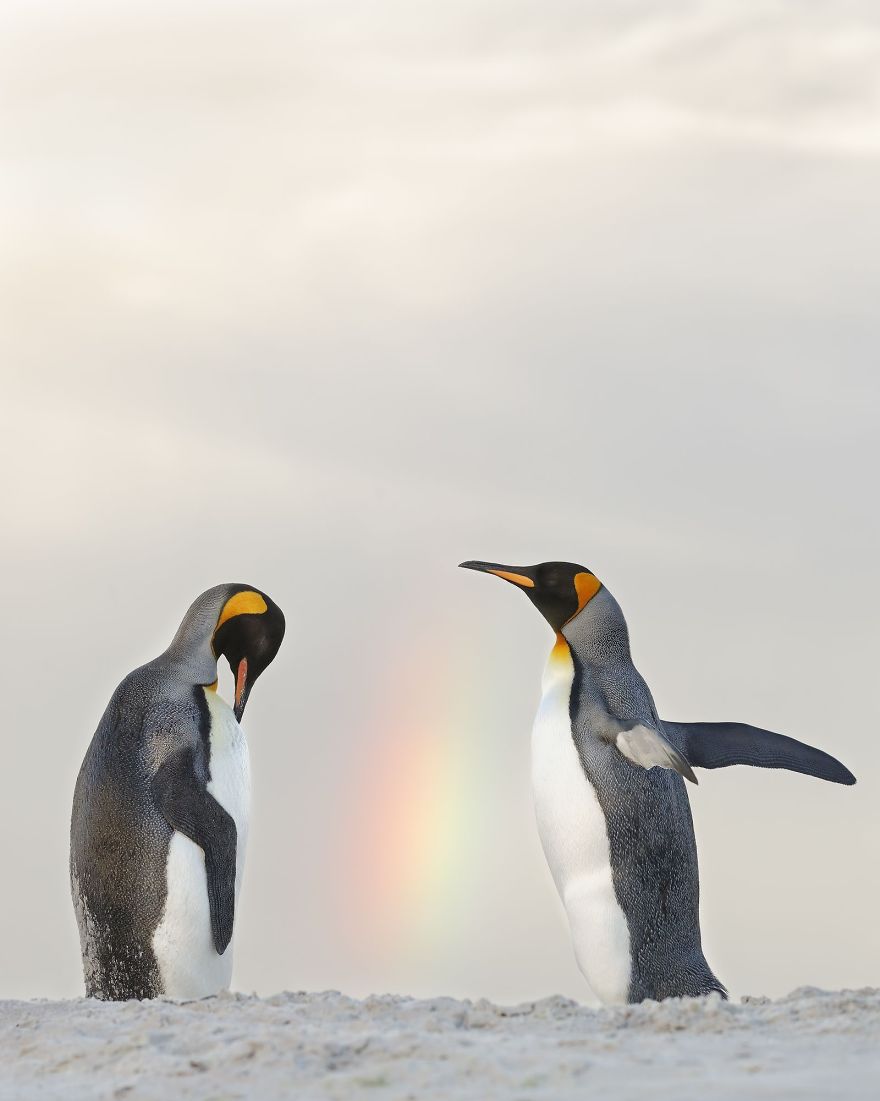 #26 Discovering The Hidden Face Of Yucatán, Guillaume Néry
A cenote is a natural deep pit of crystal clear water that is found especially in Central America. There were once considered by the Mayan people as sacred. In the heart of the Yucatàn jungle, a freediver was joining the surface of the cenote with the sun's rays as a guide when the light behind him formed the illusion of an underwater face.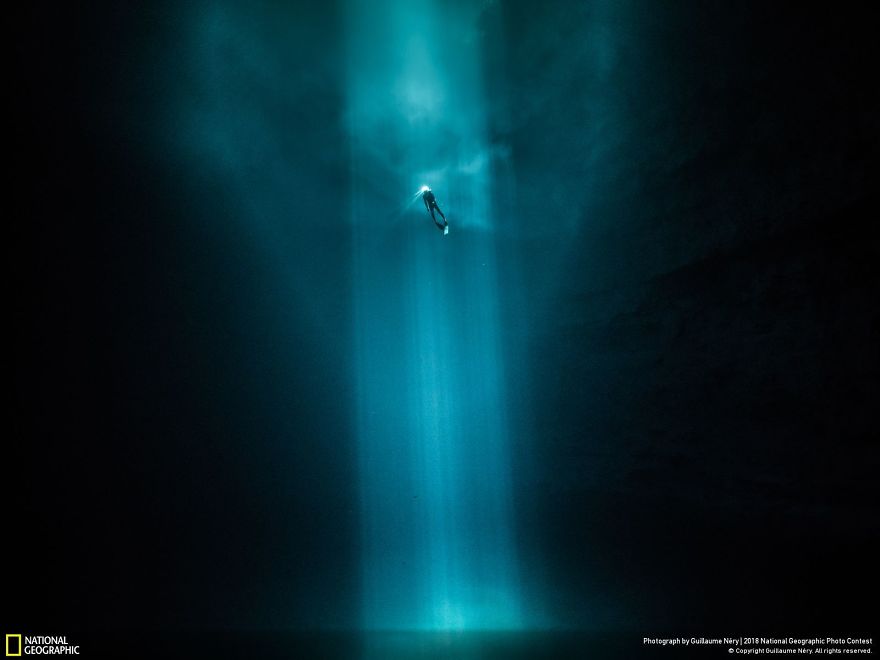 #27 The Shepherd From Transylvania, Eduard Gutescu
On the Carpathian mountains in the region of Bran village i found this authentic shepherd. His name is Nea DAN. It was a real joy to listen to his life story as a shepherd.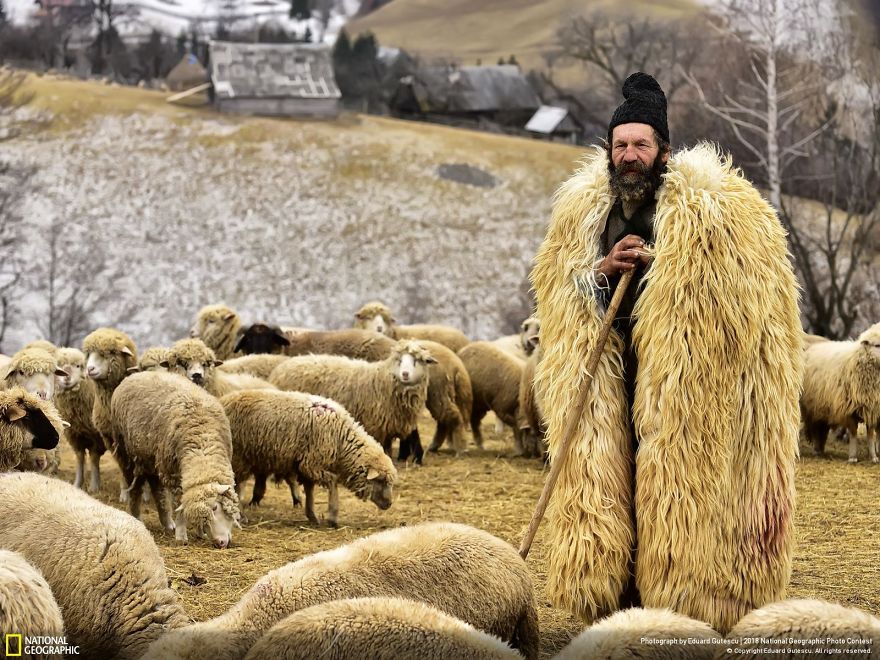 #28 Embearassed, Taylor Thomas Albright
Pictured a brown bear in the midst of a short tumble as he was fishing atop Brooks Falls, Alaska during the annual salmon run. Anxious, aggressive and hoping to get a better angle at the leaping salmon, this bear reached out a bit too far and lost his footing. Splashing into the pool below unharmed, he eventually climbed back into his spot to wait for the next chance at a salmon.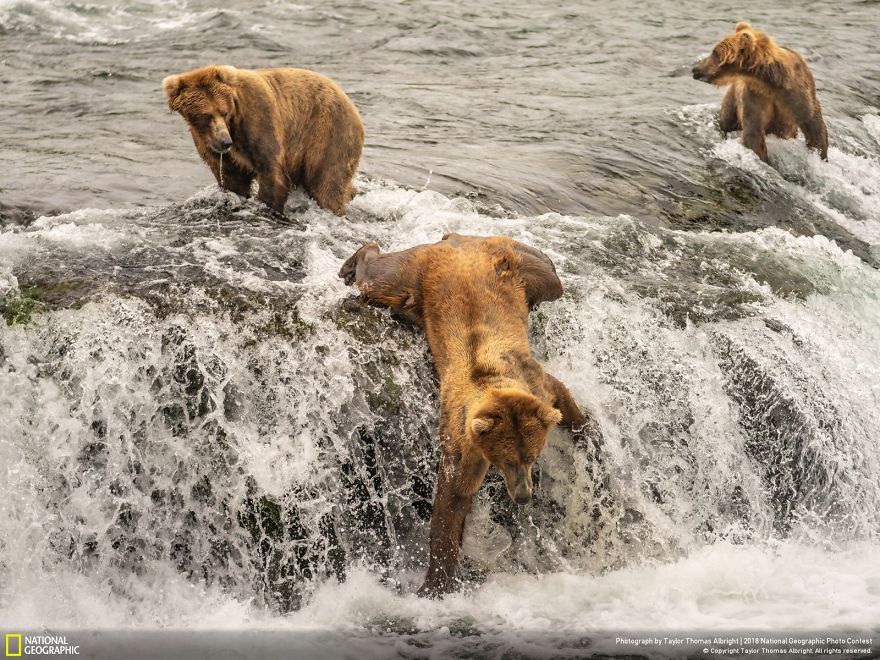 #29 Heart Climber, Jimmy S.
At the certain point of view, ice climbing in JOHNSTON CANYON is on top of a heart.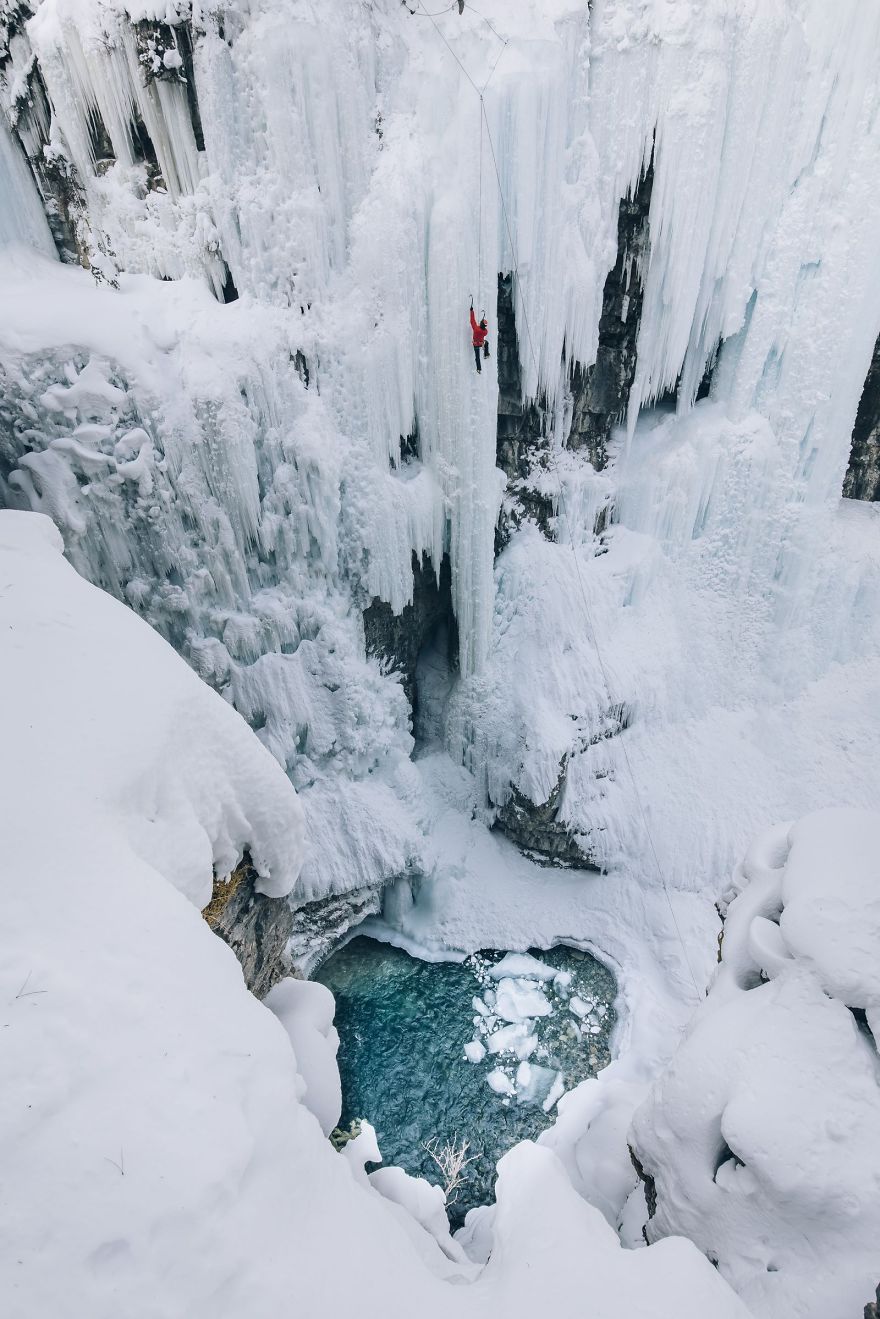 #30 Third Place, Wildlife: A New Look, Alison Langevad
Late at night, two southern white rhinoceroses emerged from the shadows to drink at a watering hole in Zimanga Game Reserve. They were back to back, observing their surroundings before lowering their heads. I underestimated the emotional impact the incredible beasts would have on me. They had been dehorned to deter poachers. I was full of emotion—and horror—that poaching had such a devastating effect. It must have been a hard decision to dehorn them, and I am grateful for the reserve's efforts.
#31 Sorano, Md Tanveer Hassan Rohan
Sorano is an ancient medieval hill town hanging from a tuff stone over the Lente River and commune in the province of Grosseto, southern Tuscany in Italy. This photograph was taken just after the sunset when the lights were turn on.
#32 People's Choice: Mid Shed, Mike Dexter
CHAMELEONS SHED THEIR SKIN REGULARLY THROUGHOUT THEIR LIVES BUT, UNLIKE SNAKES, IT PEELS OFF IN BITS AND PIECES RATHER THAN AS A WHOLE. This flap necked chameleon, mid shed, was tentatively making its way across an open sandy area putting itself at great risk from predators. My aim was to capture an image that depicted the vulnerability of the situation so I lay down, transporting myself into its world.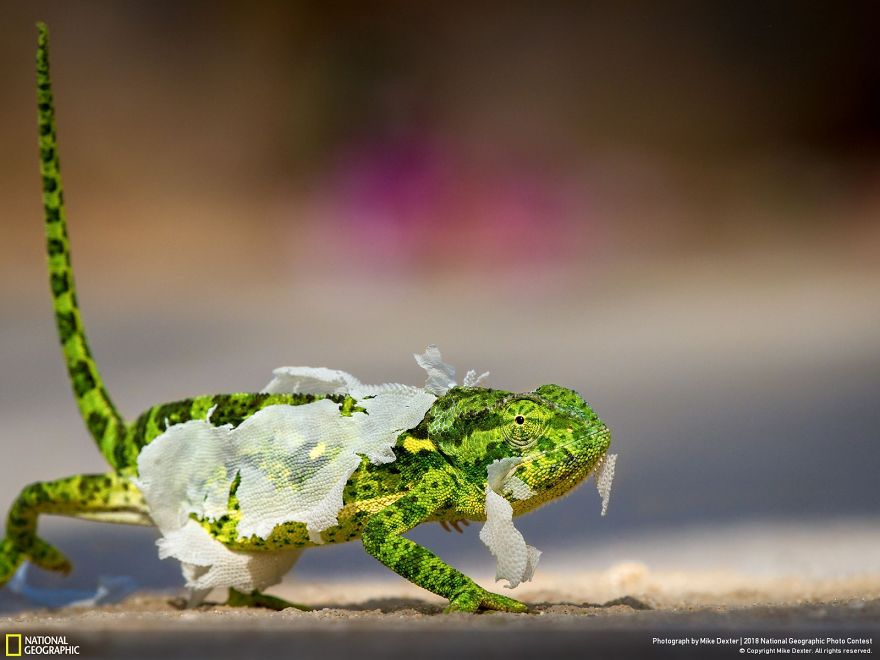 #33 Spa Time!, Nilesh Shah
An elephant herd takes some respite from the scorching heat and dry winds.A dust bath is their favorite way to beat the heat and keep the mosquitoes and other blood suckers at bay.The entire herd rests and rejuvenates together before resuming their colossal grazing.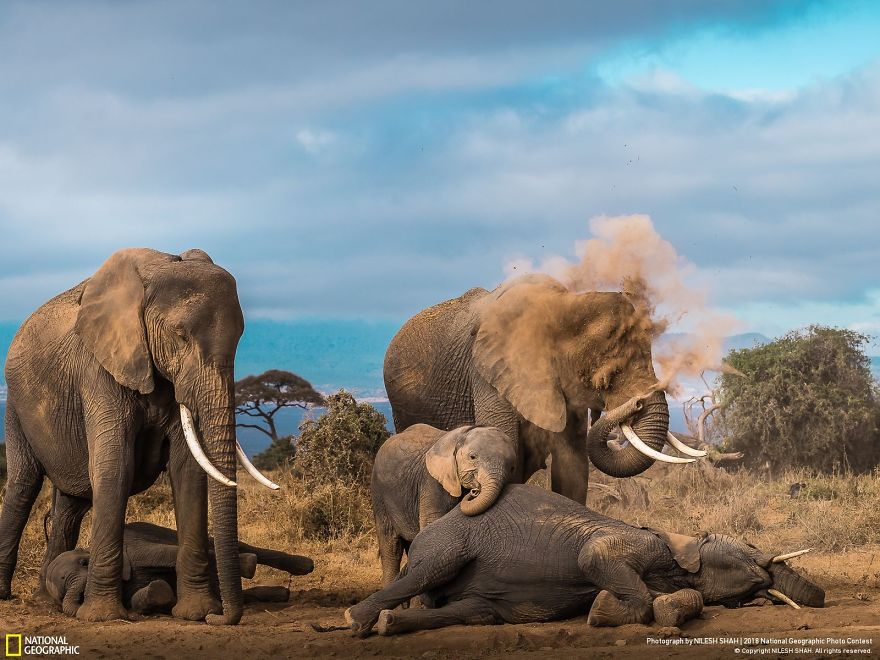 #34 "Redyk", Bartłomiej Jurecki
The traditional and counting more than 1,900 animals, sheep grazing called "Redyk". From the Low Beskid in mountains to the city of Nowy Targ, Poland. shepherds bring back the animals to the owners who will take care of their sheep during the winter. Animals will come back to the mountains in the spring. It has been a tradition for many centuries to take the flock of sheep to the mountains for grazing.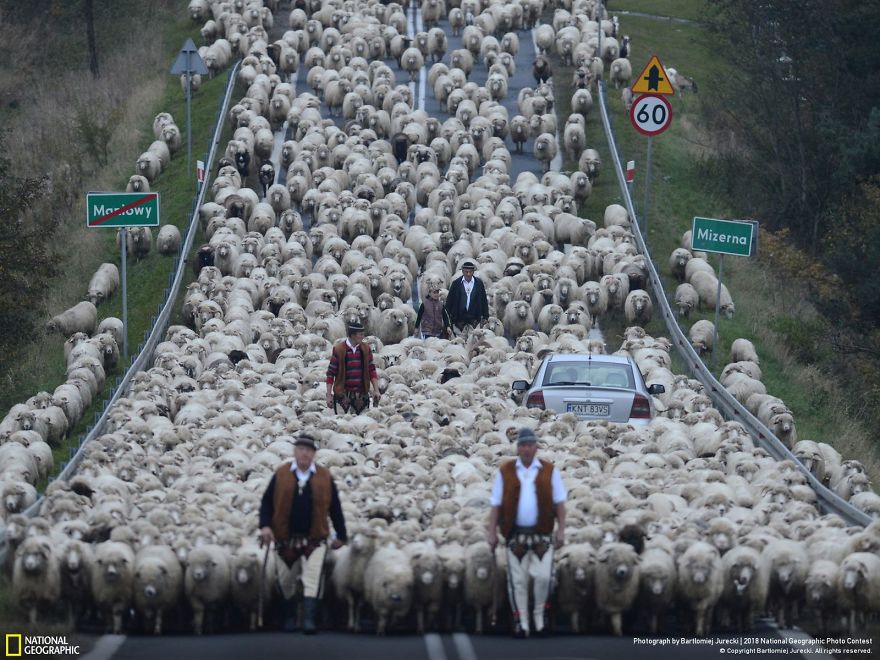 #35 Jute Worker, Zakir Hossain Chowdhury
A worker is almost hidden by his enormous load of jute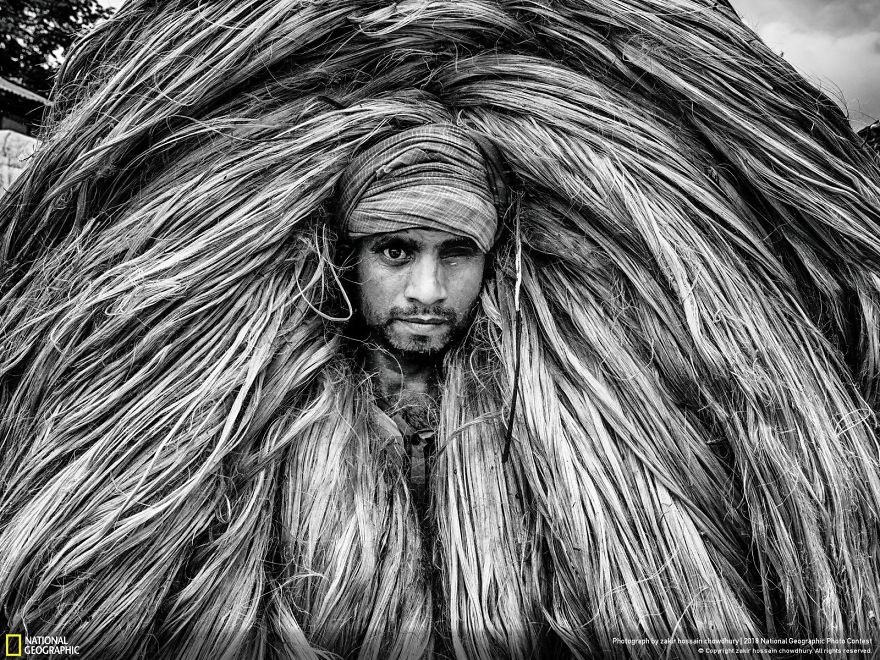 #36 He Went That Way!, Lea Scaddan
Rainbow Bee-eater on the left looked slightly annoyed at being hit in the face by the other bee-eater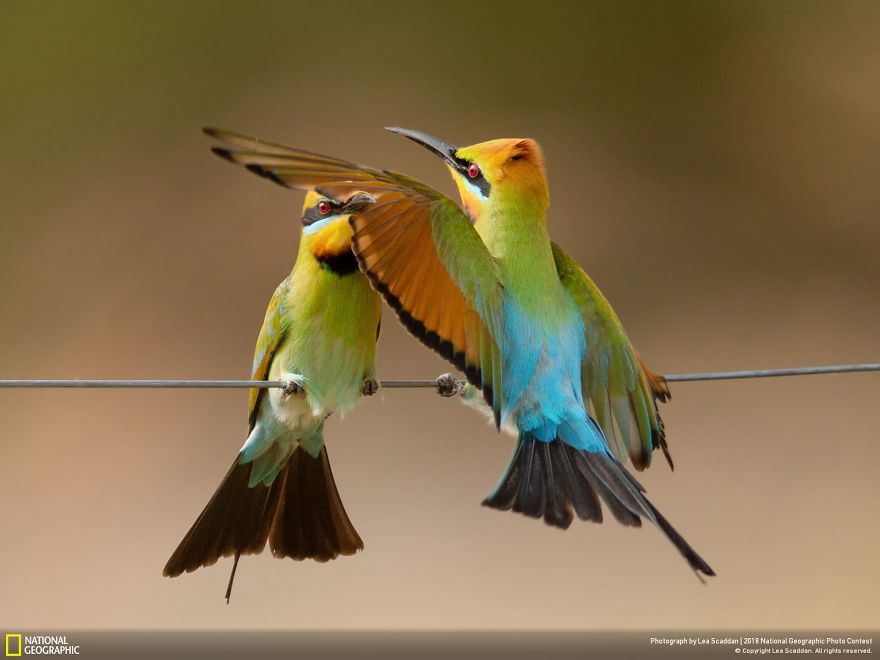 #37 In The Blizzard, Vladimir Kochkin
The mountain module on the Vologda land is the only place where it is possible to wait out the bad weather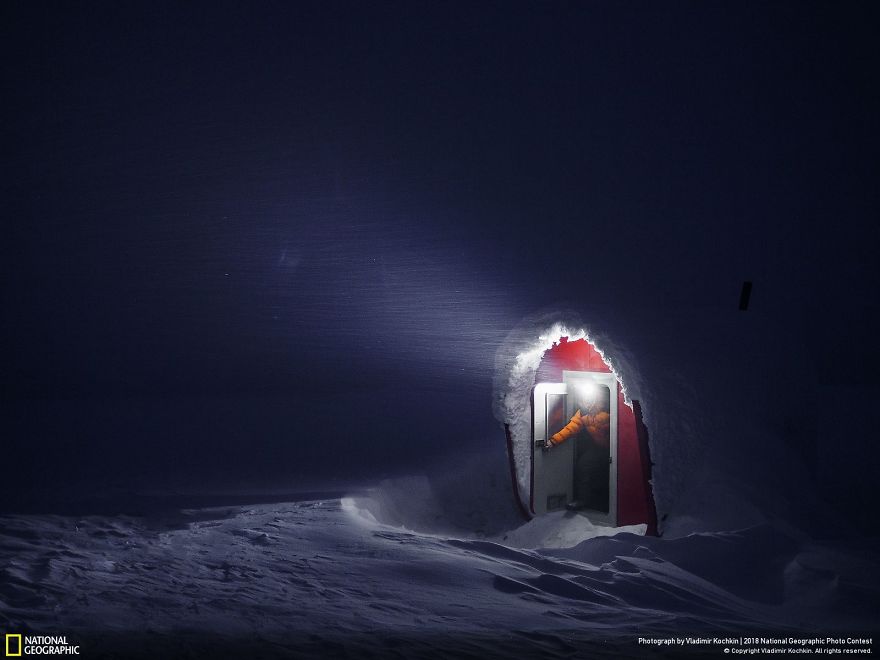 #38 Honorable Mention, Places: Snowflakes, Rucca Y Ito
Japan's Blue Pond in Biei-cho, Hokkaido, has become very famous for attracting tourists from around the world. It is surrounded by beautiful mountains and trees. This pond, frozen during winter, was artificially made to prevent river contamination from the nearby active volcano, Mount Tokachi. The accumulated pond water contains high levels of minerals, such as those containing aluminum. The alluring view of the blue pond can take one's breath away.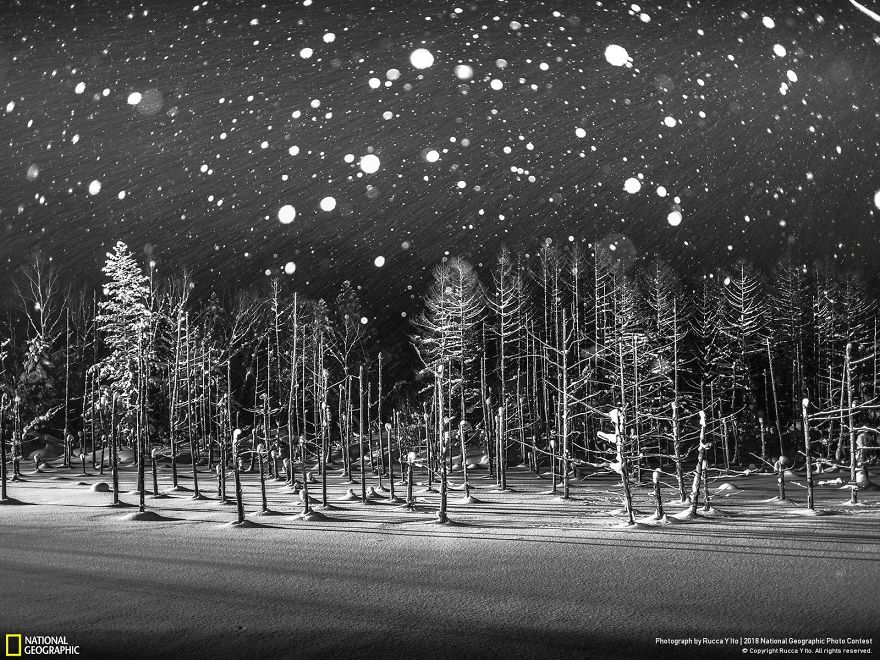 #40 Land On Fire, Leighton Lum
Recently the Kilauea volcano erupted causing thousands of gallons of lava to flow into the ocean. It was an incredible sight to witness such power of this eruption!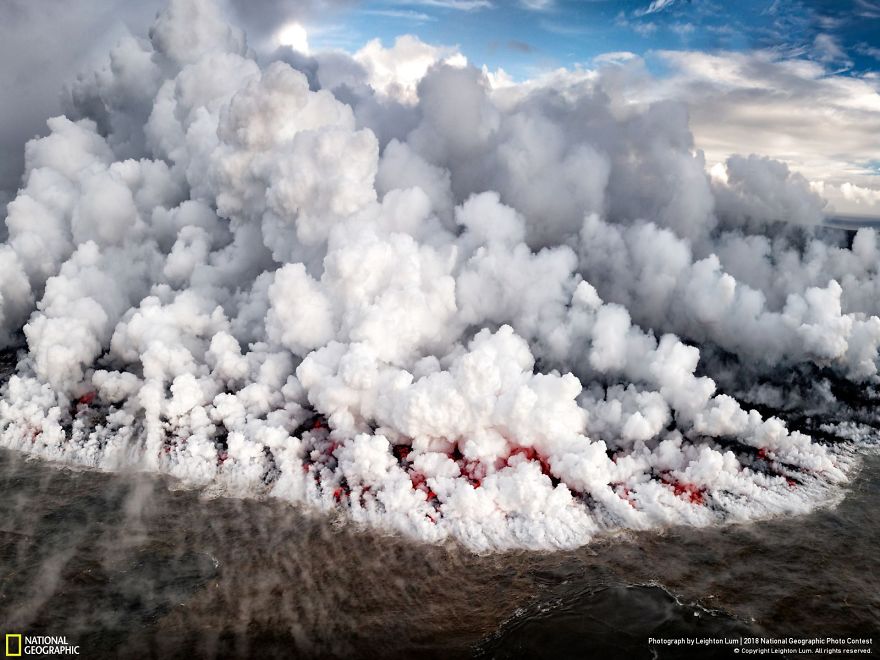 #39 Third Place, Places: Road To Ruin, Christian Werner
While on assignment for Der Spiegel, we made a road trip through Syria to document the current situation in major cities. When I first entered the Khalidiya district in Homs, I was shocked. To make this image, I asked a Syrian soldier in charge of the area if I could climb onto a ruin. The soldier agreed, allowing me to climb at my own risk. I climbed up the ruins of a former house—which was full of improvised explosive devices—and took the picture.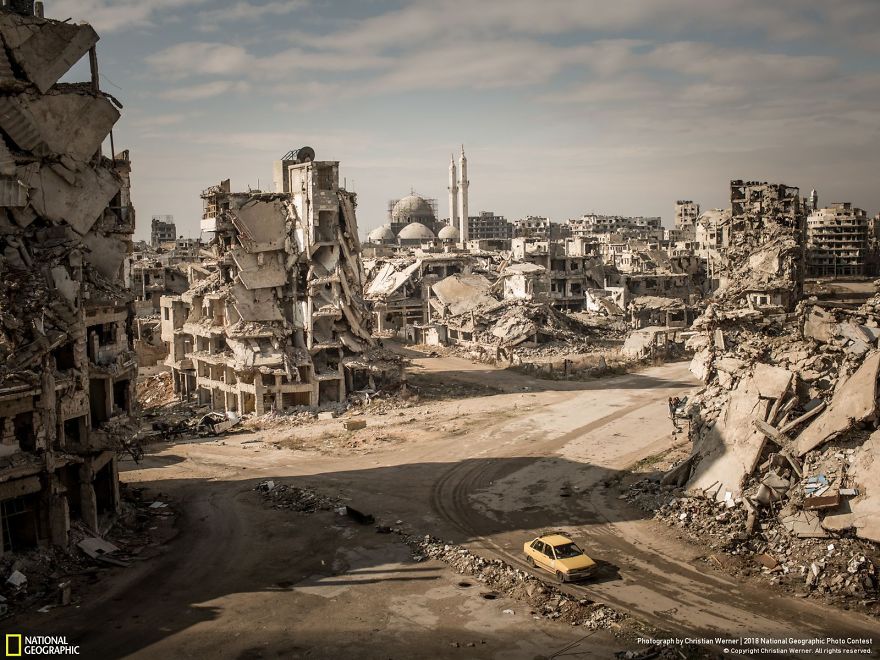 #41 An Overcrowded Train Journey, Noor Ahmed Gelal
Thousands of millions people travelling on the roof an overcrowded train heading for Dewanganj, Jamalpur, from the city of Dhaka to celebrate Eid-al-Fitr with their families.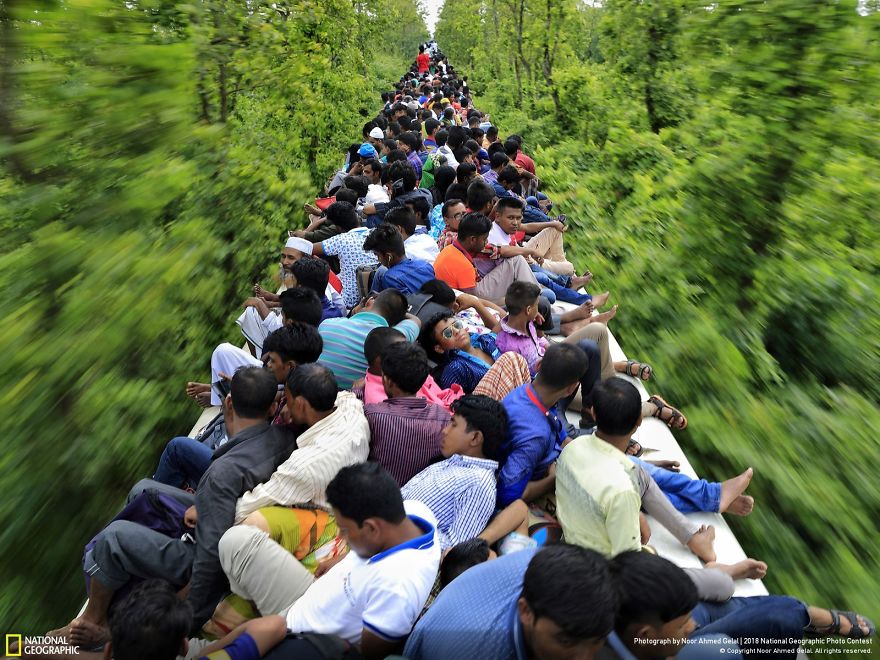 #42 Second Place, Places: Thunderbird In The Dust, Nicholas Moir
A rusting Ford Thunderbird is blanketed by red dust from a supercell thunderstorm in Ralls, Texas. The dry, plowed fields of the Texas Panhandle made easy prey for the storm, which had winds over 90 miles an hour ripping up the topsoil and depositing it farther south. I was forecasting and positioning a team of videographers and photographers on a storm chase in Tornado Alley—this was our last day of a very successful chase, having witnessed 16 tornadoes over 10 days.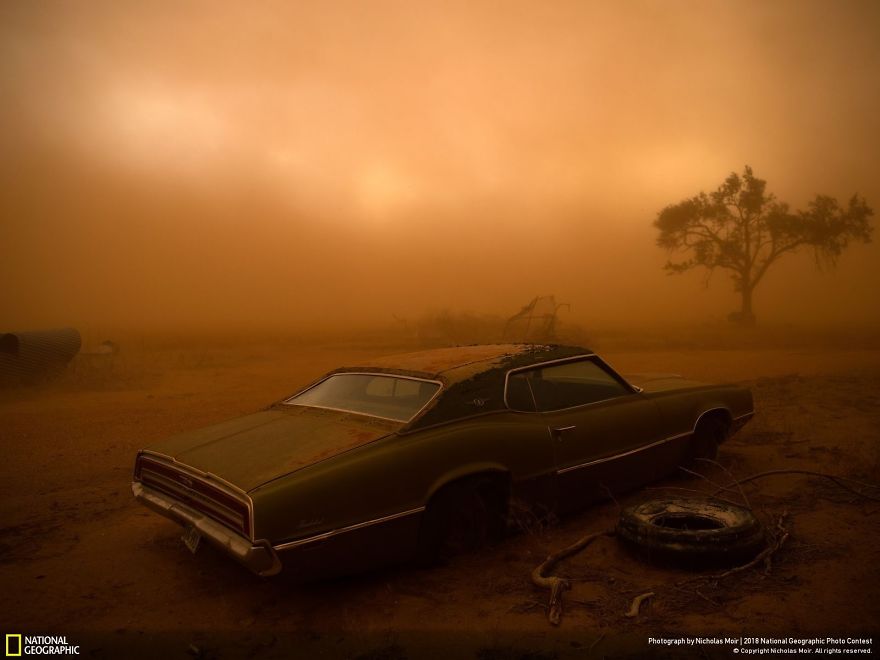 #43 Flamenco Del Caribe Salinera Salsol, Fernanda Linage
Nesting place of the flamingos, every year the flamingos arrive at the red lagoons of yucatán, to put their nests, last year they did not arrive due to any climate change, this year they managed to return to the place of nesting, laying thousands of eggs, many of them were out of the nest, and I found this other one taking care of the baby until he was big enough to take care of himself.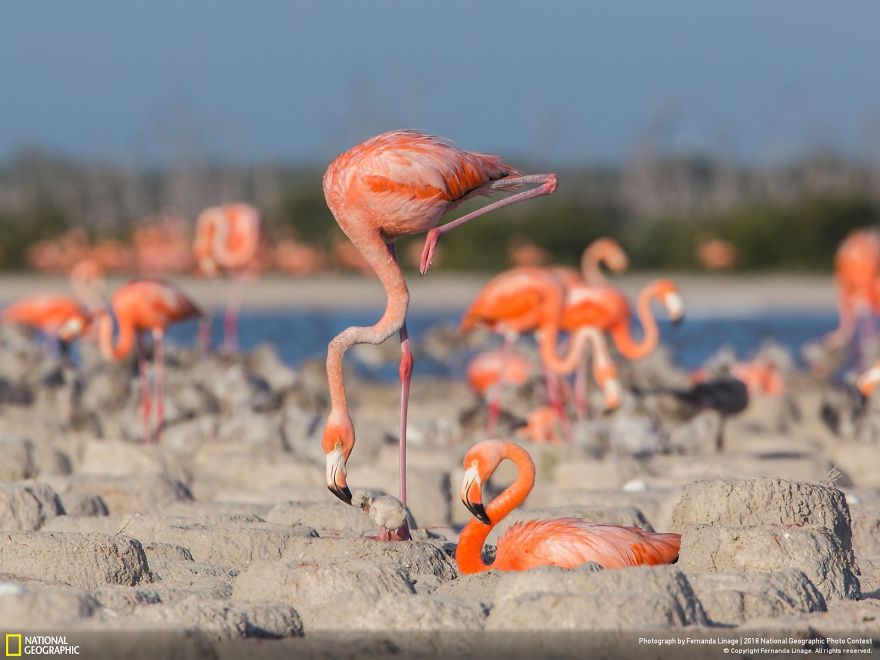 #44 Second Place, Wildlife: Deep Snow, Jonas Beyer
A few miles from Qaanaaq (Thule), Greenland, I was hiking in search of musk oxen when I saw a group of them. This ox was running hillside in deep snow, which exploded underneath it. I was lucky enough to be at the right spot to see them frolicking, and I watched them closely for about an hour. I love photographing musk oxen against the wintry landscape: They're very tough Arctic survivors. This photo shows their beauty and power—and the snow they deal with for about eight months of the year.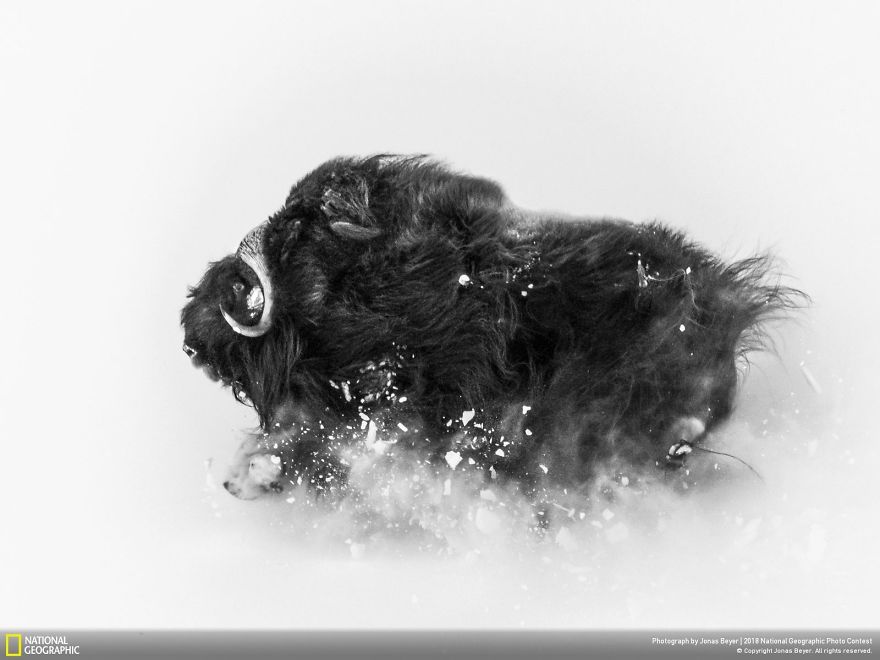 #45 Surfers In Bali, Carsten Schertzer
This photo was taken during sunrise in Bali, Indonesia. I first saw the gate earlier in the morning knowing this would be a perfect place for an image. I only needed a subject to walk within the frame, so i sat and waited, locked in my composition and waited until the surfers walked into my frame.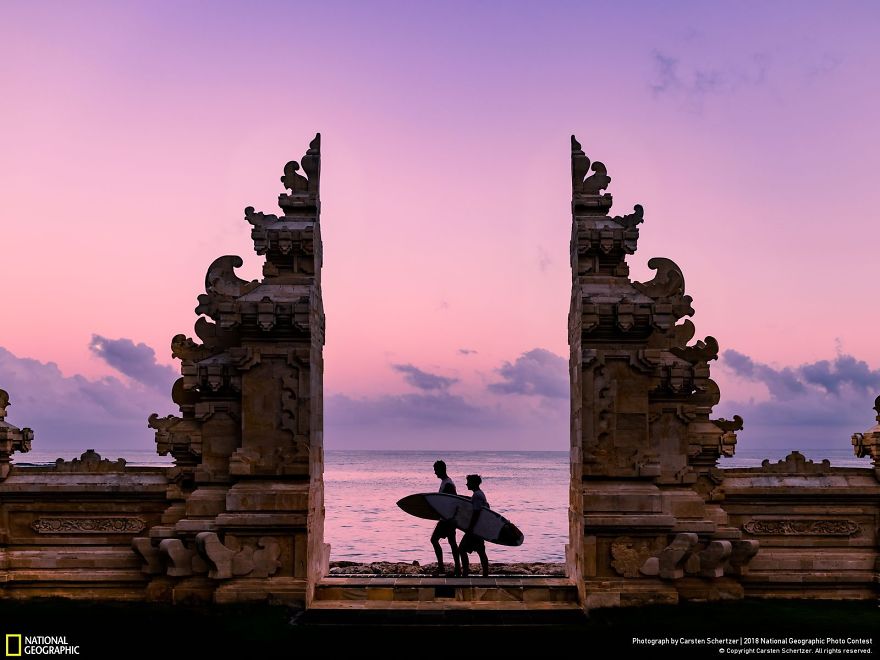 #46 People's Choice: It's All A Blur, Susan Blick
It's All a Blur – that's how it can feel on the streets of this incredible country sometimes. I was in India leading a photo tour through the streets of the Paharganj. We stopped for a break at a rooftop cafe, it was late afternoon, the light was softening and the street shadows were disappearing. I set up my tripod and with the help of an ND filter I lowered my exposure to 8 seconds to add emotion to the scene.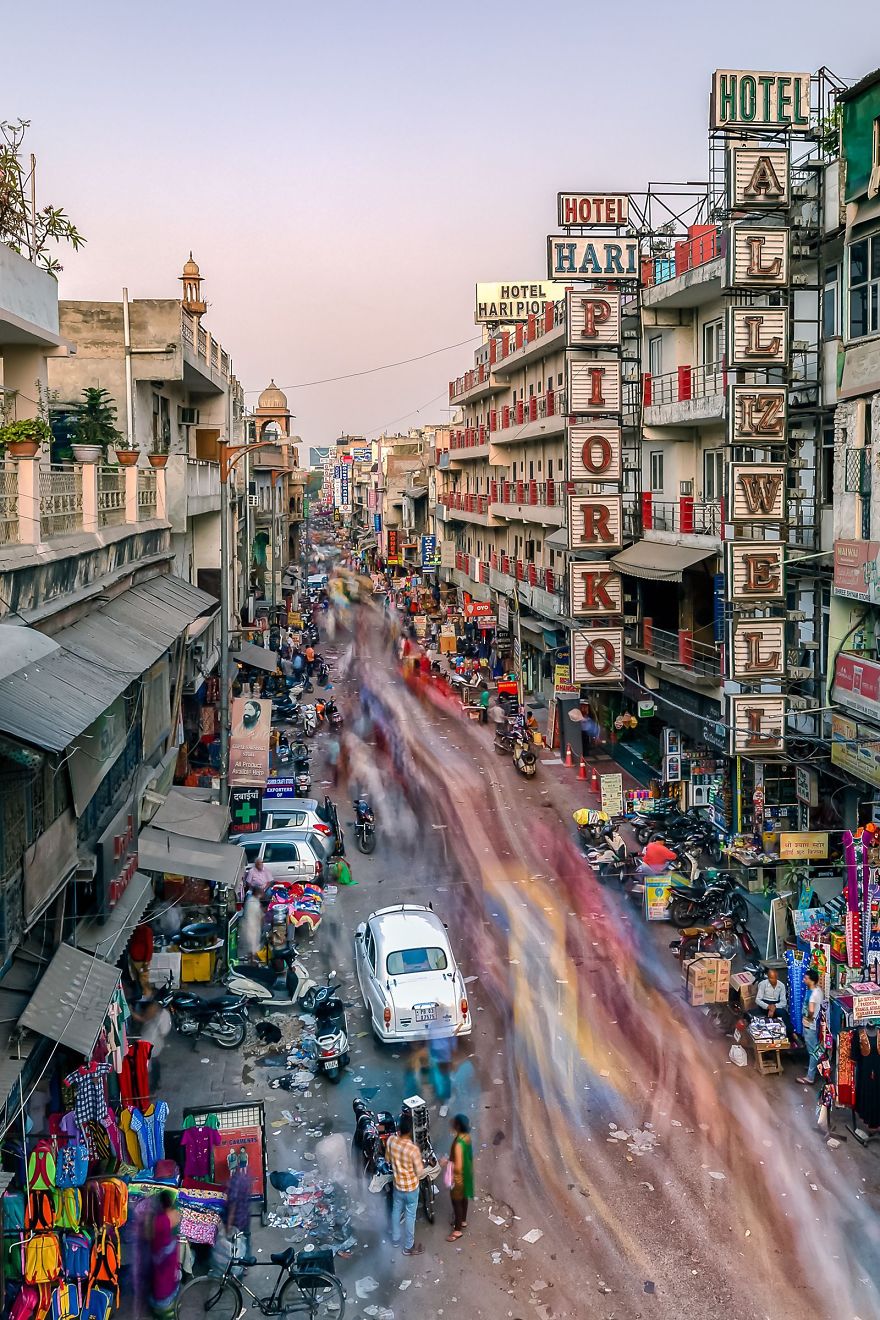 #47 Inquisitive Eyes, Sanghamitra Sarkar
A little tribal girl hopes to be a part of the modern world beyond the boundary of her traditional tribal village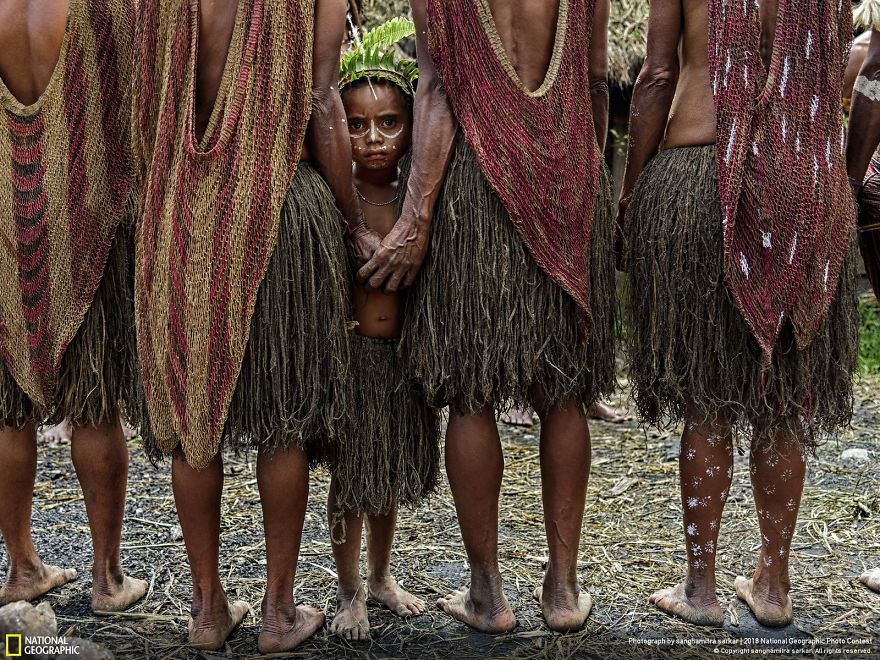 #48 Through The Cave, Guanghui Gu
The high-speed train goes through the cave.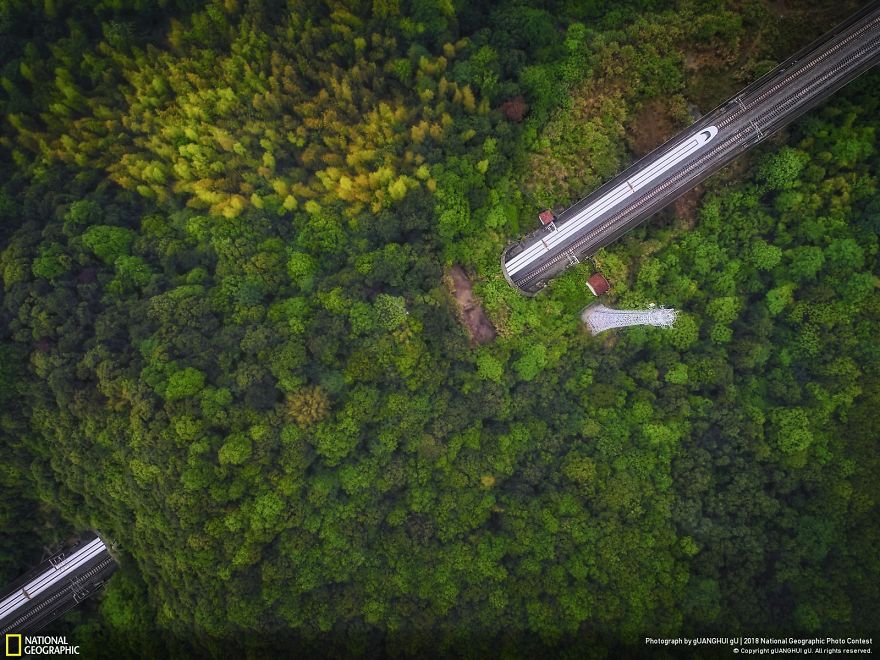 #49 Hideout, Mike Harterink
Carpets of green algae-like plants covered the shallow plains of the pantanal wetlands, the perfect cayman hide-out. After this cayman popped up to breath on the surface he just dropped himself in a thick carpet of plants. the protective membrane covering his eyes made him look like a dinosaur zombie.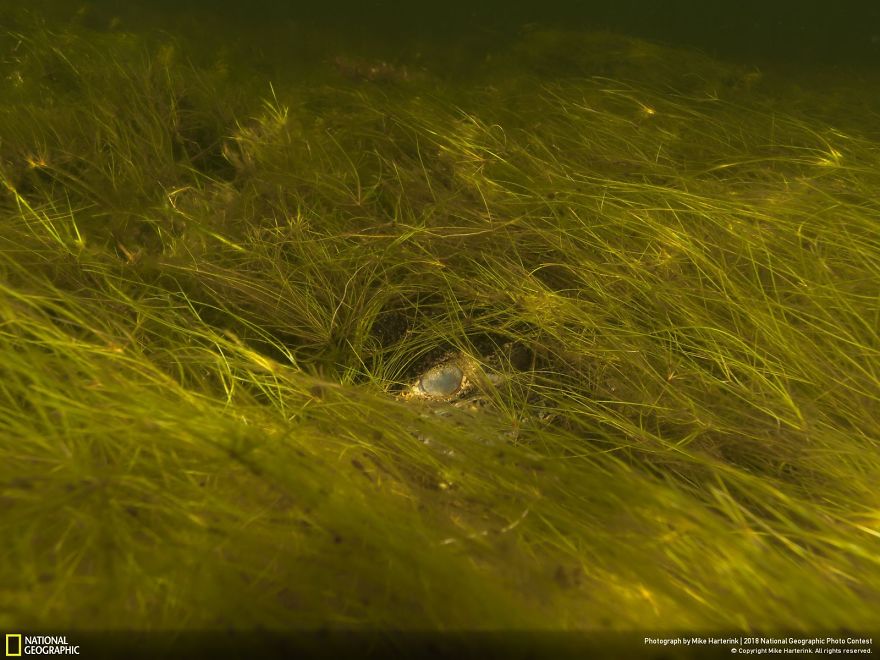 #50 "In An Another Time ?", Brice Le Gall
Protest against education policies. Paris, France, 2018.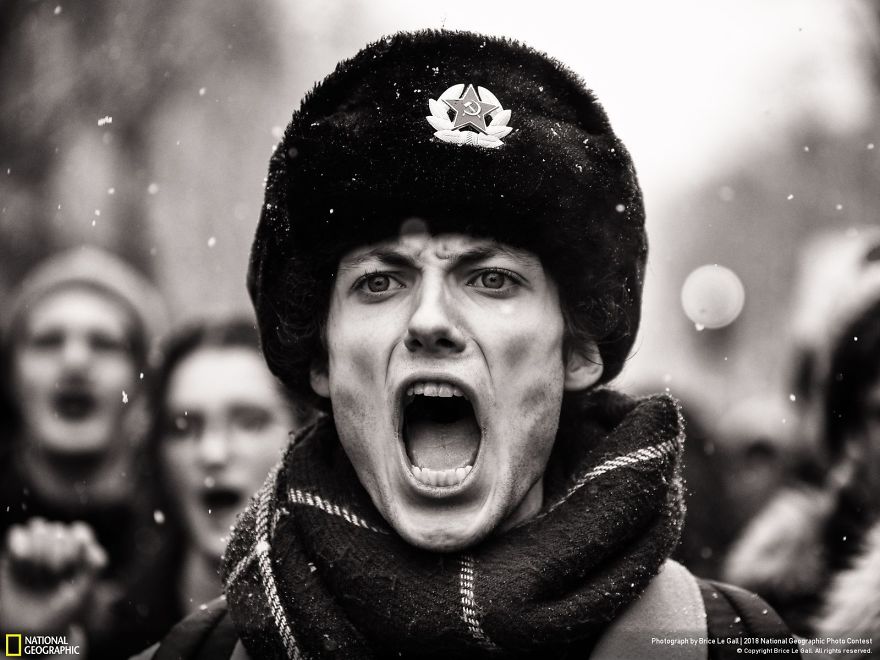 Which one of the above pictures was successful in surprising you or stirring up your emotions. Tell us in the comments section below! Do share this amazing post with your friends and photo lovers so that they can have a wonderful time going through some of the incredible photographs clicked during the year 2018.
You can also visit the National Geographic website to look at more of these breathtaking photos.