If you were eagerly waiting for this year's biggest treat – 'Wildlife Photographer of the Year' (WPY) competition, then we are glad to declare that your wait is over. London's Natural History Museum has announced the winners of 'Wildlife Photographer of the Year 2018' contest and the images are full of beauty, resilience and also reveal the vulnerability of certain species on the earth.
You would be amazed to know that the jury had to go through over 45,000 photos which were sent from photographers of over 95 countries to come out with the winners. The images which were a blend of artistic composition, technical innovation and rightful interpretation of the world we are living in were selected as the best ones.
The jury which consisted of people from different parts of the world decided to award the title of the year to the Dutch Photographer – Marsel Van Oosten. Oosten got the award for his image which he had titled as 'The Golden Couple,' an image where he had captured a pair of 'Golden Snub-Nosed Monkeys' in the mountains of Qin Ling in China.
Speaking about his shot, Mr. Oosten says, "This image was shot on my first trip to the Qinling mountains. I spent five days on this location. Since then I have been there two more times". Adding on he says that he had planned to visit China to lick landscape photos, but then he decided to check out the kind of wildlife China has on offer and this is how he stumbled upon the endangered species – the Golden Snub-Nosed Monkeys and the Black Snub-Nosed Monkeys.
Apart from capturing these beautiful species on his lenses, Oosten says that he also wanted to create awareness among people about the mass extinction of the plants and animals that is going on. He says that unlike past extinction which happened due to natural reasons most of the extinction taking place now is due to the activities of a human. He says that if the current rate of destruction continues, about 50% of the plants and animals will go extinct within the next 100 years.
Do go through the best of the photos that were listed as entries for the competition:
#1 "The Midnight Passage" By Vegard Lødøen, Norway, Highly Commended 2018 Animals In Their Environment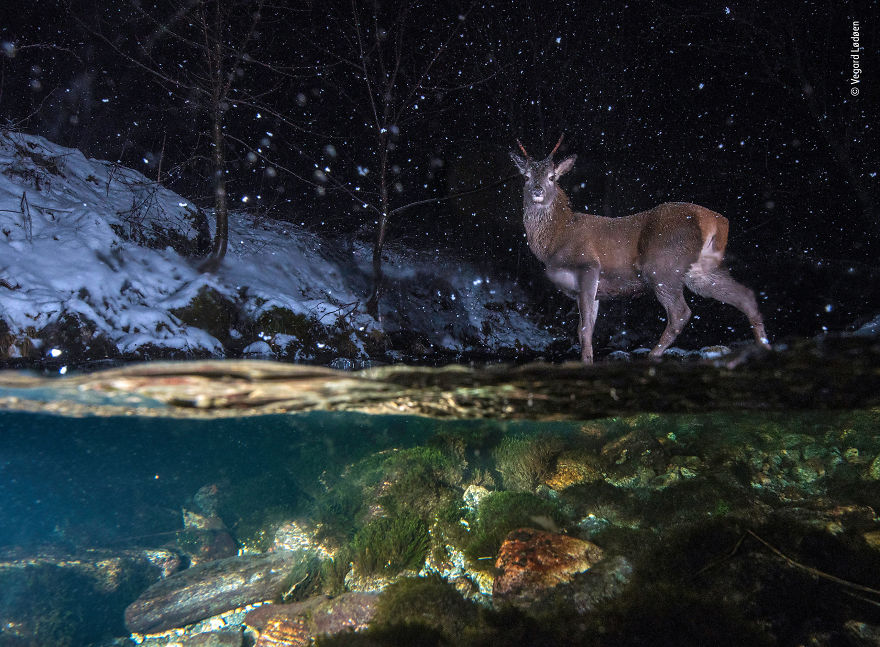 'A dream came true when I took this picture,' says Vegard. After years of searching, he had finally found a riverside location visited by the deer of Valldal. After partly submerging his camera in a waterproof box, he set up a flash above and below the water, along with motion sensors. Near midnight, a male crossed the river – the camera capturing its proud pose. After moose, red deer are the largest species of deer. Only the males have antlers, which have been known to grow to more than a metre in length and weigh up to five kilogrammes. At the end of each winter they shed their antlers, which are made of bone – when spring comes they regrow, protected by a soft covering known as velvet.
#2 "Cool Cat" By Isak Pretorius, South Africa, Highly Commended 2018 Animal Portraits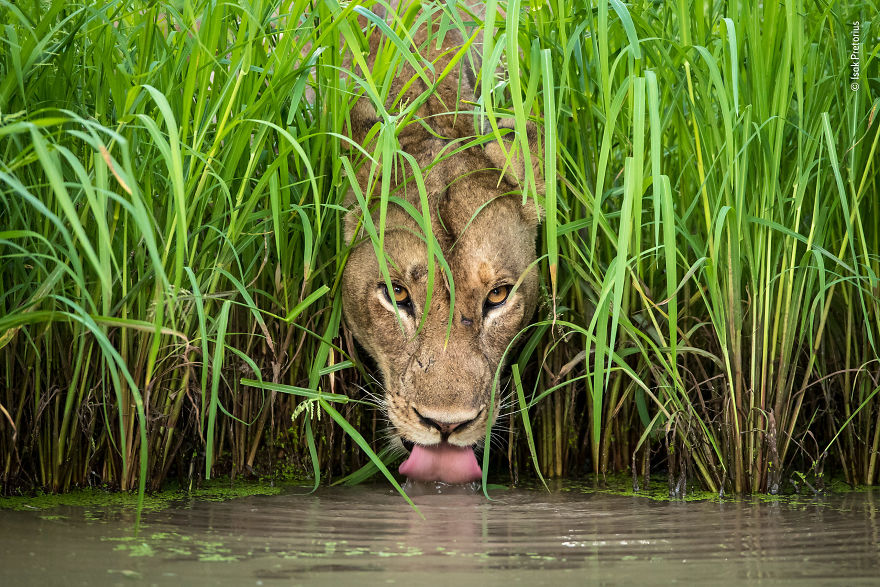 'I love creating photos with impact,' says Isak, who is often on the lookout for Zambia's most iconic animals. He was photographing a pride of lions when this lioness wandered off. Anticipating it was going for a drink, he positioned himself by the nearest waterhole. It then appeared through the long grass, framed by a wall of lush green. Lions kill more than 95 per cent of their prey at night, and spend the majority of the day resting. Although they drink readily when water is available, they are also capable of consuming sufficient moisture from their prey and plants – making them perfectly adapted to their arid landscape. Yet despite this, lion numbers are decreasing significantly.
#3 Elephants At Twilight By Frans Lanting, The Netherlands, Winner 2018 Wildlife Photographer Of The Year Lifetime Achievement Award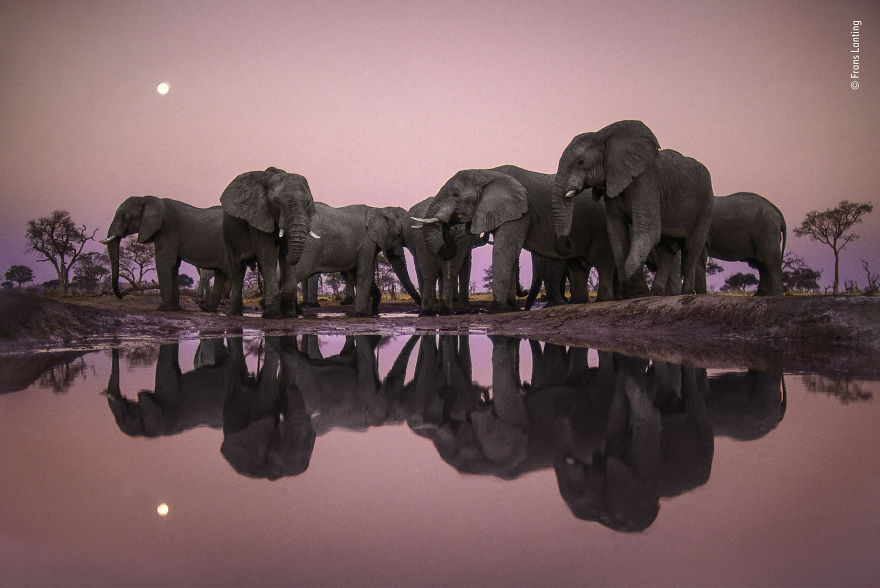 One evening during Botswana's dry season, I waded into a water hole to capture a shimmering reflection of a gathering of elephants at twilight, with a full moon suspended in a luminous pink sky. The image is my homage to the primeval qualities of southern Africa's wilderness, the grandeur of elephants, and the precious nature of water in a land of thirst.
#4 "Smoke Bath" By Tom Kennedy, Ireland, Highly Commended 2018 Urban Wildlife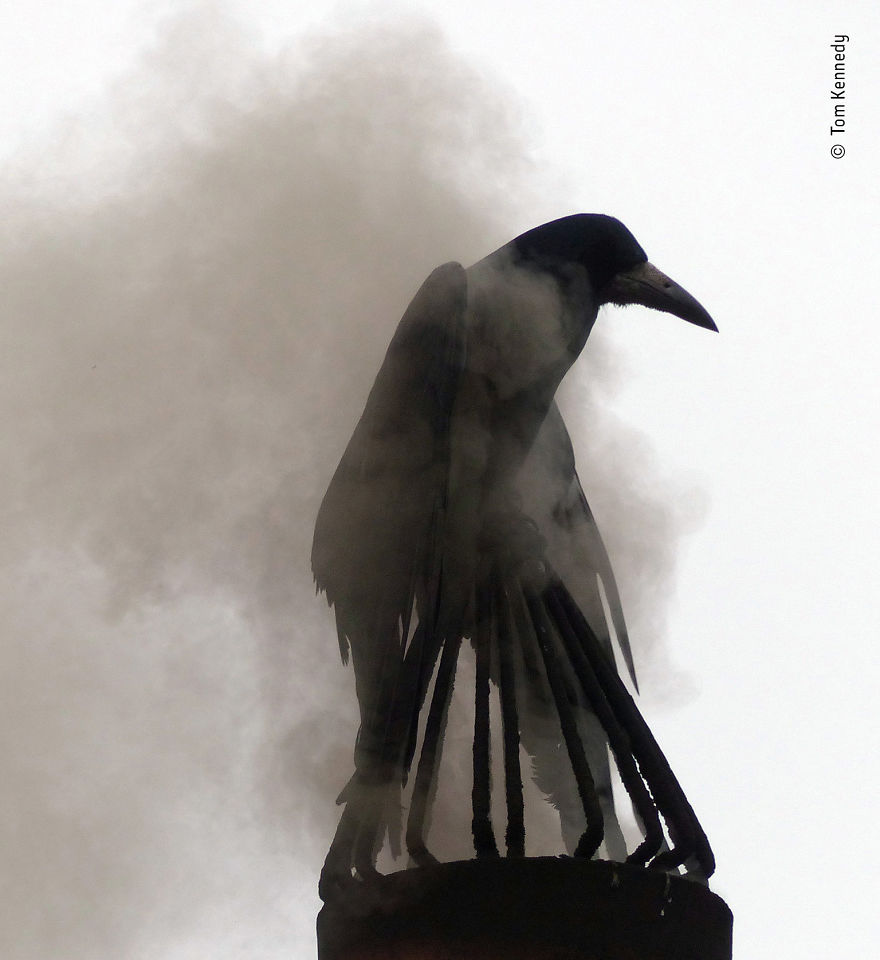 Tom saw the rook as he glanced out of his living room window. Wings spread, the bird was using the neighbour's chimney pot to smoke bathe. Realising the opportunity – and knowing the heat and smoke would only allow the rook to remain for a few minutes – he quickly took his photograph before leaving it to enjoy its smoky bath. Rooks are incredibly intelligent creatures and smoke bathing is likely to be a learned behaviour, rather than instinct. The smoke helps the birds to fumigate their feathers, ridding them of irritating parasites such as lice, mites and ticks. The related jackdaw has even been seen fumigating itself over smouldering cigarette ends.
#5 "Pipe Owls" By Arshdeep Singh, India, Winner 2018 10 Years And Under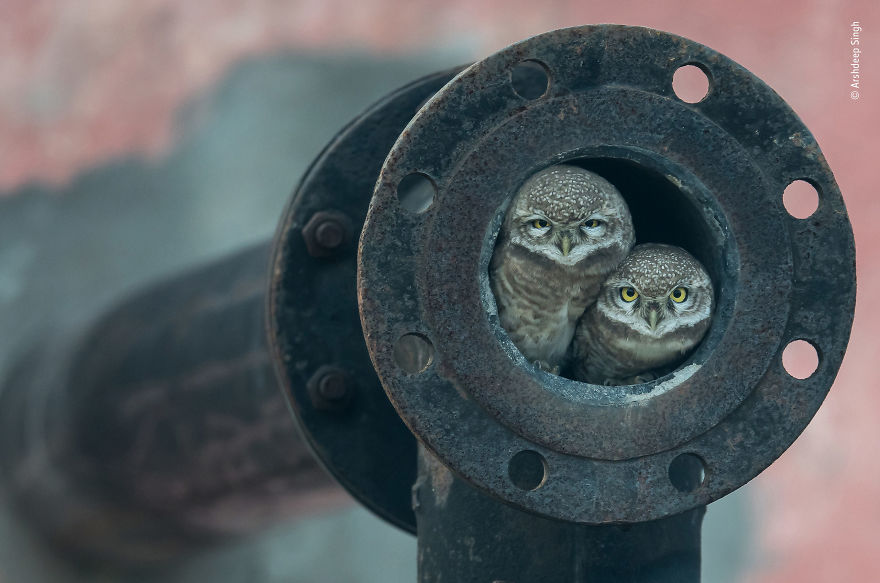 While driving with his father through the city, Arshdeep saw a bird disappearing into an old waste-pipe. He asked to stop the car, then primed his father's camera and telephoto lens, kneeling up on the seat and resting it on the half-open window at eye-level. It wasn't long before a spotted owlet emerged, followed by a second. Both stared right at him. Spotted owlets traditionally nest in tree hollows, where the female lays up to five eggs. Although common in the Punjab, these small birds are rarely seen in the day, as they are nocturnal. This breeding pair – the larger female on the left – is among those using urban nesting sites following widespread deforestation in the region.
#6 "City Fisher" By Felix Heintzenberg, Germany / Sweden, Highly Commended 2018 Urban Wildlife
The rusty metal rod at the opening of a sewerage outlet pipe was a favourite perch for kingfishers, giving them a view of the fish below. Felix visited the spot many times to study them. Seeing the photographic potential of the colourful scene, he used a gentle flash to highlight this particular bird against the dark opening. Excellent hunters, kingfishers are also good indicators of high water quality. With better water treatment and bans on pollutants in some cities, these birds are slowly returning to urban areas. Kingfishers can struggle to find natural fishing perches in cities and so use whatever they can find, including shopping trollies and scrap metal.
#7 "Ahead In The Game" By Nicholas Dyer, Uk, Highly Commended 2018 Behaviours Mammals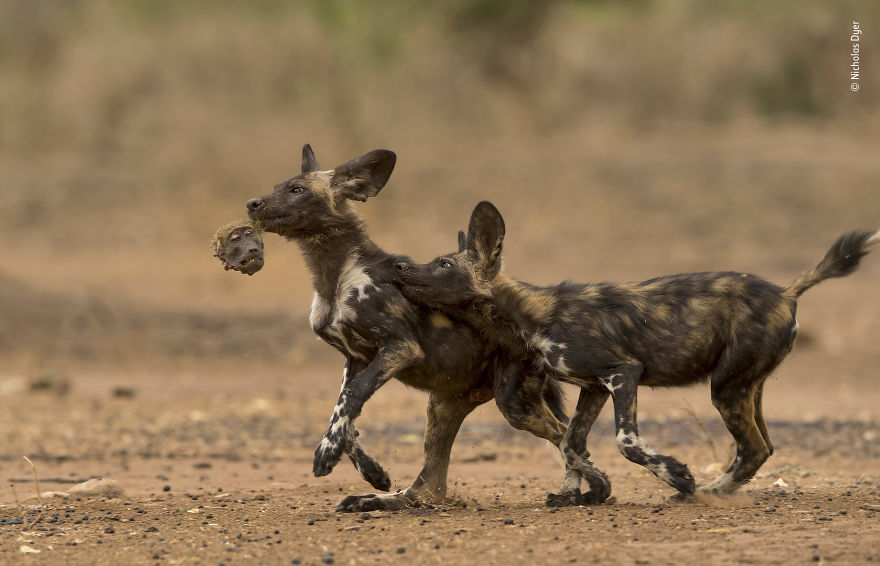 After tracking this pack of African wild dogs on foot for more than three kilometres, Nicholas looked on as this pair of pups played a macabre game with the remains of their baboon breakfast. 'Half of me felt disturbed by the disrespect this deceased fellow primate was receiving,' he says. 'The other half was caught up in the infectious joy of the puppies.' The endangered African wild dog, also known as the painted wolf, is best known for hunting antelope, such as impala and gazelle. However, its main prey can vary from pack to pack and will include smaller animals such as this baboon. Known for their intricate social structures, painted wolf pups old enough to take solid food are given priority at kills.
#8 "A Bear On The Edge" By Sergey Gorshkov, Russia, Highly Commended 2018 Animals In Their Environment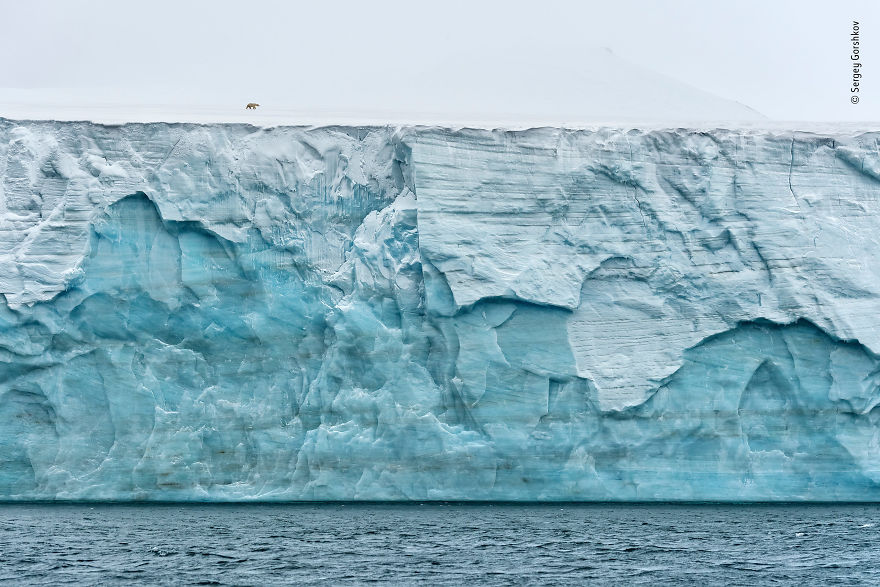 For Sergey, this photograph of a solitary polar bear walking steadily along a glacier is 'a symbol of Franz Josef Land'. It speaks of the vulnerability of an iconic animal that depends entirely on this frozen wilderness. His powerful composition gives no hint of the biting wind and icy sea spray he had to endure while taking it. The Russian Arctic National Park has recently been expanded to include the 191 uninhabited islands of Franz Josef Land. With a lack of data for this remote region, both polar bear numbers and rates of sea ice decline are unknown. This presents problems for polar bear conservation, as researchers need data to understand the impact of climate change here.
#9 "Argentine Quickstep" By Darío Podestá, Argentina, Highly Commended 2018 Animal Portraits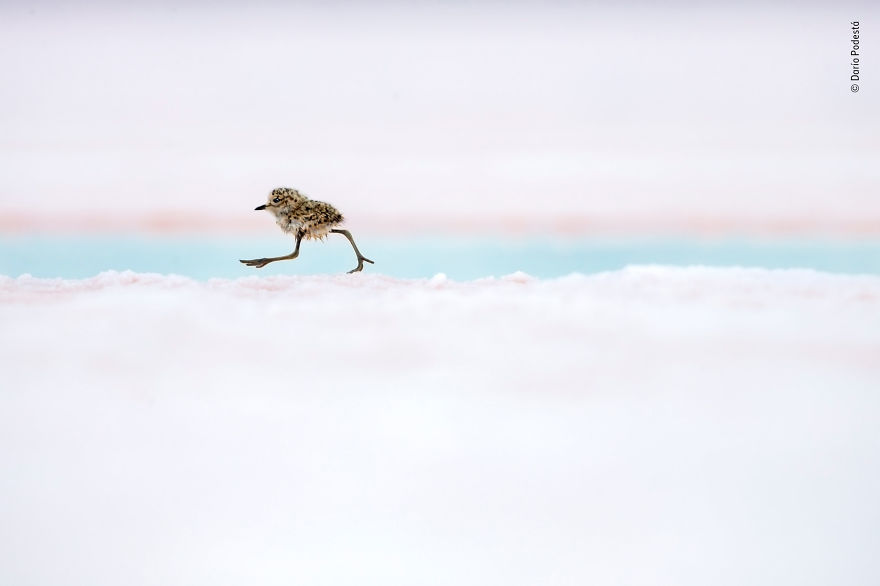 Surveying the scene, Darío was captivated by 'the fragility of the chick' as it used its oversized legs to scurry after its parents. After an uncomfortable crawl through a salt field in the rain and mud, Darío trained his lens on the speckled fluff of the chick, framing it against the dramatic background of salt and sky. Two-banded plover chicks will leave their nests almost immediately after they hatch, relying on their stilt-like legs to keep pace with their parents and to evade potential predators. Their long legs also keep their soft down away from the wet ground. After four or five weeks, they will grow large enough to fly away from the care of their mother and father.
#10 "Kuhirwa Mourns Her Baby" By Ricardo Núñez Montero, Spain, Winner 2018 Behaviours Mammals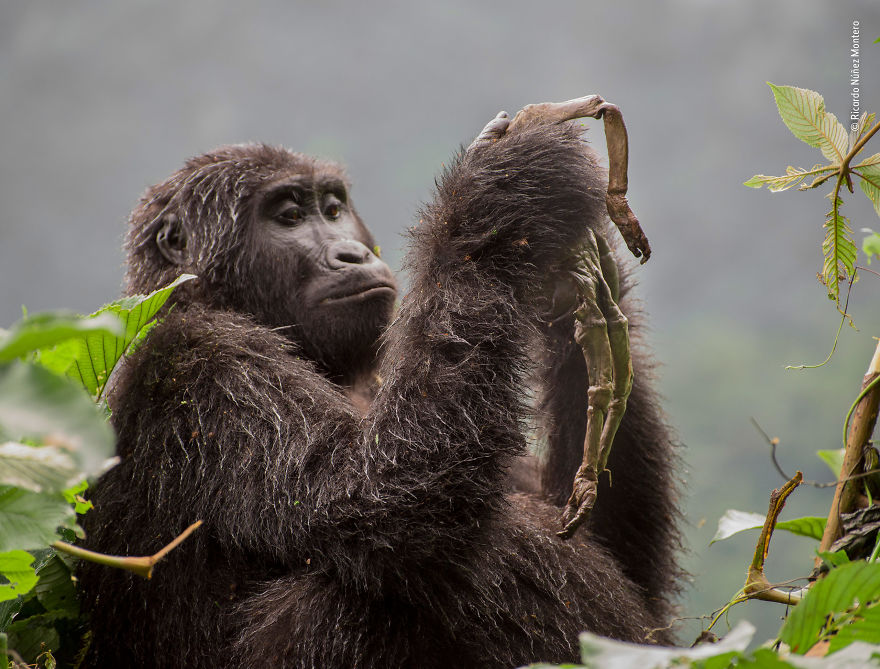 Kuhirwa, a young female mountain gorilla, would not give up on her dead baby. Initially she cuddled and groomed the tiny corpse, carrying it piggyback like the other mothers. Weeks later, she started to eat what was left of it. Forced by the low light to work with a wide aperture and a narrow depth of field, Ricardo focused on the body rather than Kuhirwa's face. From elephants stroking the bones of deceased family members to dolphins trying to keep dead companions afloat, there is an abundance of credible evidence to show that animals visibly express grief. Kuhirwa's initial actions can be interpreted as mourning, her behaviour showing the pain of a mother who has lost her child.
#11 "Home On The Range" By Karine Aigner, Usa, Highly Commended 2018 Urban Wildlife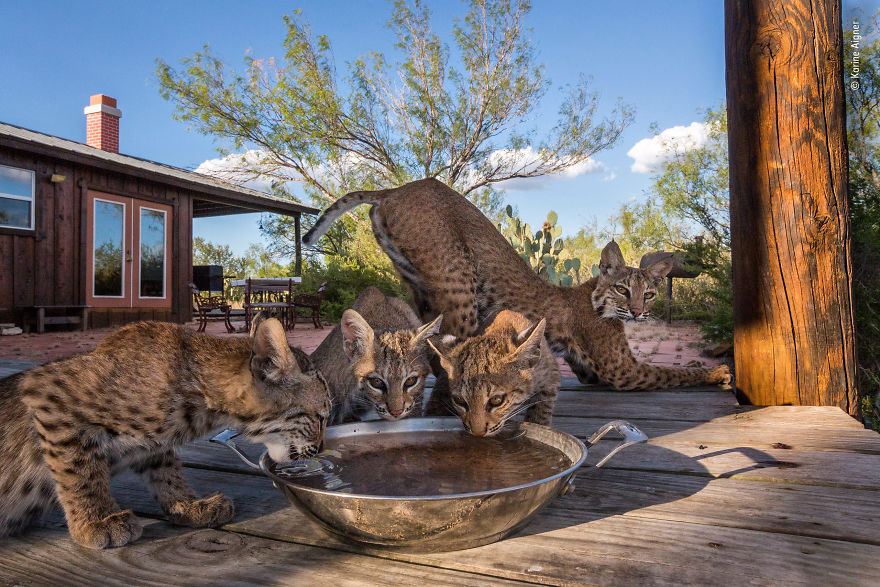 Karine quietly watched this bobcat raise her kittens beneath the decking of a remote ranch house over several months. As they grew, Karine earned the bobcat's trust, enough that the mother sometimes left her young with her while she went to hunt. 'Animals can teach us so much,' Karine says. 'She taught me what trust was.' Bobcats usually have one litter in spring with up to six kittens. The kittens stay with their mother before separating from her in winter. They eat mainly small mammals, especially rabbits and birds, and are often considered a nuisance. Despite being hunted for sport and trapped for their pelts, populations have remained resilient.
#12 "The Golden Couple" By Marsel Van Oosten, The Netherlands, Grand Title Winner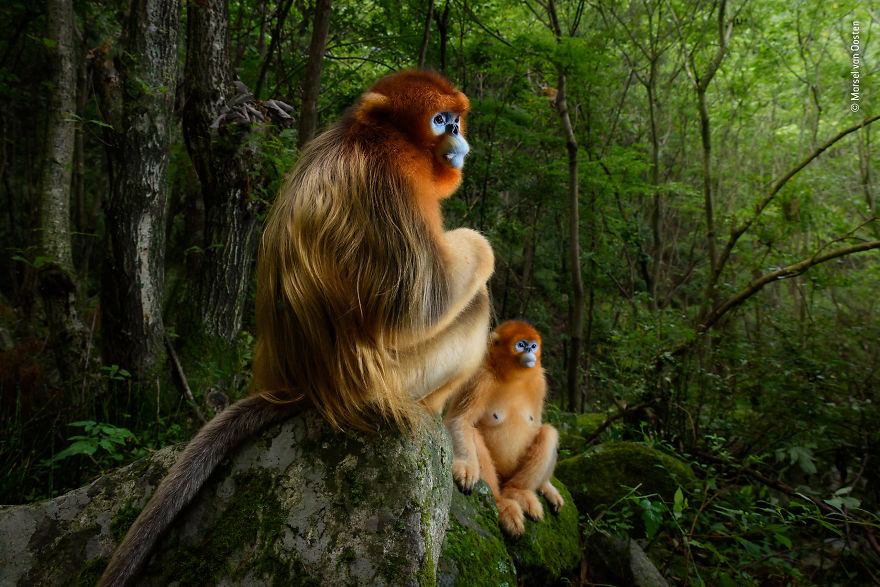 As the group of Qinling golden snub-nosed monkeys jumped from tree to tree, Marsel struggled to keep up, slipping and stumbling over logs. Gradually he learned to predict their behaviour, and captured this male and female resting. With the Sun filtering through the canopy, they are bathed in a magical light, their golden hair glowing against the fresh greens of the forest. This pair belongs to a subspecies of golden snub-nosed monkey restricted to the Qinling Mountains. Among the most striking primates in the world, these monkeys are in danger of disappearing. Their numbers have steadily declined over the decades and there are now fewer than 4,000 individuals left.
#13 "The Bigger Bite" By Chris Brunskill, Uk, Highly Commended 2018 Behaviours Mammals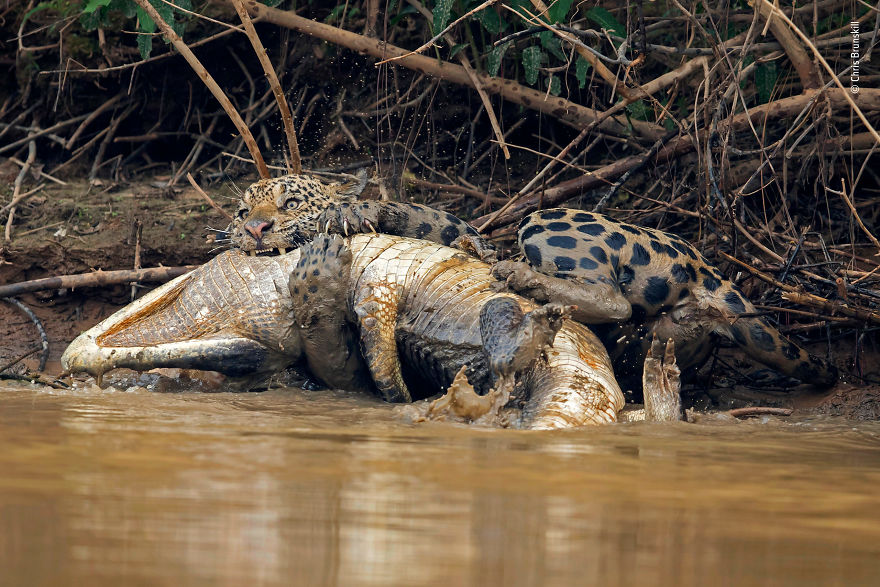 Perching in a small motor boat on a fast-flowing river, Chris steadied his long lens on this battle. The jaguar had come across the yacaré caiman by chance – accidentally stepping on the reptile after a failed charge at a capybara. Without hesitation the jaguar pounced, overcoming its monstrously large prey in minutes. The yacaré caiman and jaguar are both top predators in the Pantanal Wetlands, and struggles like this are not unusual. Though excellent swimmers, jaguars tend to stalk or ambush their prey on the ground, subduing them with their formidable bite. After they have delivered their final blow, they will often drag carcasses to shelter to enjoy their meal in peace.
#14 "Lounging Leopard" By Skye Meaker, South Africa, Young Wildlife Photographer Of The Year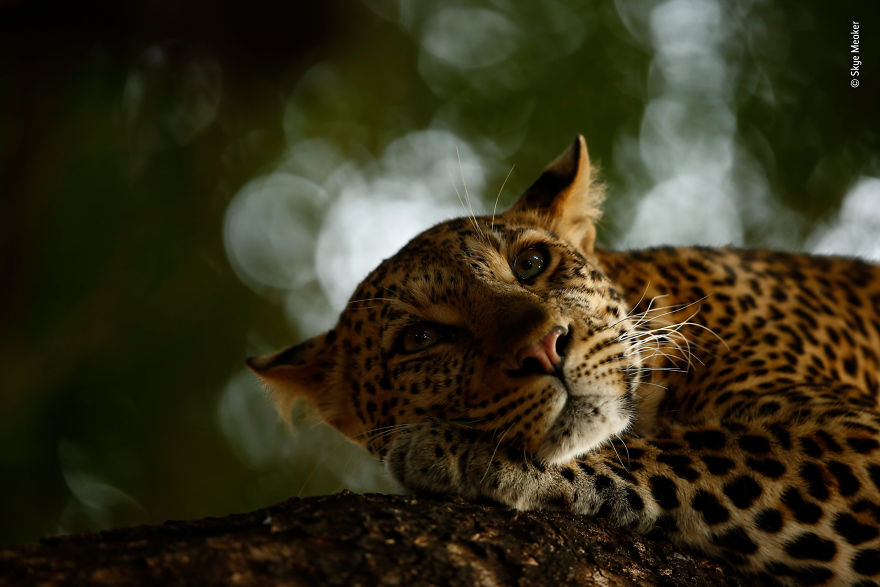 Notoriously shy and elusive, the resident leopards of the Mashatu Game Reserve are hard to spot. But this time Skye was in luck. After tracking the leopards for a few hours, he came across Mathoja – a well-known female. In a fleeting moment, just before the leopard nodded off, Skye captured a peaceful portrait of this majestic creature. Named by local guides, Mathoja means 'the one that walks with a limp' – a title given to her after a serious leg injury as a cub. Although her chances of survival were slim, Mathoja is now a healthy adult. She is one of the lucky ones – this species has been classed as vulnerable and many leopards are illegally hunted for their highly desirable skins.
#15 "Small World" By Carlos Perez Naval, Spain, Highly Commended 2018 11–14 Years Old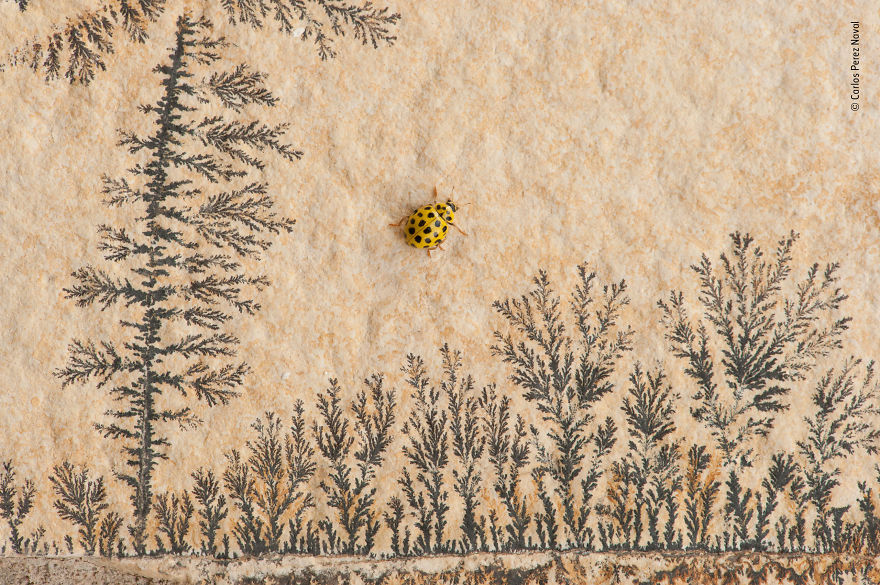 Growing on the low stone wall of a house, this pyrolusite mineral looked 'like oriental drawings on rice paper,' says Carlos. Some resembled trees, others mountains. Crouching to capture the scene, he waited half an hour for this ladybird to wander over. For Carlos, the image 'shows the beauty of small and common places when you stop to look closely'. Manganese dioxide, also known as pyrolusite, is a mineral commonly found when water percolates through the cracks of sedimentary rocks. A closer look reveals the minute fissures from which the pyrolusite mineral emanates, spreading out in a self-repeating pattern. The ladybird is a twenty-two spot, and unusually feeds on mildew rather than aphids.
#16 "Kitten Combat" By Julius Kramer, Germany, Highly Commended 2018 Behaviours Mammals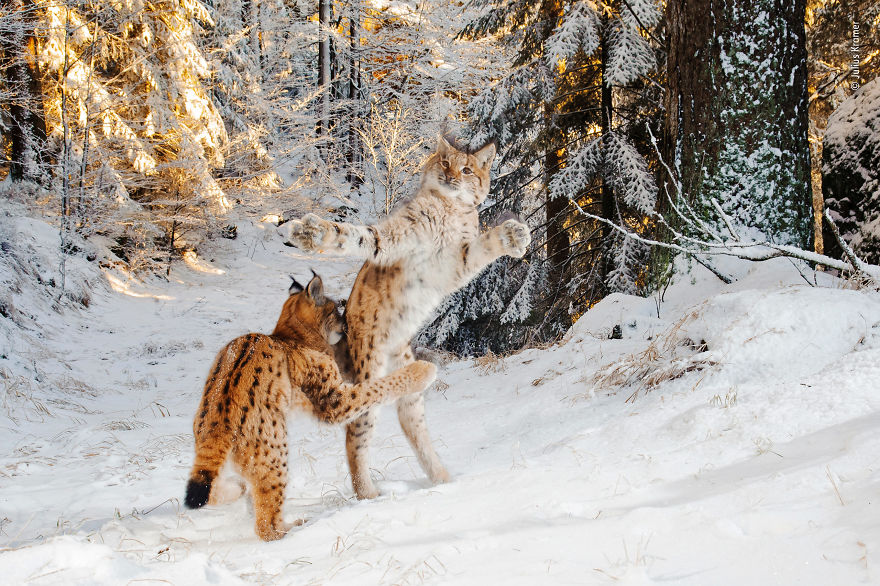 It had been a year since Julius had set up his camera trap and he only had two records of a Eurasian lynx to show for it. Overcoming problems with failed batteries, deep snow and spider webs he was on the brink of giving up when his luck changed. As soft light hit the snow-clad branches, two kittens turned up to play, rewarding Julius with nearly 100 images. After several illegal lynx kills in Bavaria, catching sight of these shy, elusive and desperately endangered animals is a sign of hope that the population is hanging on. The Eurasian lynx has been, and continues to be, intensively hunted for its fur and perceived as a threat to livestock. Many of the current populations are the result of re-introductions.
#17 "Reflective Sunset" By Sri Ram Mohan Akshay Valluru, India, Highly Commended 2018 15–17 Years Old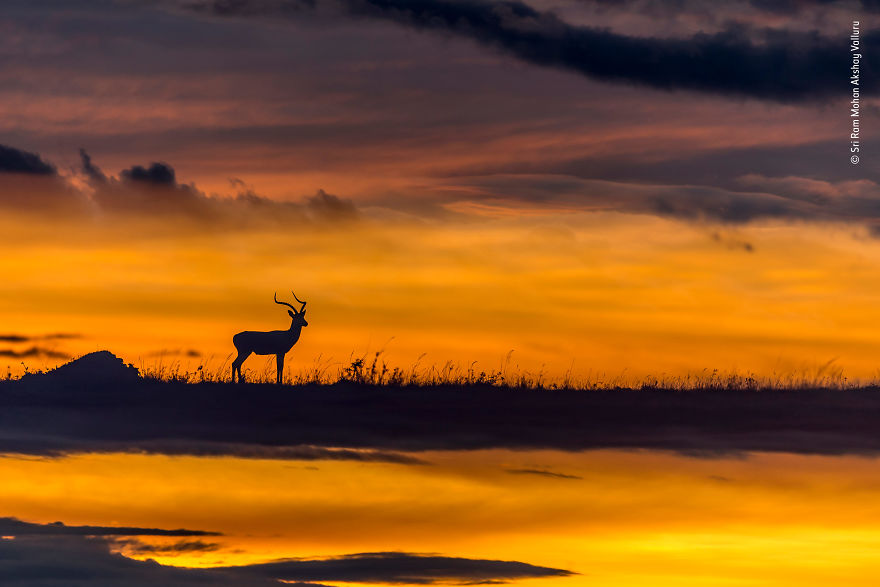 Surveying the scene, Akshay decided to use the in-camera multiple-exposure mode. He captured two frames – the first of the dramatic dusk sky, and the second of the silhouetted impala. The camera seamlessly merged them, and the result is this creative illusion of a pool of water, leaving the viewer wondering why the sky is reflected in the water but the impala isn't. Impalas are one of the most common antelopes in Africa. Young males, like this one, often wander the savannah, usually after being evicted from mixed mating herds by dominant males. They will herd together until they are strong enough to establish a territory of their own, complete with their own group of females.
#18 "School Visit" By Adrian Bliss, Uk, Highly Commended 2018 Urban Wildlife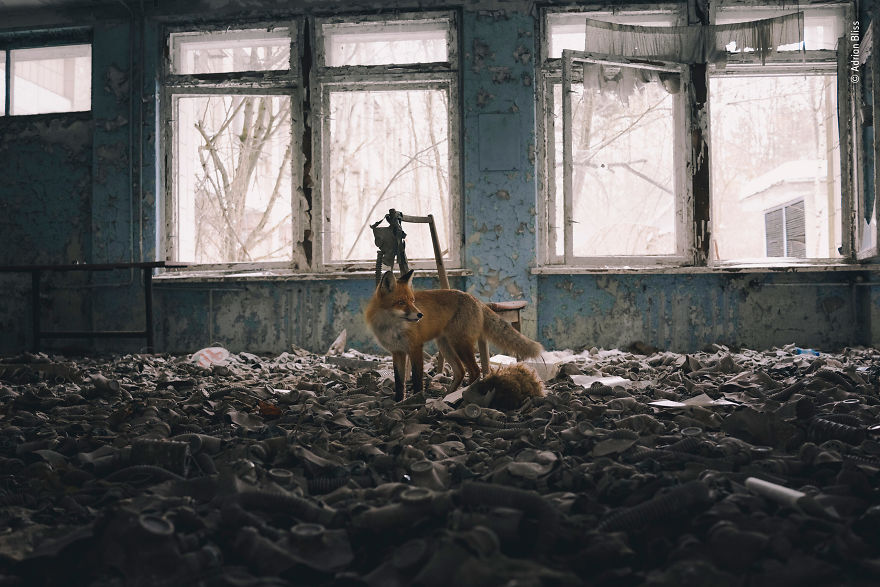 Lying ruined and looted, the city of Pripyat is within the Chernobyl Exclusion Zone, which was established after the nuclear disaster of 1986. Devoid of humans, the city has surrendered to nature. This red fox trotted into the derelict classroom, stopping briefly on the carpet of child-sized gas masks just long enough for a picture. Seeing it was 'completely unexpected,' says Adrian. The long-term effects of the Chernobyl disaster are still far from clear. But, in the absence of humans, Pripyat appears to be thriving. The forest encroaches on all sides of the city, encouraging wild boar, beavers, otters, deer and moose. With radiation levels still high, only time will tell if this natural regeneration is a sign of hope for this bleak place
#19 "One In A Million" By Morgan Heim, Usa, Highly Commended 2018 Wildlife Photojournalism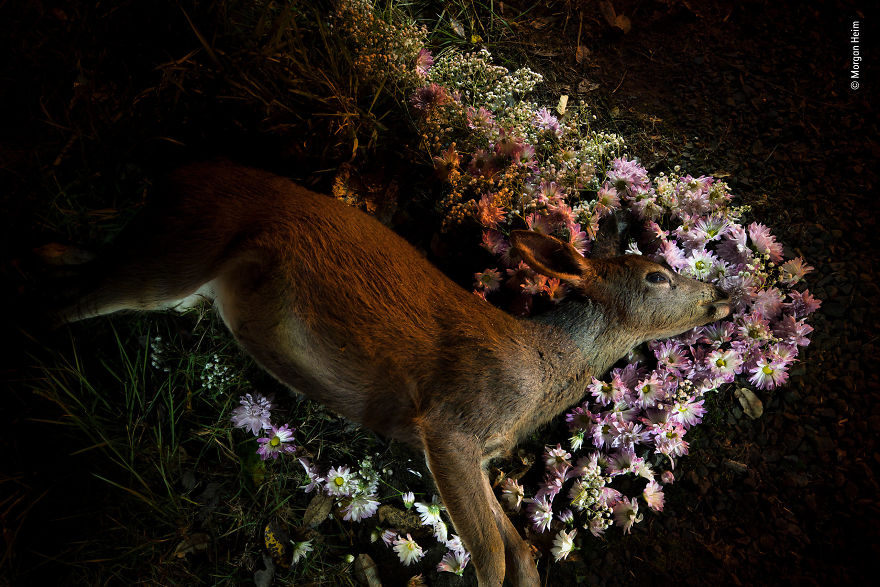 Morgan found this black-tailed doe, its eyes not yet dulled by death, by a road. Returning at dusk, she brought flowers to arrange a funeral wreath around the deer as a roadside memorial. 'I wanted it to have one last moment of grace in this world,' she says. 'To tell it "I see you and you were loved".' With an increasing number of cars on the road, roadkill is a common sight in America and it is estimated drivers kill more than a million vertebrates every day. Solutions such as wildlife overpasses, tunnels and reduced speed zones have decreased animal fatalities, but it is still a pressing issue.
#20 Michel D'oultremont, Belgium, Winner 2018 Rising Star Portfolio Award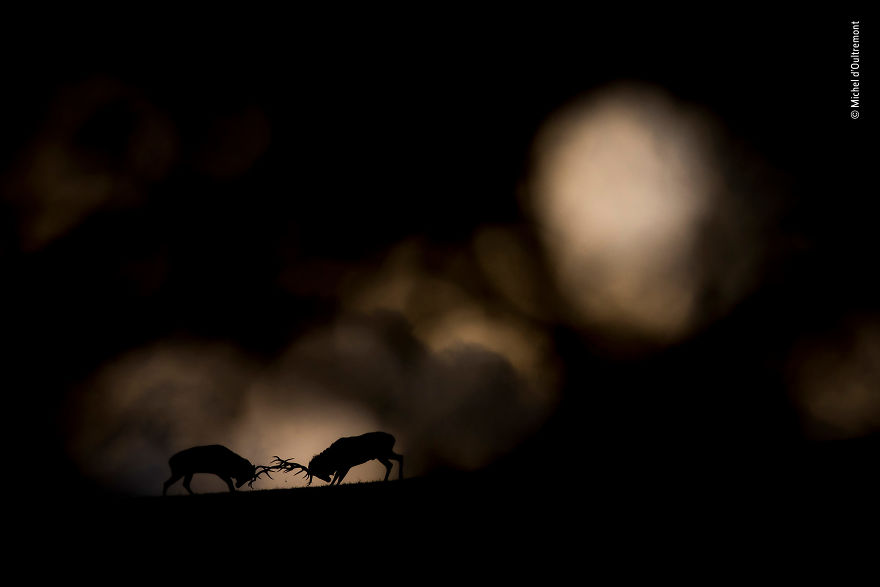 Dream Duel As storm clouds gathered over the forest, the roaring sound of two competing red deer stags echoed through the trees. Well matched, neither challenger would walk away, so the contest escalated to a dramatic clash of antlers. Michel, hiding behind a tree under a camouflage net, had time to capture just a few frames before the stags separated. Every autumn, young males, known as bucks, begin the annual search for a mate and compete to attract female attention. In preparation, males will often binge on fallen conkers, bulking up for their displays of strength. During the rutting season, bucks will stand side by side, assessing their rivals before locking antlers and going into battle.
#21 "The Meerkat Mob" By Tertius A Gous, South Africa, Highly Commended 2018 Behaviours Mammals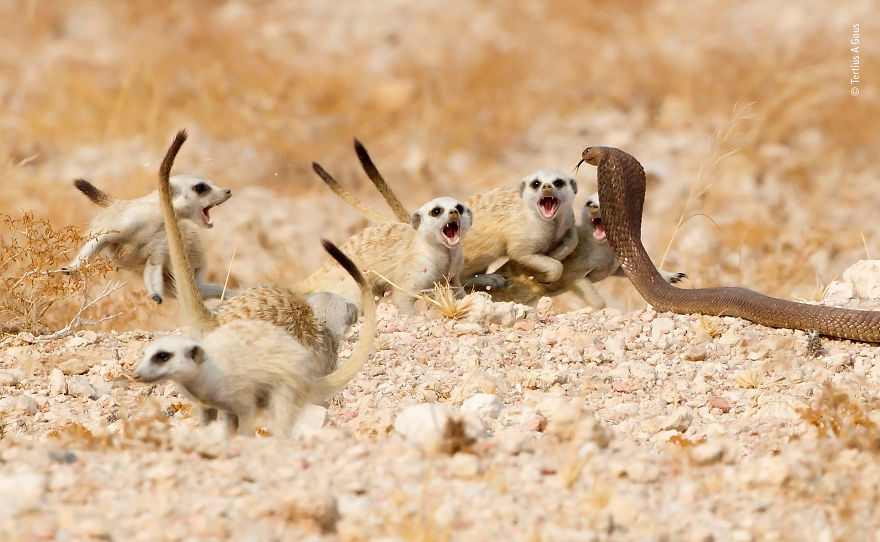 Rearing its head, an Anchieta's cobra lunged towards two meerkat pups. Reacting instantly, their 20-strong pack ran back to the warren and split into two – half ushering the pups away, the other half advancing towards the snake, growling and fluffing up their coats. Focusing on the snake's classic profile, Tertius caught the meerkat mob's fear and aggression. This scene is rare – there are few records of an Anchieta's cobra attacking a meerkat pack. In a group, the mammals have the advantage, using a system of alarm calls to notify others of predators and to co-ordinate a mobbing of the attacker. This snake was just an opportunistic hunter looking to snatch one of the p ups before the pack arrived.
#22 "Eye To Eye" By Emanuele Biggi, Italy, Highly Commended 2018 Animals In Their Environment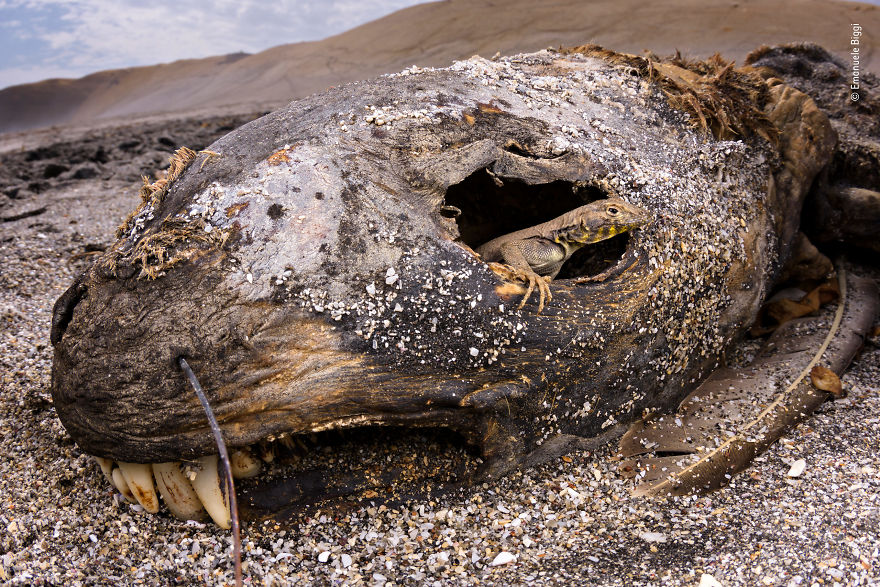 As Emanuele walked along the beach, the stench of rotting sea lion carcasses was almost unbearable. He had seen insects feeding on the corpses, but knew when he saw the iguanas eating the insects that he'd found something interesting. Lying on the sand, choked by the vile smell, he caught this iguana peeping through an eye socket. With a colony of 15,000 South American sea lions nearby, the beach of Paracas National Reserve is a graveyard for the ones that have succumbed to illness or injury. Others die in occasional mass events triggered by El Niño, where ocean temperatures rise temporarily. The iguanas survive here on the sand, where little vegetation grows, by feeding on insects instead.
#23 Ghost Trees By Frans Lanting, The Netherlands, Winner 2018 Wildlife Photographer Of The Year Lifetime Achievement Award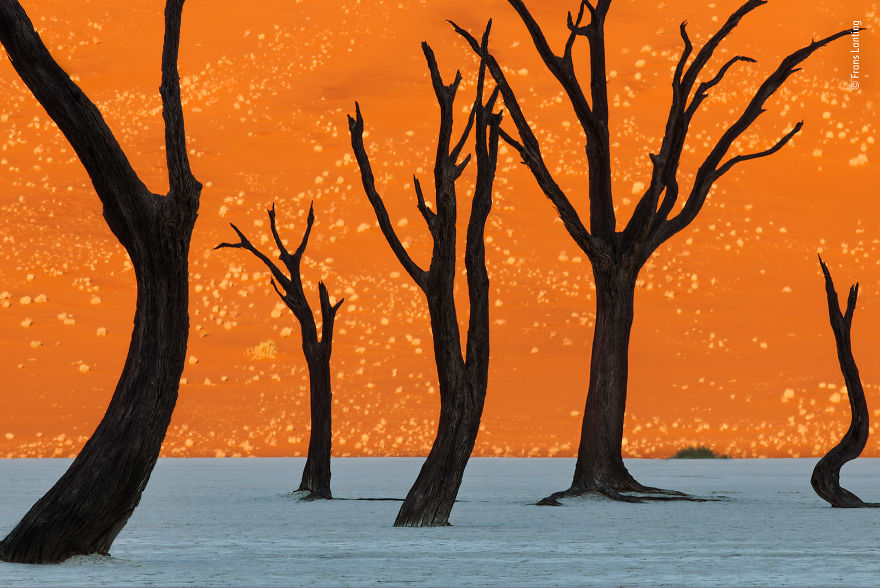 A river once flowed through this remarkable place in the dunes of Namibia, but it changed course. The camelthorn trees that once flourished here are now just sculptural skeletons on a rock-hard clay pan. But backed by soaring dunes glowing with sunrise light, they are monuments to a time of abundance.
#24 "Mud-Rolling Mud-Dauber" By Georgina Steytler, Australia, Winner 2018 Behaviours Invertebrates
Georgina was at the waterhole early to photograph birds, but her attention was diverted to these industrious wasps. They were busy at the water's edge, rolling the soft mud into balls and carrying them to their nearby nests. For a good angle, she lay in the mud, then pre-focused on a likely flight path and began shooting continuously. The female mud-dauber wasps use the mud balls to build their nests. Collecting them into clusters, they then carve chambers inside the balls into which the females lay their eggs. Before closing each one up, the wasps insert the paralysed bodies of orb-weaving spiders as food for their larvae when they hatch.
#25 Autopsy By Antonio Olmos, Mexico / Uk, Highly Commended 2018 Wildlife Photojournalism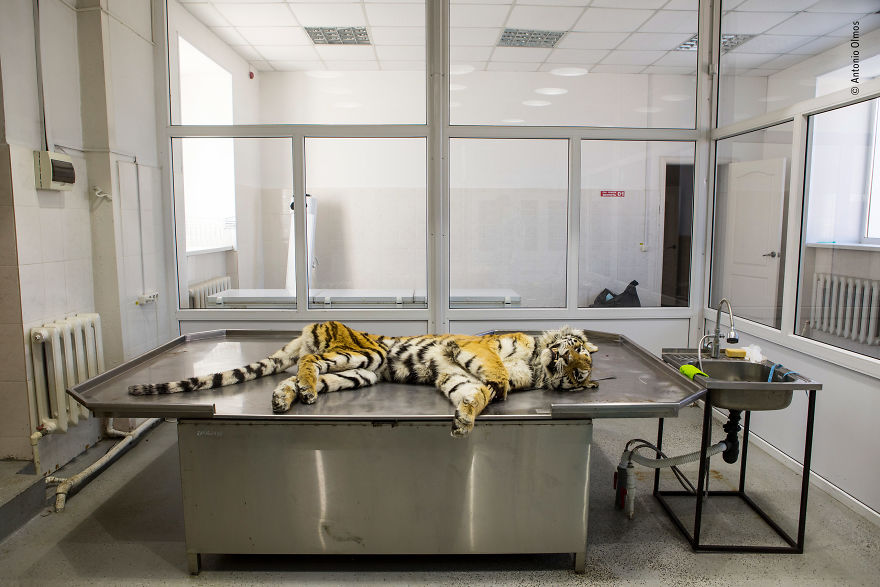 A young Siberian tigress is laid out, awaiting an autopsy. Its emaciated body was found under a car, missing a forepaw. Undoubtedly, it had chewed off its own foot after being caught in a poacher's trap. Unable to hunt, it would have slowly starved to death. For Antonio, seeing such a majestic animal reduced to this was heartbreaking. Siberian tigers have been hunted almost to extinction, with barely 360 left in the wild. Despite being classified as endangered for the past few decades, their numbers continue to decline, as they are hunted by poachers and their homes are lost to deforestation. Human disregard continues to decimate tiger populations, leaving their fate hanging in the balance.
#26 "Night Snack" By Audun Rikardsen, Norway, Highly Commended 2018 Under Water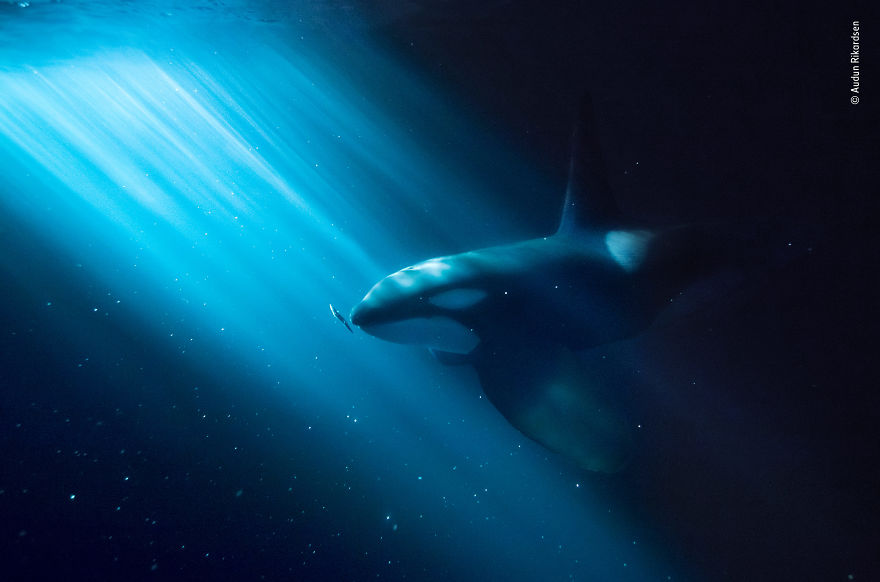 Large numbers of herring were overwintering in the northern fjords, attracting hundreds of predators and night fishing boats. The killer whales had realised that the sound of nets being hauled up meant the possibility of an easy meal. Audun asked the fishermen to angle their strongest light into the water, to capture his shot. Killer whales are the largest members of the dolphin family. Although one species, it's now thought there are several kinds living in different areas, using specific hunting strategies and social structures. This is a male eastern North Atlantic form, which is known to work together with other killer whales to herd fish into dense shoals.
#27 Tigerland By Emmanuel Rondeau, France, Highly Commended 2018 Animals In Their Environment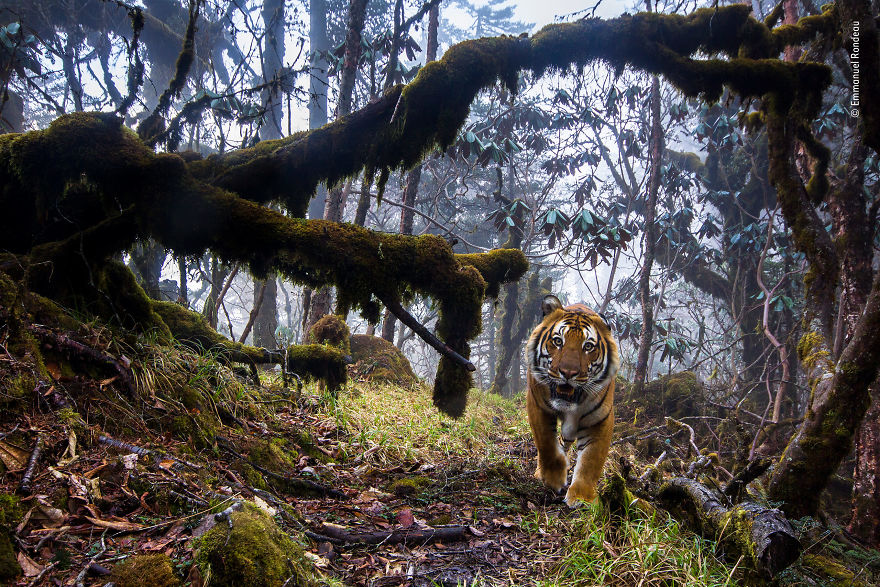 Accompanied by rangers, Emmanuel had climbed 700 metres to set up eight cameras, selecting areas with previous tiger sightings and evidence of recent use such as tracks, scratches and faeces. 'The forests were nothing like I had ever seen,' he says. 'Every species was something new.' Twenty-three days later, this Bengal tiger gazed directly into one of his cameras. In the Kingdom of Bhutan, tigers are making a comeback. There are now thought to be 103 tigers living in the wild there – almost a third more than the last count in 1998. As Bhutan has developed, the country has created a network of wildlife corridors from one national park to the next to allow wildlife to roam relatively undisturbed.
#28 "Overview" By Cameron Mcgeorge, New Zealand, Highly Commended 2018 15–17 Years Old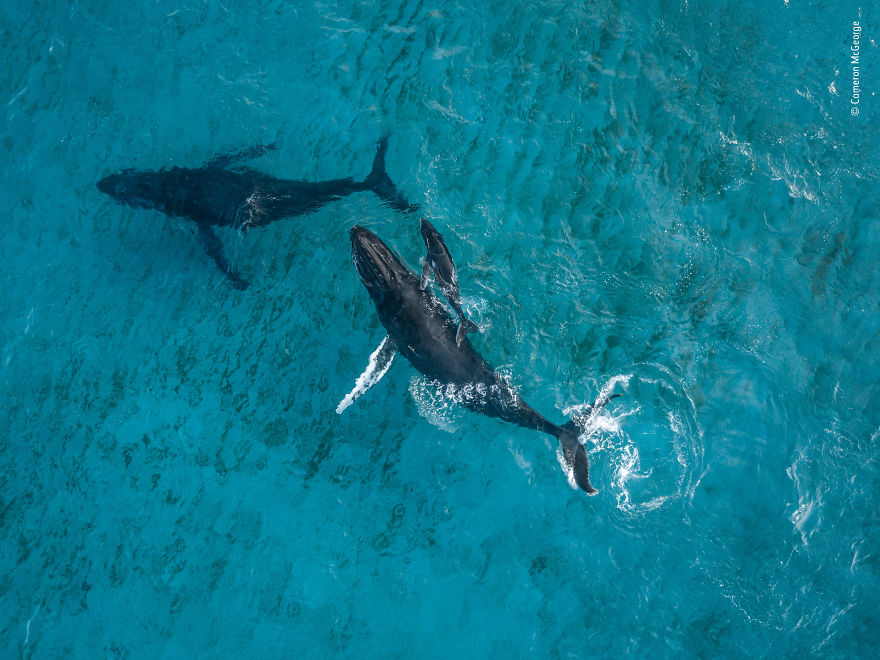 Cameron built his first drone with his father in 2013, all the while dreaming of photographing whales from the air. Four years later he achieved his ambition, capturing this spectacular shot of a humpback whale, its calf and their accompanying male escort. For Cameron, this image is a unique perspective of 'nature's most breathtaking subjects'. These whales are part of a group known as the Tongan tribe, which is classed as endangered. It lives isolated from other breeding groups, and so numbers have fallen dramatically. Sightings such as this bring hope that the population is recovering. This calf is just a few days old, and the male, hoping to mate with the mother, will defend them both from predators.
#29 "Flight" By Sue Forbes, Uk, Highly Commended 2018 Behaviours Birds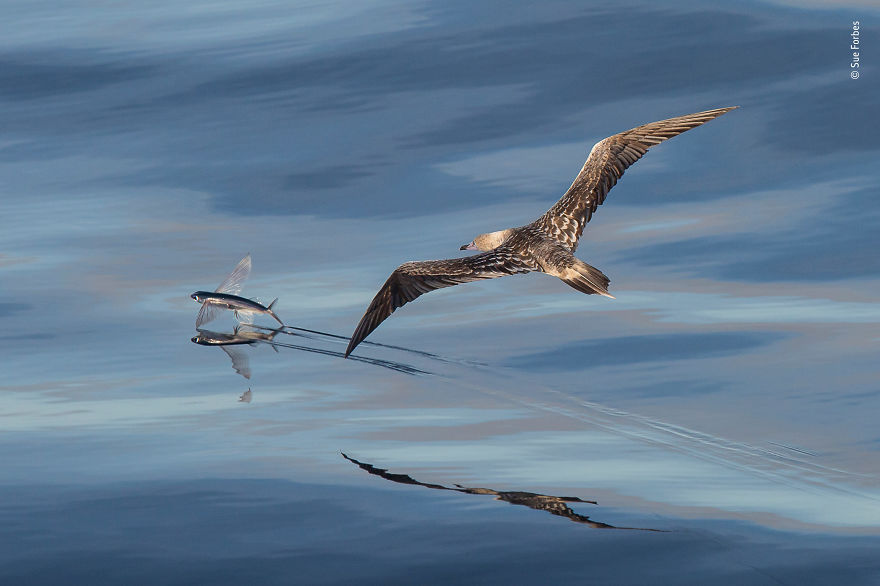 After days of rough seas, Sue woke to find tranquil water and a single young booby circling. 'Suddenly, a fish leapt out,' she says, 'and down came the booby'. With quick reactions, her camera already poised, she captured the fleeting moment of the bird in hot pursuit, reflected in the painterly water. Boobies are extraordinarily lean, aerodynamic birds. Adults are nimble enough to catch moving targets, but this juvenile might just be practicing. The fish has broken the surface, and is gliding on its stiff pectoral fins. It does this to escape underwater predators, such as tuna and marlin, but this makes it vulnerable to attack from above.
#30 "The Catch" By Robert Irwin, Australia, Highly Commended 2018 11–14 Years Old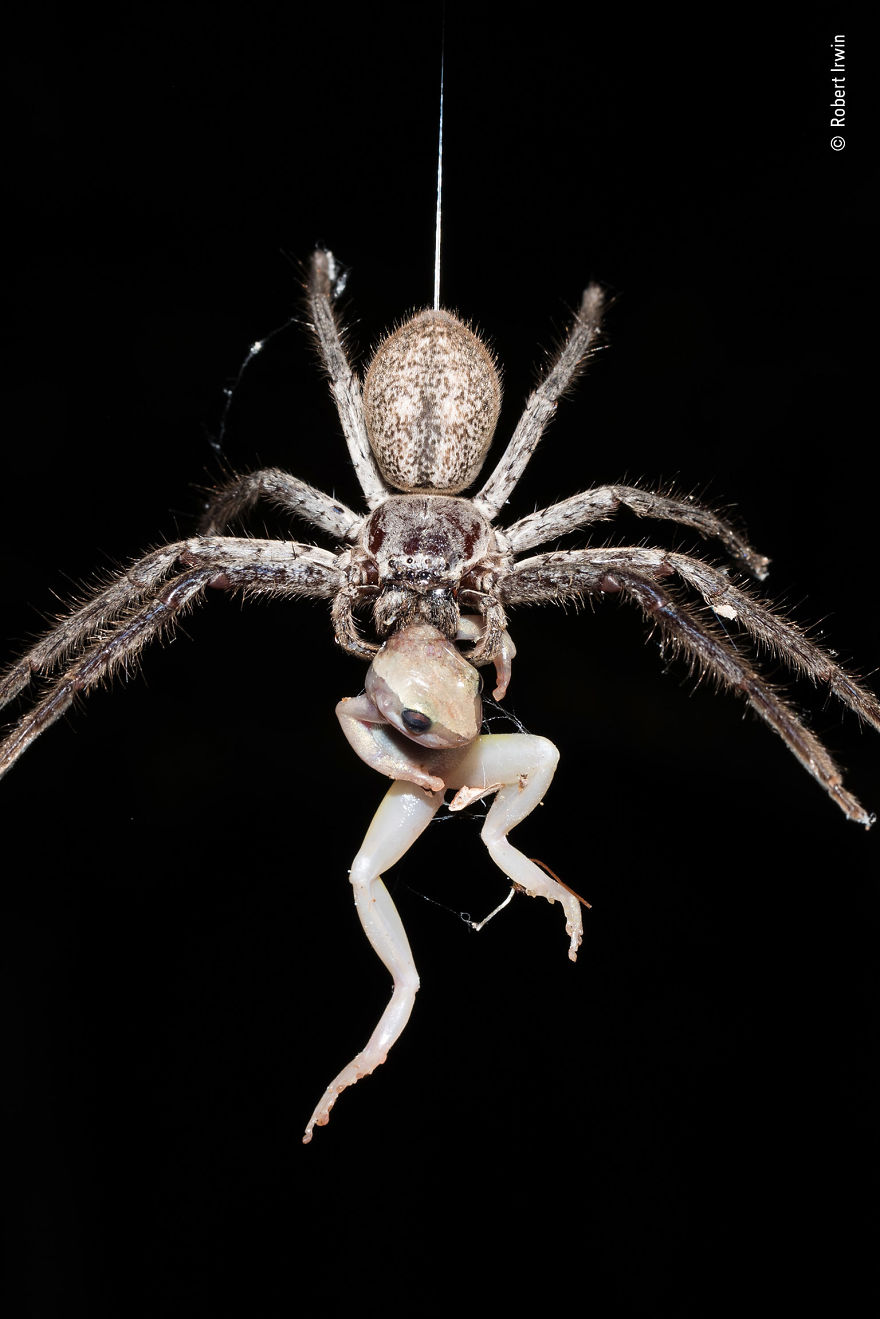 Robert was trudging through dense woodland at night when he saw the huntsman spider, dangling in mid-air, clutching a dead frog. 'It was fascinating to see it manipulating the frog with its front legs while gripping it with its fangs,' he said. 'To see it predating an animal so large was extraordinary.' Huntsman spiders don't build webs. Instead they hunt their prey, usually stalking large insects and other spiders, but also occasionally frogs. This one probably fell off a branch while struggling with the frog, and was left hanging dramatically from a silk anchor line. It had set this up as a precaution against such an event.
Which of the photos connected with you in an instant? Do let us know by commenting in the comments section below!