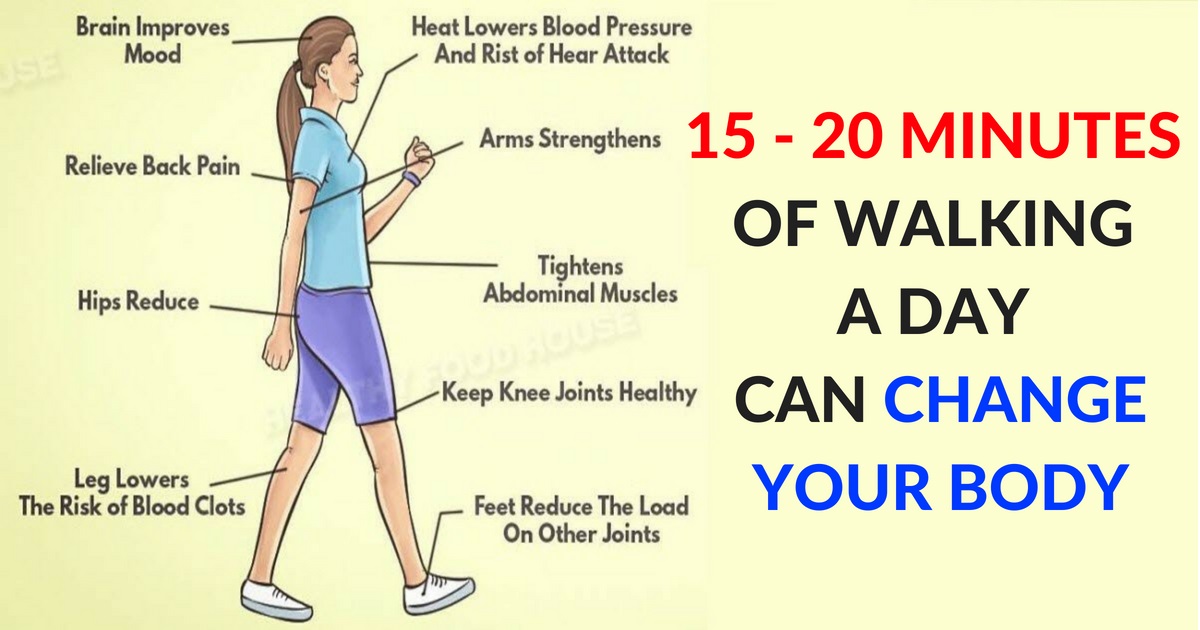 Stress has become an inevitable part of our lifestyle and we keep searching for thousands of ways to reduce stress. Many of us start taking medication, many of us subscribe to online programs and a few of us join various clubs in order to reduce stress. We know for a fact that taking medication isn't a great way to reduce stress as we will have to bear with the side effects of medication in the long run. Doctors have started asking patients to start walking for at least 15 minutes a day to reduce stress among them. Experts are of the opinion that walking can help you in clearing your head, calming your mind and help you in pacing your thoughts.
Walking has several other benefits too like it can help in healing joint pains, heart problem, obesity, and depression. A journal named Medicine and Science in Sports and Exercise, states that walking can help in reducing the risk of all chronic diseases. Many of the health professionals ask people to walk instead of running as the latter can have a bigger impact on joints and heart. Dr. Thomas Freiden, Director, Centre for Disease Control and Prevention famously said that "walking is the closest thing to a wonder drug".  Read on to find out the benefits of walking 15 minutes a day, whether you are an 8-year-old kid or an 80-year-old gentleman/woman.
Reduces the risk of cardiovascular issues
Harvard Men's Health Watch came out with a report in 2009 which revealed that the benefits of walking were extremely underrated. Scientists selected a set of people, collected their walking habits, age, alcohol consumption and smoking. Scientists followed their activities closely for about 11 years and scientists found out that walking for about 21 minutes a day reduced the risk of cardiovascular issues by 31% and the risk of early death by 32%.
Helps in treating obesity
According to Harvard Medical School, everyone has weight promoting genes and one of the best ways to cut those weight promoting genes in half is by walking for about half an hour a day. Researchers at Harvard studied 32 obesity-promoting genes among over 12,000 people and found out people who walked for about half an hour each day were successful in reducing their weight-promoting genes in half. Studies conducted at the University of Exter found out that walking for about 15 minutes a day can help in curbing sweet tooth cravings, which has a big impact on increasing obesity.
Reduces Blood Pressure
According to researchers at Arizona State University a nice calming walk can help in reducing blood pressure problems. They found through a study that walking for about 10 minutes was useful in lowering the blood pressure and if you walk for about 15-20 minutes a day, it can increase the odds of reducing your blood pressure.
Improves Memory
Scientists from Japan came out with a study which revealed that walking can help in boosting memory power among older patients. It was found that while physical exercise helps in increasing the hippocampus and a sedentary lifestyle shrinks the size of the hippocampus which directly results in memory loss. Hence, health professionals advise people, especially, the older ones to walk for about 15 minutes a day as it can boost your memory.
Helps in easing joint pain
Eric Robertson, Physical Therapist, is of the opinion that for osteoarthritis (OA), the cartilage acts as a shock absorber in your knees, and can become damaged or worn down. He says that this situation can make you experience stiffness, pain and moving issues. But walking can help in rebuilding the joint. According to Harvard Medical School, walking can help in protecting the joints by lubricating them.
Helps in reducing stress eating
According to Lyndi Cohen, one of the best ways to curb stress eating is to go for a long walk. Cohen of the Nude Nutritionist, explains that she had the firsthand experience of stress eating and as soon as she realized the signs she lost 40 lbs. Health professionals are of the opinion that having high serotonin levels can reduce the level of stress which directly results in curbing stress eating. Hence, they advise people to walk for about 15-20 minutes every day.
Apart from the benefits mentioned above, walking regularly can improve the heart health, help in fighting cancer, improve blood circulation, reduce the risk of diabetes and make the bones stronger. It can also help in strengthening the muscles, improve digestion, boost the immune system, delay aging, increase productivity and also creativity.
Now that you have understood the various benefits walking has to offer, it is a good idea to lift yourself up and go for a 15-minute walk right away.