"Travel is the only thing you buy that makes you richer," Says an online quote depicting the importance of Travel. Breaking the monotony is the need of everyone irrespective of the profession we belong to.
In Indian language Kannada, a famous adage says "Kosha Odu atava Desha suttu" meaning— "Either read scriptures or travel the world to be a learned person."
New Year has just set in, and we all would have made our resolutions, and many of us would have spent the eve of New Year in our dream destinations. Though a set of 7 monuments are considered as 7 Wonders of the World plenty of amazing places around the world astonishes us with their beauty, elegance, and mystery that are worth visiting at least once in our life time.
Readthisweb has compiled 20 amazing and marvelous places around the world that mesmerize us with their scenic beauty which is worth scrolling through and relax
20. Vietnam's Handheld Golden Bridge
Without helping hand of God, nothing falls in place. Here is a brand new golden bridge in at a place called Da Nang in Vietnam that is built as if two giant hands holding them is a treat to eyes.
19. National Forest Park  of Zhangjiajie, China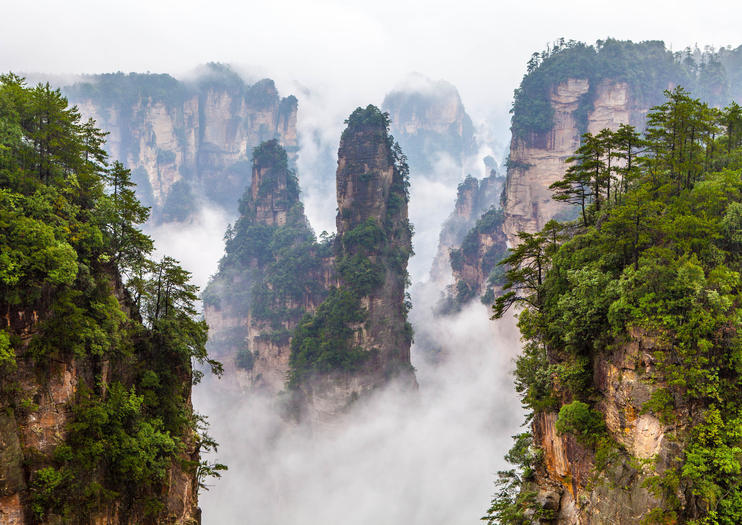 The Zhangjiajie National Forest Park in China with rich flora and fauna appears like a picture created in a fantasy movie. The forest is known to host more than 700 animal species, and its temperate climatic condition suits travelers from any part of the globe to visit and enthralled.
18. Beachy Head Peak of United Kingdom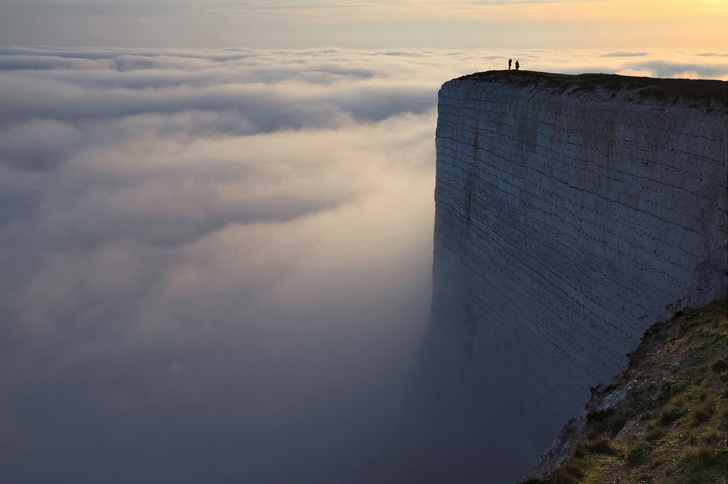 Are you an adventurer who love great heights then your travel itinerary should definitely have Beachy Head of the United Kingdom in the top of the list. The place soothes every soul with white clouds meeting the water of North Sea, and the beautiful sunsets from this peak never fade from your memory.
17. Hamilton Pool Preserve — Texas, US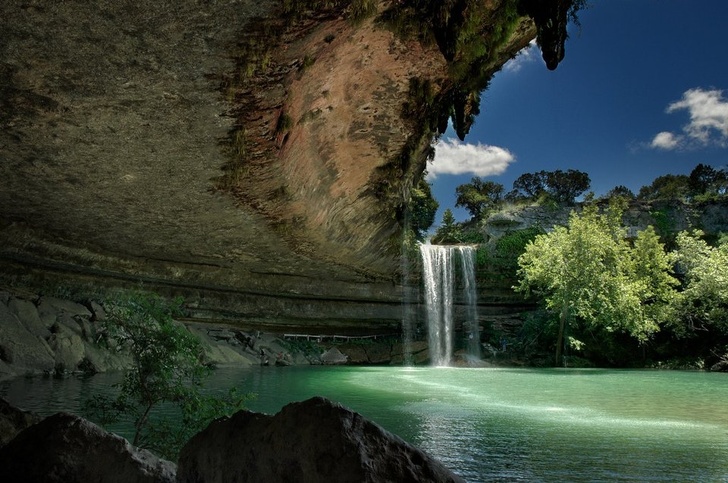 Sometimes natural erosion and collapse of underground water can be blessing in disguise. It has created scenic waterfalls that are stunningly spectacular to watch. The bluish-green water is a refreshing place for travelers who visit Austin who never misses out from a swimming session in this natural pool.
16. Hinatuan Enchanted River, Surigao del Sur, Philippines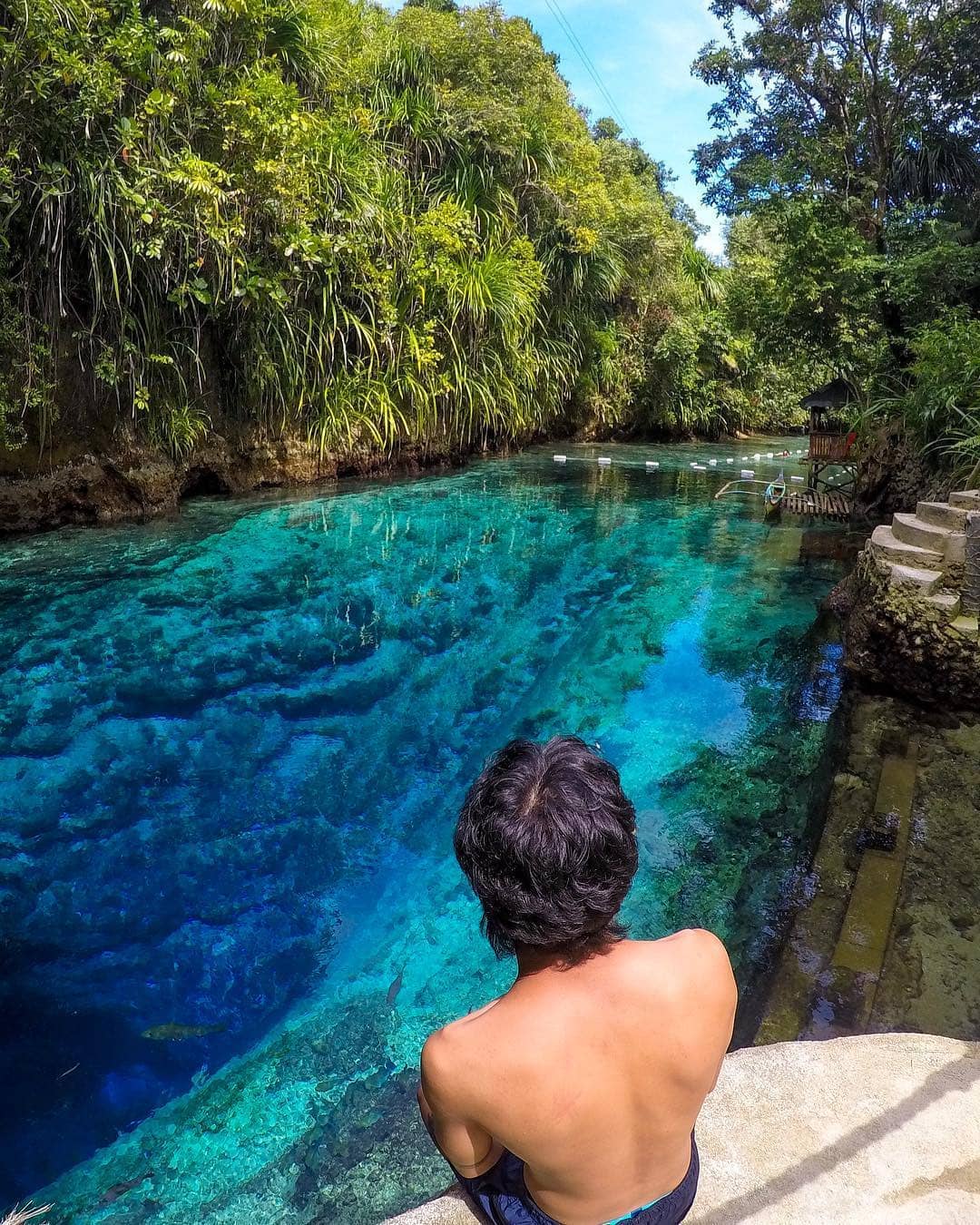 The Hinatuan Enchanted River that is located on Mindanao Island in the Philippines is a connector between the Philippine Sea and the Pacific Ocean. The Sapphire and Jade color of water and the unexplored depth of this river make it a mysterious place even today.
15.  Northern Lake Baikal, Russia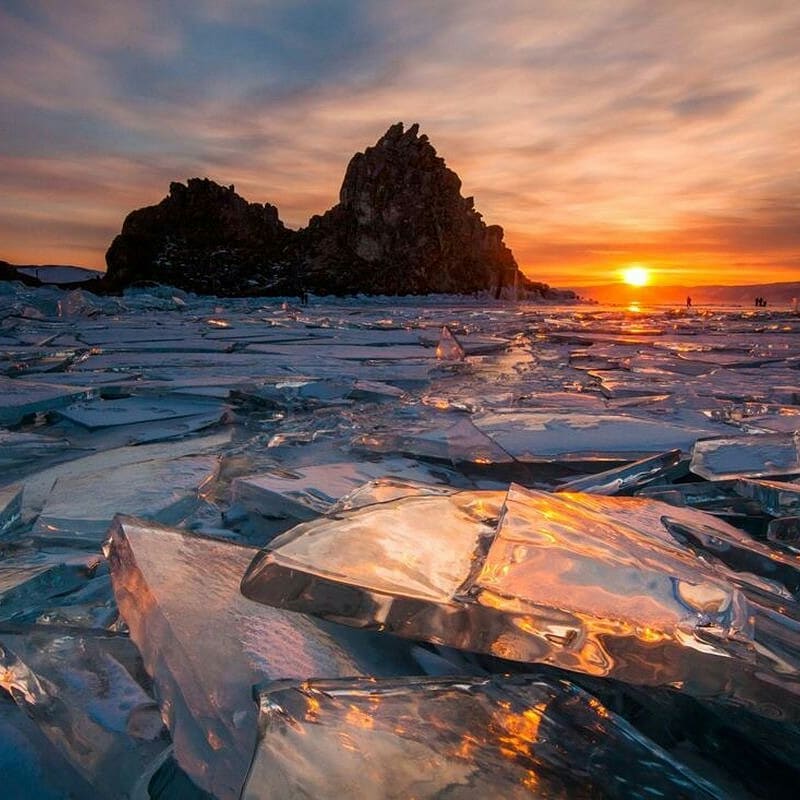 Northern Lake Bailak, located in Siberia is considered as the largest freshwater lake in the world with 20% of the world's fresh water available in this Lake. The picture is a treat to watch as it appears as a sculpture made out of broken eyes. The greenish-blue colored water creates amazing effects in winter as it freezes. Also, this Lake is said to have most crystal clear water in the world.
14. Travertine pools and terraces at Pamukkale, Turkey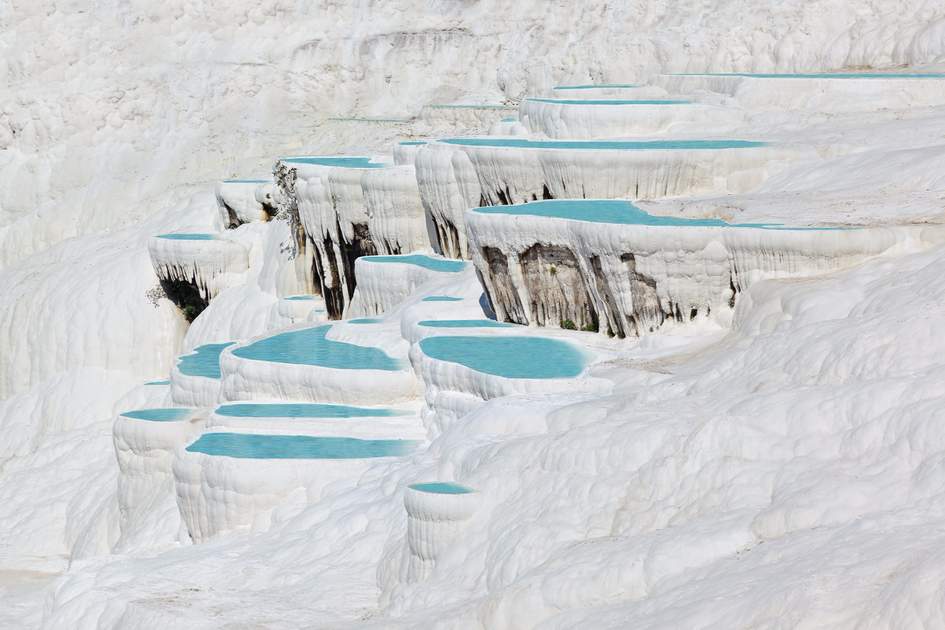 By first looks this pool in Pamukkale, Turkey looks like a marble waterfall. It attracts everyone with limpid pools and travertine terraces. Interestingly this lake is filled with carbonated mineral water. Due to its presence in Aegean region, it maintains the same temperature in all seasons.
13. Marble Caves of Lake General Carrera, Chile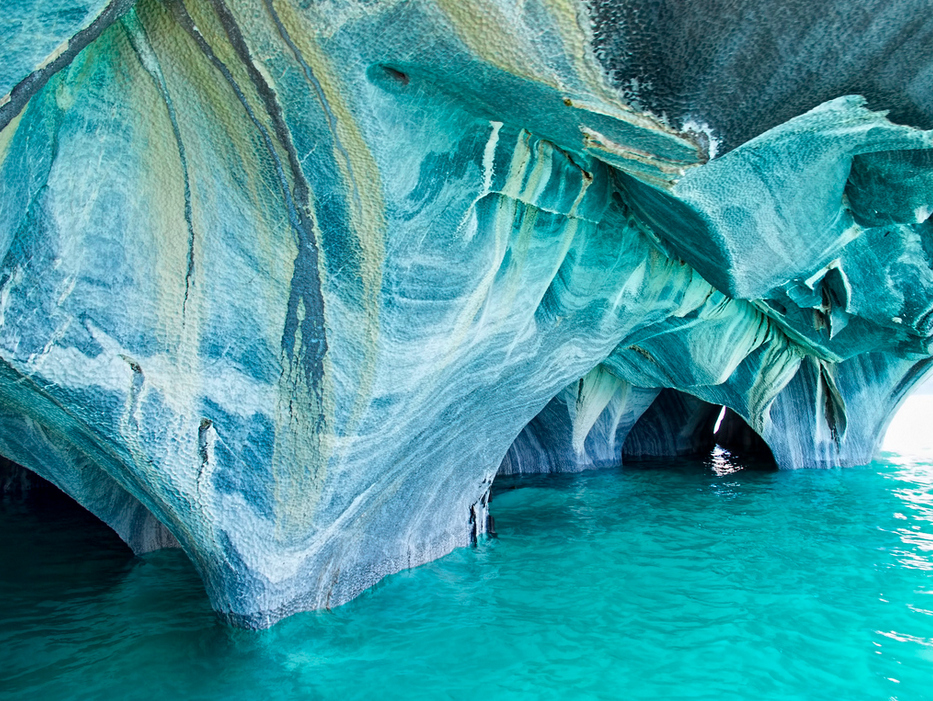 One of the world's most isolated natural treasures is found in Chile. These Marble Caves of Patagonian Andes appears as if some artist has painted pictures using jade and turquoise colors. This natural beauty was formed more than 6000 years ago.
12. The Aleutian Islands — Alaska, US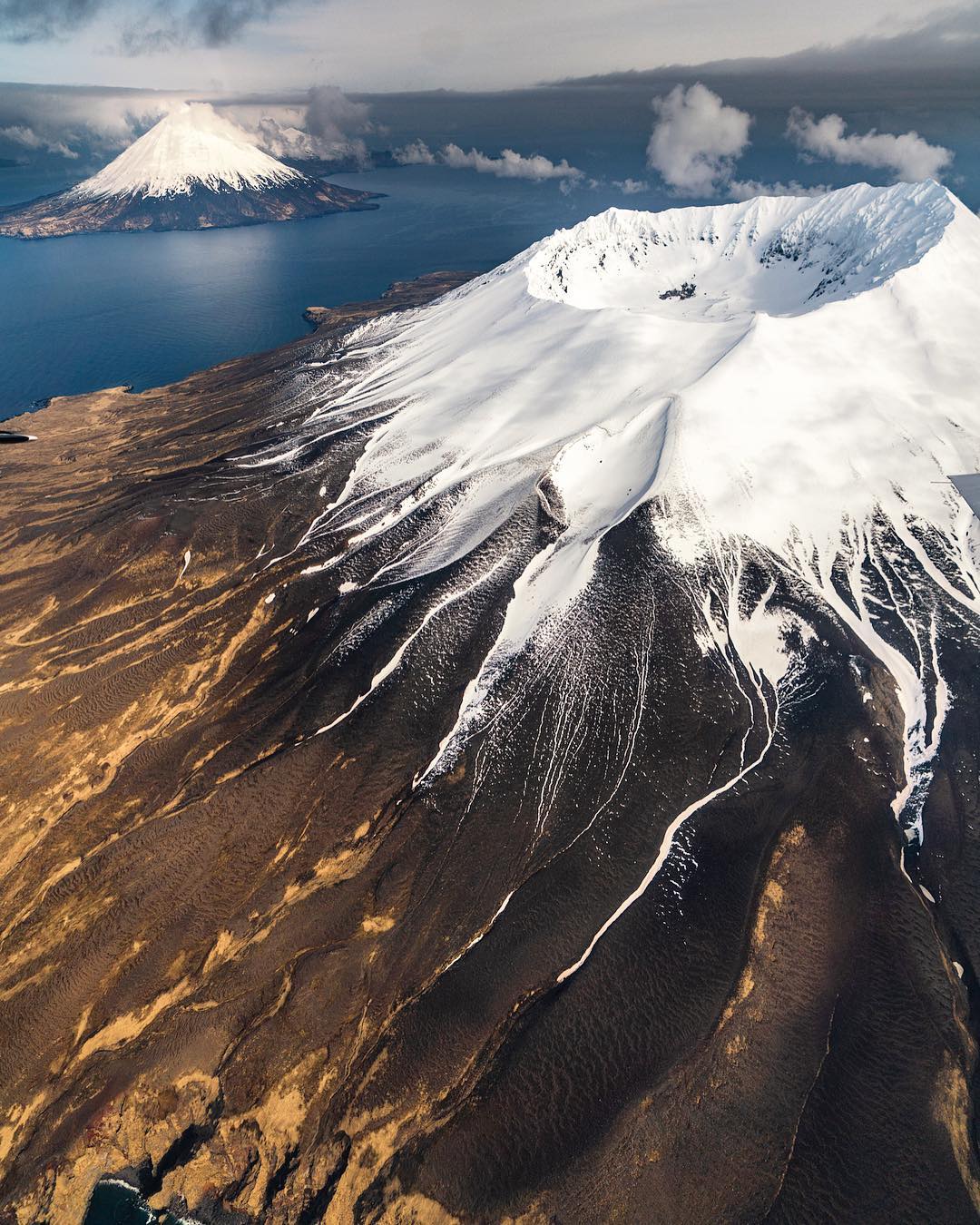 The 57 active volcanoes found in the Aleutian Islands of Alaska are renowned throughout human history. These islands are not only beautiful but are at the same time dangerous.  This island is also known as one of the main battles of Second World War.
11. Mount Bromo Volcano, Java, Indonesia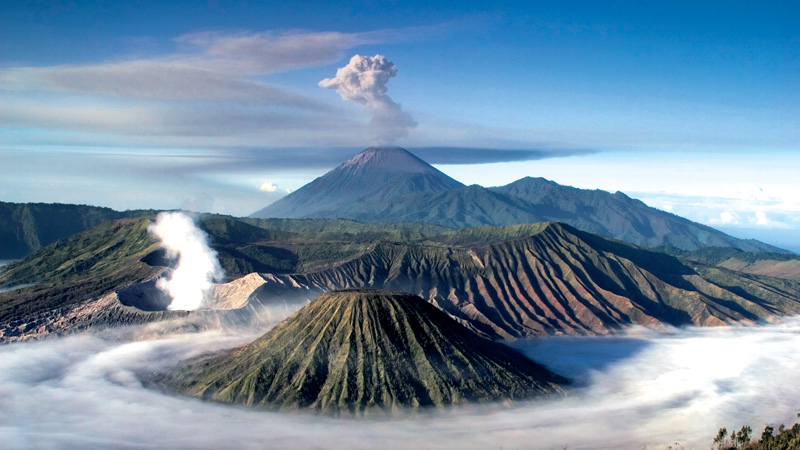 Mount Bromo in the Bromo Tengger National Park of Indonesia is the only active volcano left over in this country. Though it is an active volcano, its picturesque looks is a tourist attraction with natural beauty.
10. Natural Pools of Millpu, Ayacucho, Peru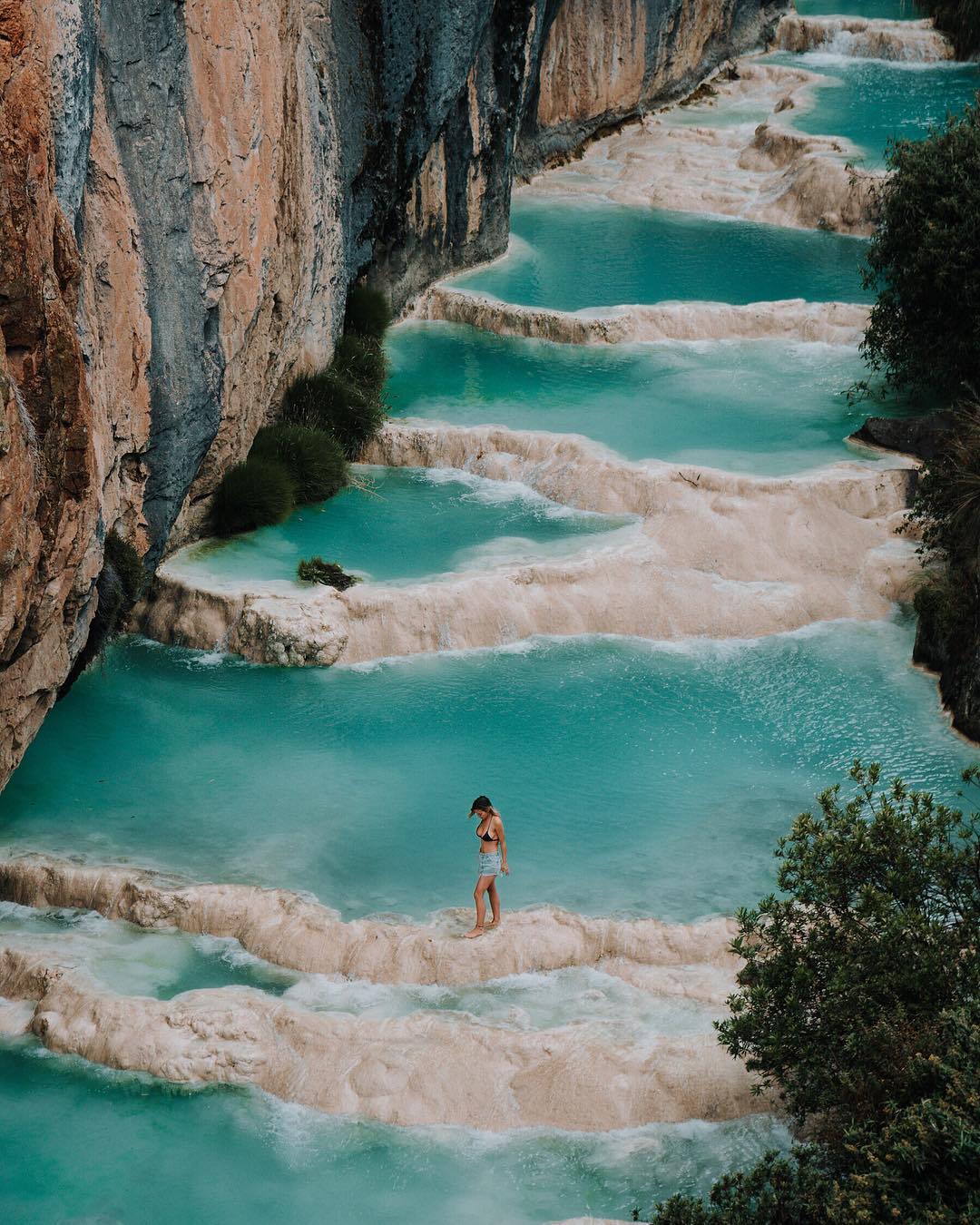 The recent discovery of some few travelers is these hidden natural pools of Millpu in Peru. These series of natural pools that sit one behind another is an impressive spectacle for eyes.
The area is also known for numerous waterfalls with rich flora and fauna.
9. Zakynthos Island, Greece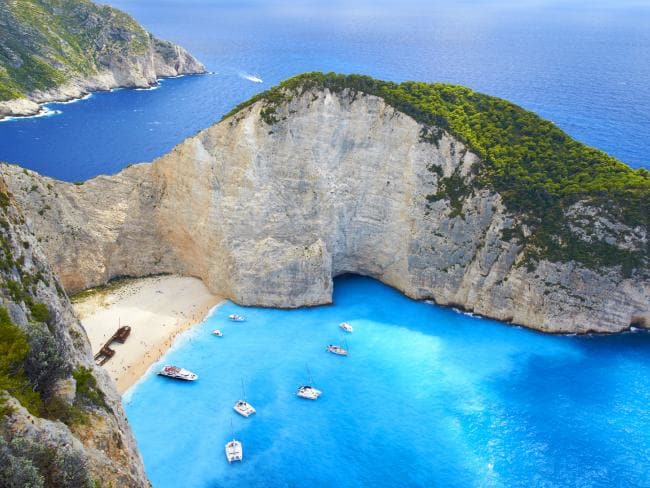 The Ionian islands of Greece in Zakynthos is known for its crystal clear water. The clarity of water can be measured by the fact that your own shadow can be seen in the sand beneath the water. The Navagio Beach cove is the main tourist attraction with its high cliffs that can only be accessed by boat. The isolated natural blue caves into the cliffs are place cut out for couples to engage in romance.
8. Ik-Kil Cenote, Chichen Itza, Mexico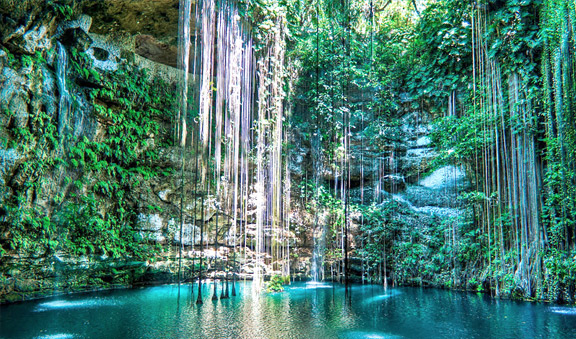 This magical Mexican cenote that opens to the sky is 85 ft deep and  200 ft in diameter. Small waterfalls are formed in the boundaries.
Also, it has carved stairs around the circumference that makes way for swimmers to a natural pool formed at the center.
7. Salt Lake, Salar de Uyuni, Bolivia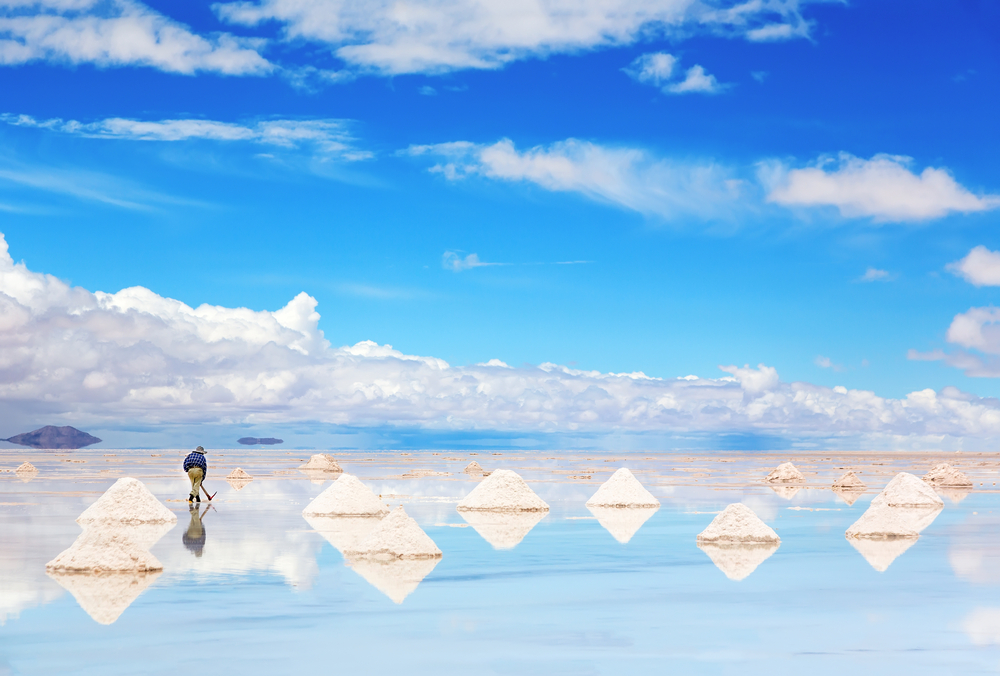 Salar de Uyuni is the largest salt lake in the world. It is one of the main tourist attractions of South America. It acts as beautiful mirror reflections of the sky due to the influx of water from neighboring lakes.
6. Grand Prismatic Spring, Wyoming, USA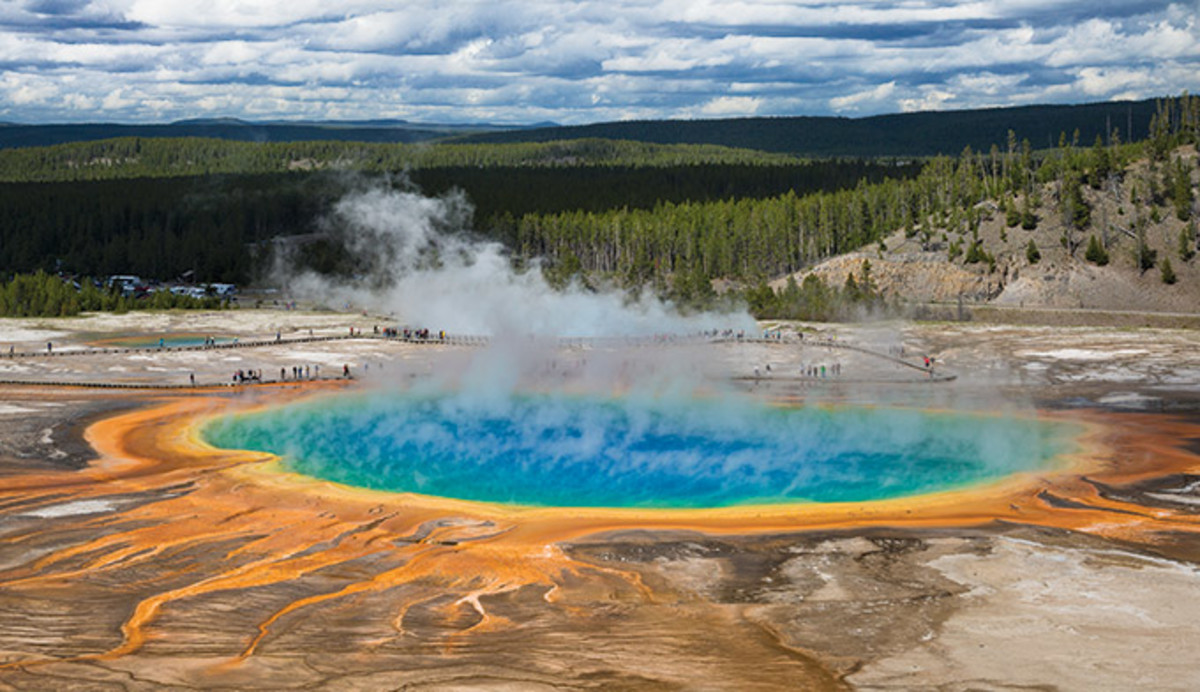 First looks of this photo definitely give us an impression of Photoshopped image, but it is a natural display of rainbow colors caused due to microbial mats present around the edges of this mineral water source. This spring called Grand Prismatic Spring located in Yellowstone National Park is the largest natural spring in the US.
5. Oasis of Huacachina, Peru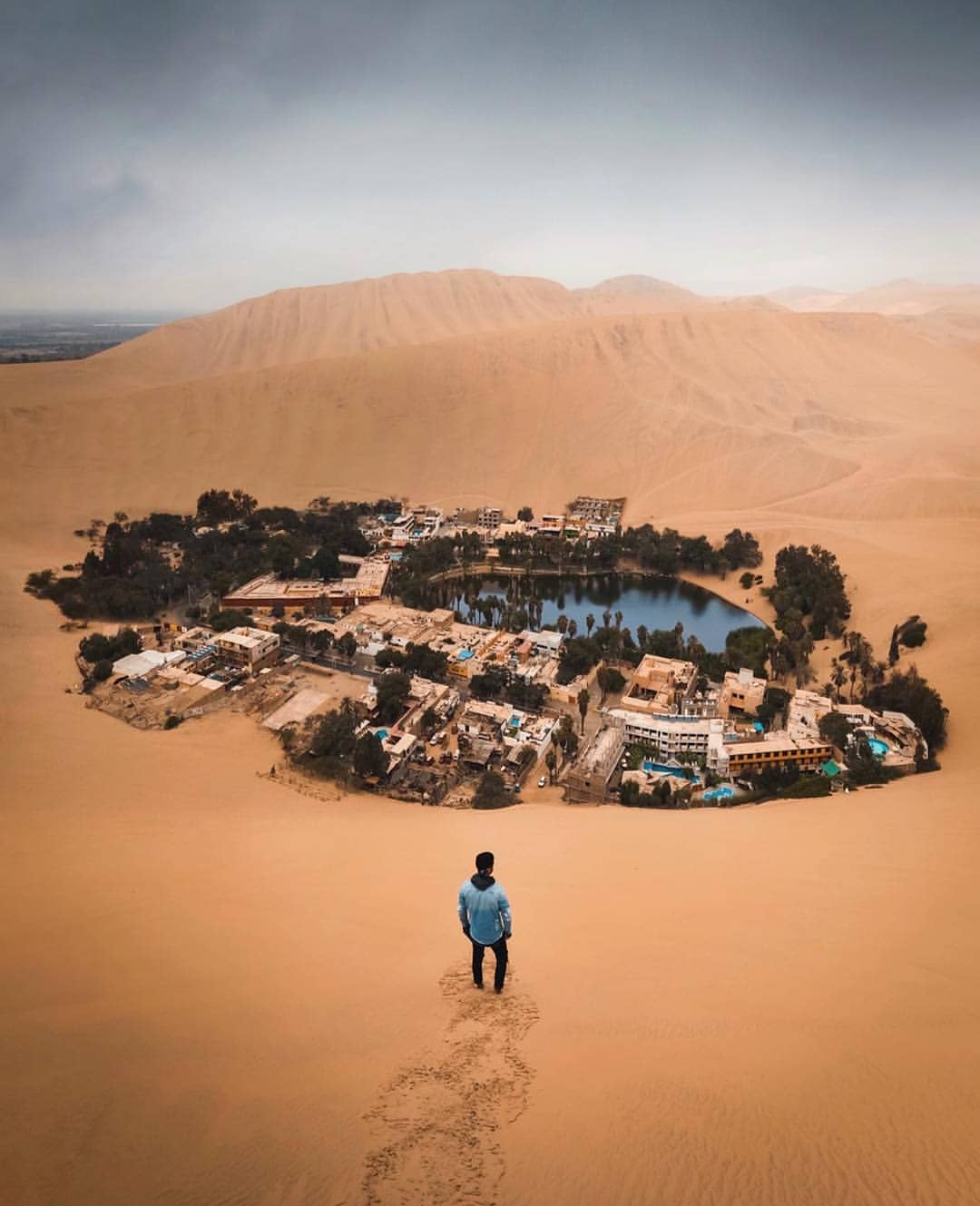 The village called Huacachina built around a beautiful oasis surrounded by sand. The beauty of this village is a lake situated at its centre. The people believe that the mud surrounding the lake is used in curing various diseases.
4. Floating fishing village in Halong Bay, Vietnam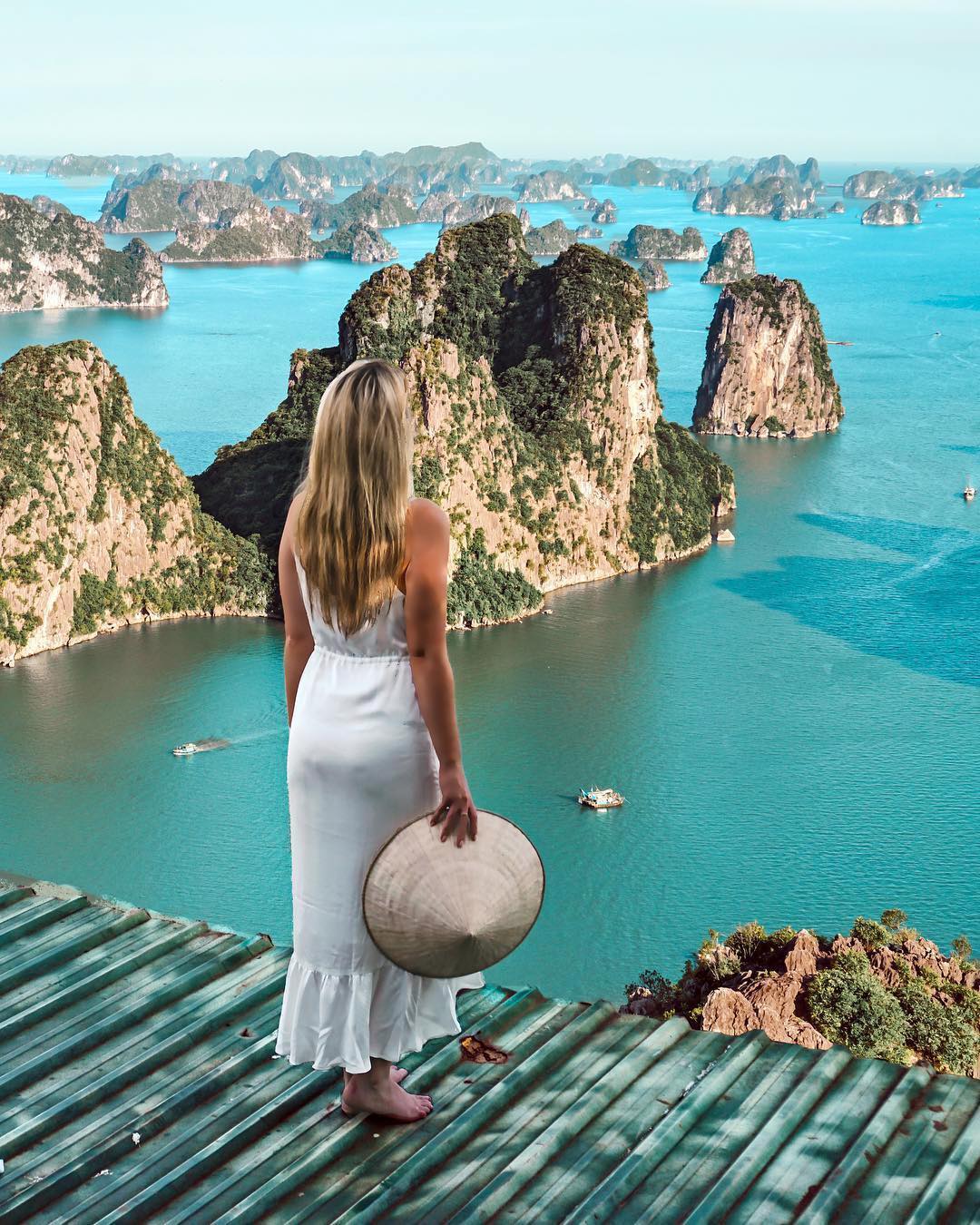 Cua Van located in Halong Bay, in Vietnam is known as one of the largest floating villages in the world is a marvel to watch. There are no houses on the land, but everyone resides in floating houses in the sea along with community centers.
3.  Iguazu Falls, Brazil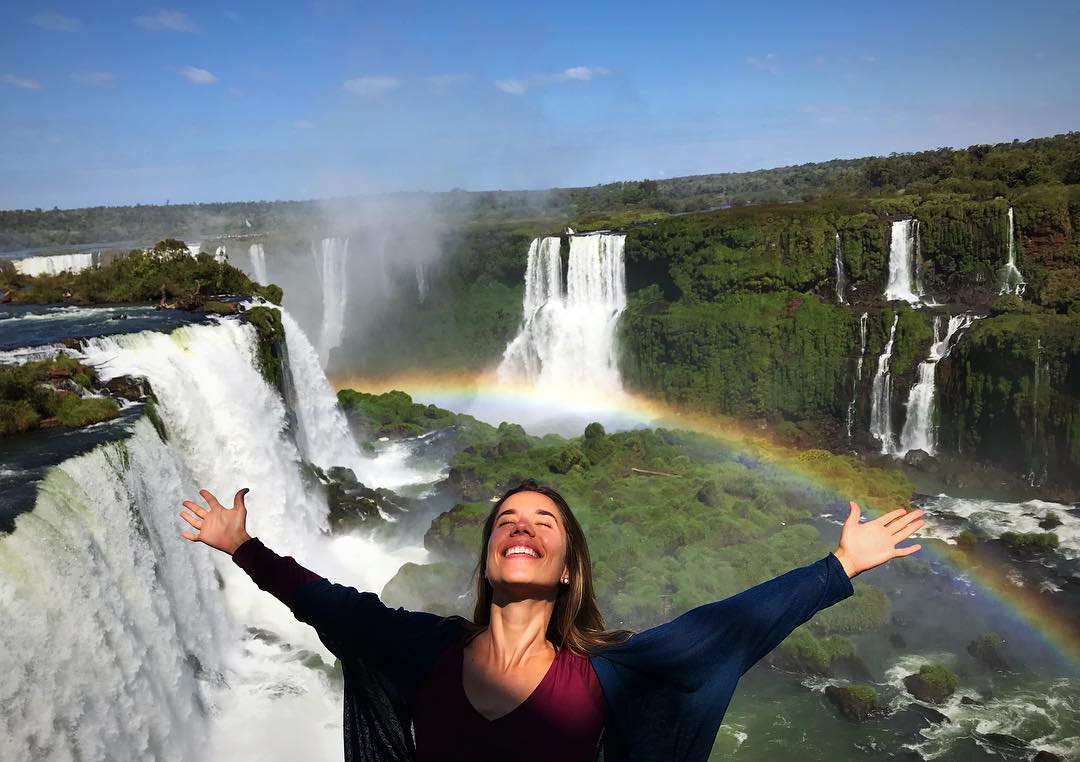 Iguazu Falls formed by the Iguazu River situated between the borders of Argentina and Brazil makes up the largest waterfall network in the world. According to legend, a deity was planning to marry a lady who betrayed her. In revenge, he divided the river into two parts.
2. The Dark Hedges, Northen Ireland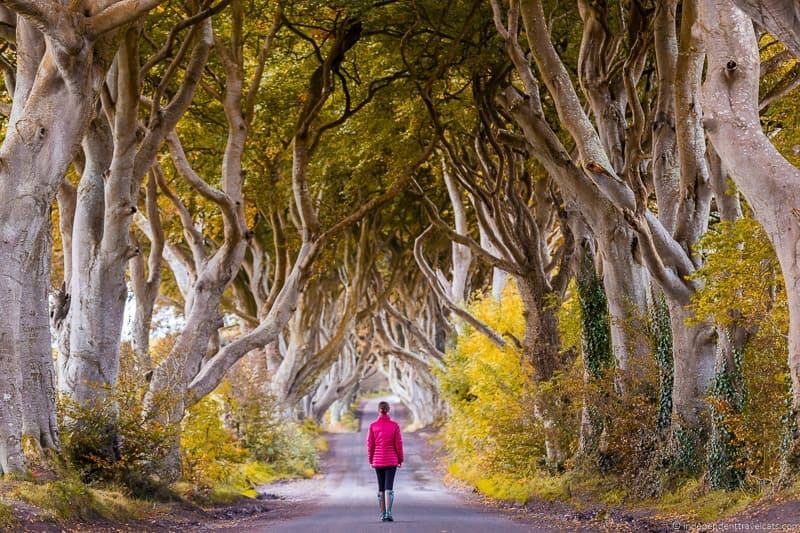 The Dark Hedges of Northern Ireland has a magical avenue formed by beech trees on either side. The trees bend together inward, creating an atmospheric tunnel which is aptly used for the creation of TV show called Game of Thrones.
1. Torres del Paine National Park, Patagonia, Chile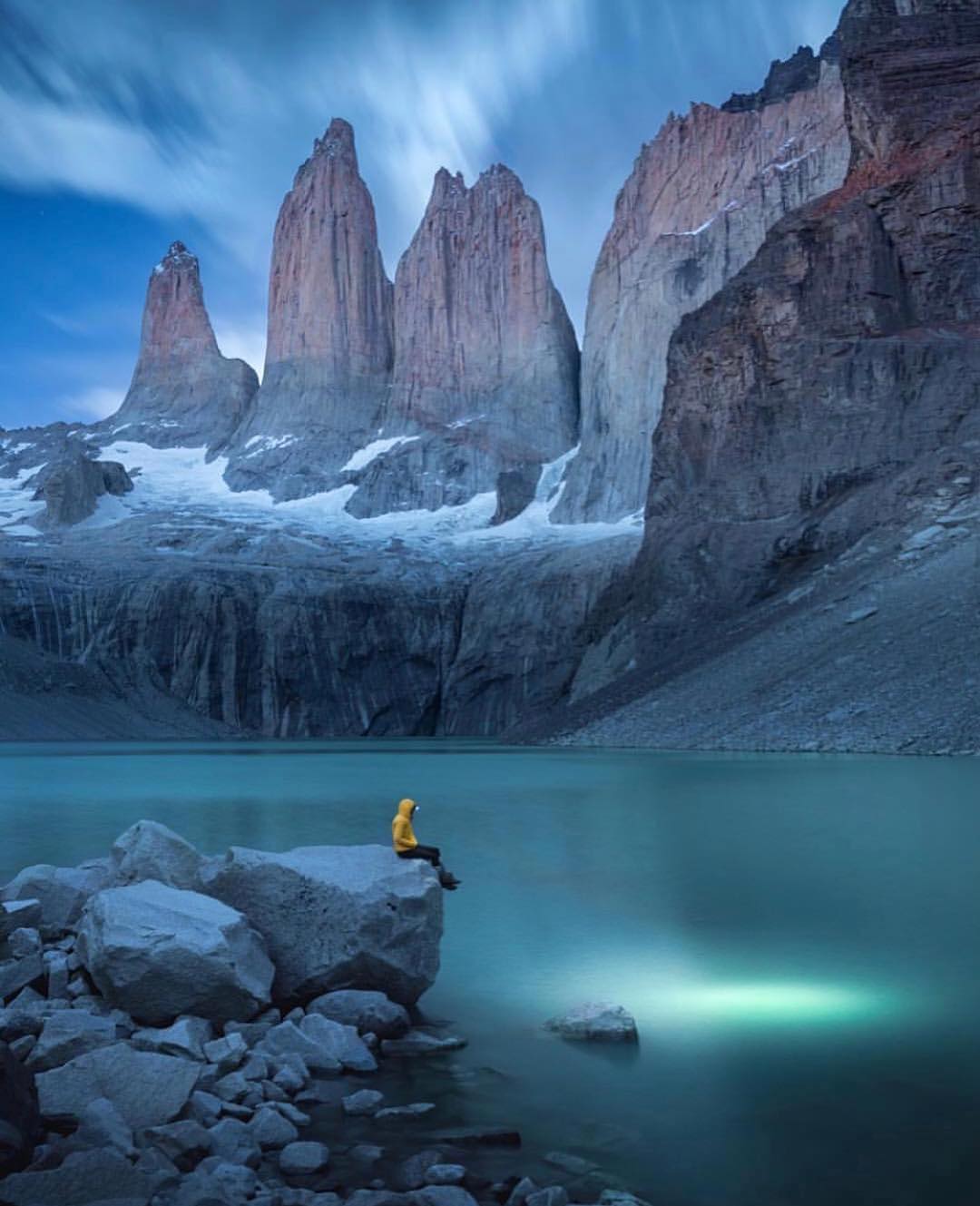 Amalgamation of mountains, rivers, lakes, waterfalls, and glaciers in this National Park at Torres del Paine in Patagonia. This place is considered as the heaven on earth is now one of the most-visited parks in Chile.
Hope you all enjoyed going through these stupendous nature pictures that are worth going through at least in virtual form if not all of us can visit each one of them personally.